Why Documentary Storymaking?
Film was something I never really thought about, but it's very artistic—and I'm a very artistic person.
By: Nely Montina '19, as told to Meghan Kita Friday, April 12, 2019 04:44 PM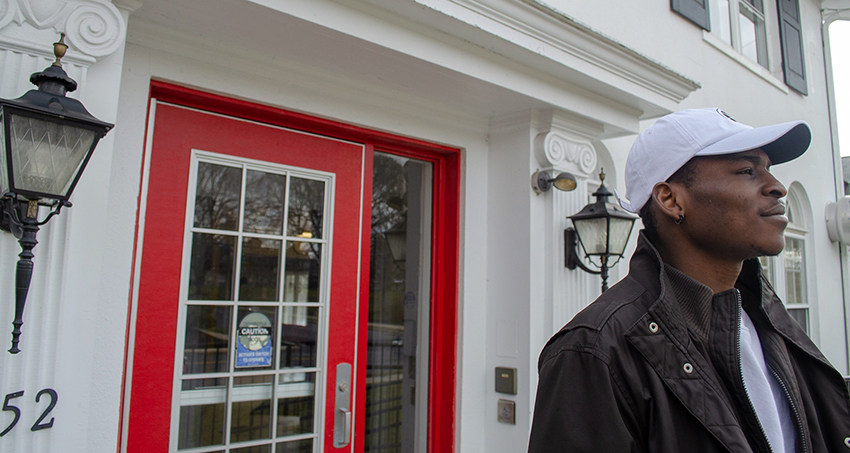 Nely Montina '19 outside the Multicultural Center, which hosted the installation art documentary he created for his capstone project for the documentary storymaking minor. Photo by Sammi Singman '20
Montina is a media & communication major with minors in Africana studies and documentary storymaking, a collaborative minor offered in partnership with Lehigh University and Lafayette College. To learn more about this unique program, click here.
I took Intro to Moviemaking and I was like, "What you can do with films is crazy. You have so much autonomy. You can create and shape a story however you want to." Film was something I never really thought about, but it's very artistic—and I'm a very artistic person. Then, I heard about this documentary storymaking minor, so I applied.
The first class I took for the minor was Introduction to Documentary Storymaking at Lafayette College. At Muhlenberg, I am one of the few black males doing this work. So, going to the other school and seeing other people of color, seeing the other students' perspectives and collaborating with them and seeing how they're learning in their schools—all that was interesting for me.
I worked with two black students from Lafayette on a film looking at the art space in Bethlehem called The Banana Factory: how, for the youth especially, seeing and creating art fosters their learning, and how The Banana Factory is embracing art and trying to bring students from different schools to their space because their schools don't have art classes or supplies. I'm an artist, and my partners on this project are, too. It was like, "Growing up, art was something that allowed us to be free, but it's not valued as much now." So that was our story behind that film.
For the minor's capstone project, I made a personal story in which I looked at the relationship between my father and me. We were both born and raised in Haiti, but I came here when I was eight, so I'm more Americanized than my father. In our culture, the method of discipline is not the same as it is here. And, in terms of education, my dad, when he brought me to America, he was like, "I need you to be better than I am, so when you have your own kids, you can provide for them and you don't have to work with your hands."
This project was for me and about me, but I had to ask myself: When somebody else sees it, what messages are they going to get out of it? Documentary forces you to think about every element, everything that you use, and why and how does it work together to convey this topic or this message or this thing you're trying to have people see. So, my capstone ended up being an installation art documentary that combined two visual art pieces and the film. It was in the Multicultural Center, and since my work is mostly about race, representation and accessing resources and spaces, the fact that it was in the Multicultural Center spoke to my message as well. You had to walk in that space to experience it. You had to live it and go through it.
What I took away from completing the minor is that I have a voice and a lived experience that I'm trying to understand, and that there are other perspectives out there. How do I represent those perspectives and make a story I really care about? Documentary can really empower people to start making change, but potential doesn't mean anything if you stay silent, if you don't use it, if you don't say something so others can hear it.