What It Takes to Be Your Own Boss
Students in Small Business Management learn from the longtime owner of a successful small business.
By: Meghan Kita Wednesday, December 11, 2019 10:38 AM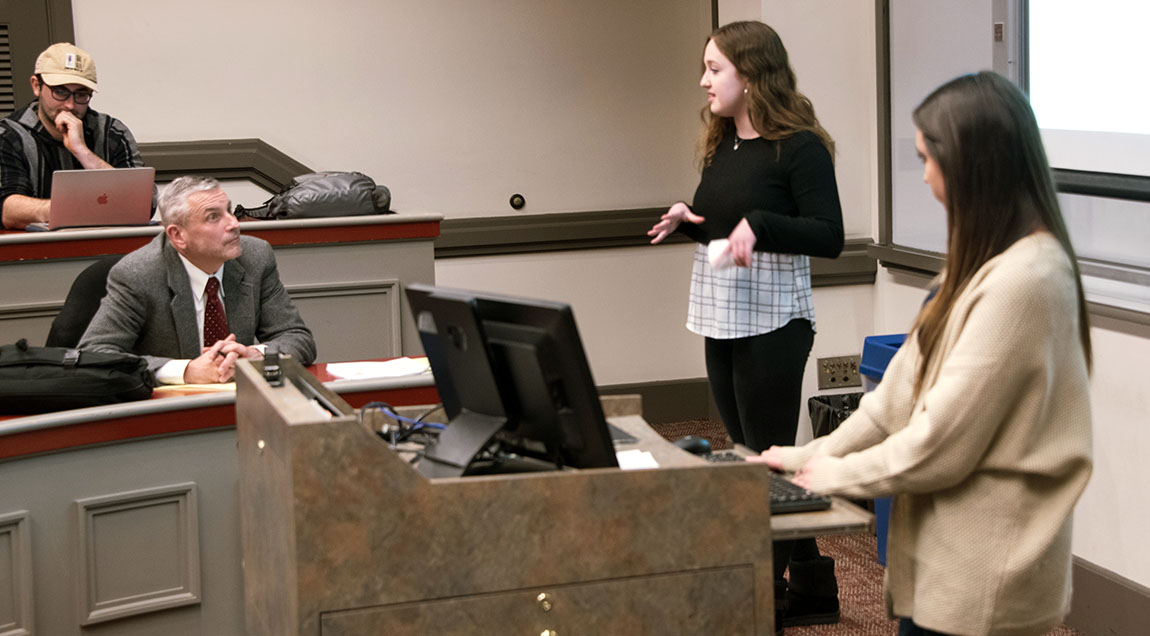 Joe Kornfeind (left) hears a presentation near the end of his Small Business Management course. Photo by Tom Amico
Joe Kornfeind, the associate dean of the Wescoe School of Continuing Education, does not own a cell phone. He uses his laptop to respond to emails. To tell time, he carries a pocket watch. To make calls, he uses—gasp!—a landline. Something Kornfeind does own is Kornfeind's Market, a small grocery store in nearby Coplay that's been in his family since 1922. And while Kornfeind personally eschews social media, his market is active on all major platforms.
"I personally am not tech-savvy, which is my biggest weakness," he says. "I really need to delegate that to other people. I don't know how to do any of that. If it's not efficient or effective for me to do it, I have to hire somebody who is effective or efficient for it."
The importance of delegation and keeping up with a changing landscape are among the lessons Kornfeind imparts to the students who take his Small Business Management course. The course, which he's been teaching for more than a decade, requires student teams to run a business and present what they learned at the end of the semester.
The businesses themselves usually involve selling something (hot dogs, ice cream, phone cases) or providing a service (taking out trash). Any proceeds must go to a nonprofit, but, Kornfeind says, "I'm not looking at all at the amount of money they raise. The paper they have to write is a working narrative of little step-by-step things that took place: good things, bad things. Everything a small business owner does goes into this mental Rolodex, this memory bank of every positive and negative thing that you do, so as not to repeat the negatives and to excel on the positives."
The goal of the course is to help students understand everything that goes into running a small business. You may need to do your own accounting or handle issues human resources would deal with at a large company. You need to make important decisions about factors like pricing, physical location and marketing. Students are required to visit small businesses in the area and talk to local business owners. Then, they relate those experiences to what they've discussed in class.
Dylan Schwartz '20, a business administration major, comes from small-business roots: His family owns an ice cream shop, and they donated pumpkin ice cream for his team to sell. As part of the class, Schwartz did a case study that helped him learn more about the family business and spoke to a local ice-cream-shop owner. After graduation, he hopes to open a shop with his brother, one that offers chicken and waffles in addition to his family's ice cream.
"Starting a business is always what we wanted to do together," he says. "I've learned a lot in class about how hard it is, but everything I'm learning, it's just going to help me."