Muhlenberg College Welcomes New Faculty for the 2019-20 Academic Year
Seventeen new faculty members at Muhlenberg for the 2019-20 academic year represent a variety of backgrounds and areas of expertise.
By: Laura Diorio '20 Thursday, September 19, 2019 03:00 PM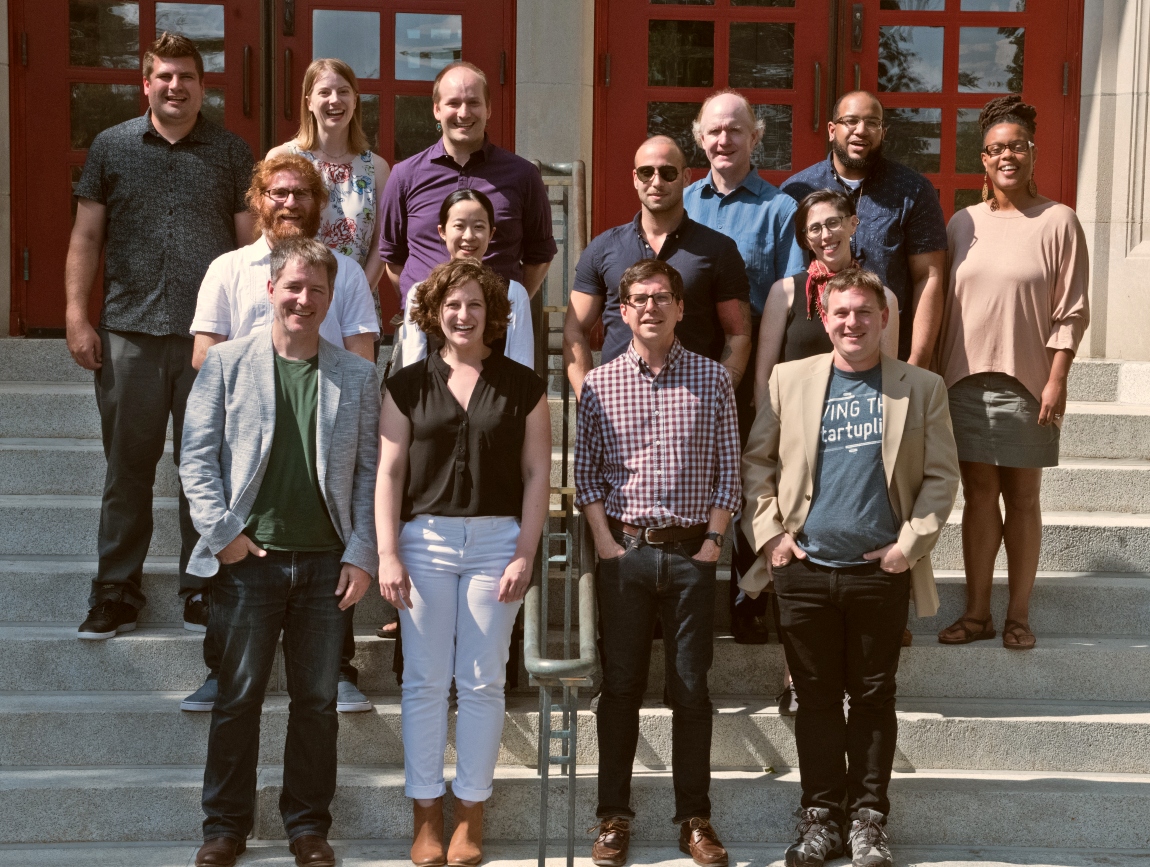 Left to right: Top row, Matthew Williams, Kathleen Bachynski, Charles Collett, Drew Richardson, Dana Francisco Miranda, Heidi Cruz-Austin. Middle row, Angel Diaz-Davalos, Fangfei Miao, David Romberg, Leah Wilson. Bottom row, Roger Ainslie, Natalie Gotter, Michael Buozis, Greg Heller-LaBelle. Not pictured: Alex Cameron, Leticia Robles-Moreno, Mirna Trauger
Muhlenberg College welcomed 17 new faculty members for the 2019-20 school year.
Roger Ainslie, Visiting Assistant Professor of Theatre
A professional actor for 25 years, Ainslie has done nearly every genre in every medium, from improv comedy to Shakespeare to television and voice over. He acted opposite Oscar- and Emmy-winners on shows such as "House, MD" and "House of Cards." While voice and speech are his specialties, he enjoys teaching acting and improvisation as well. Ainslie earned a B.S. in Theatre from Northwestern University and an M.F.A. in Acting from the University of Virginia as well as Lessac Voice & Speech Trainer Certification from the Lessac Institute. His most recent presentation, "Lessac Improvisation: Using NRGs to Create Given Circumstances in Open Scene Work," was at the Lessac Conference, Fredericksburg, Virginia, in June.
Kathleen Bachynski, Assistant Professor of Public Health
Guided by the interdisciplinary nature of public health, Bachynski is committed to placing public health issues in historical, cultural and scientific context in her teaching. Her goal is for students to leave the classroom more empowered to address socially relevant and intellectually demanding public health questions, with sharper critical research and writing skills that can be applied to a wide range of endeavors of their choosing. Most of Bachynski research focuses on injury prevention, sports safety and youth health. Her upcoming book, No Game for Boys to Play: The History of Youth Football and the Origins of a Public Health Crisis (November 2019) offers the first history of youth tackle football and uncovers the cultural priorities other than child health that made a collision sport the most popular high school game for American boys. Bachynski received a B.A. from the University of Michigan, an M.P.H. from the University of Michigan School of Public Health and a Ph.D. from Columbia University.
Michael Buozis, Visiting Lecturer in Media Communication
Buozis's teaching goals are twofold: to foster the critical thinking skills that will serve each student in various contexts of their lives and to teach practical communication skills that will help them in any career trajectory they pursue. To this end, he strives to create a classroom environment where students feel comfortable making connections between the course material and their own experiences and prior knowledge. His research explores how different forms of media and digital communities shape public understandings of contemporary and historical social problems, from police violence to epidemics to crises in journalism. Buozis is primarily interested in how media is shaped by the structures of power in society. Tying together his research projects is a commitment to exploring how diverse communities can be better served by social practices in general and media practices specifically. He is featured in seven peer-reviewed publications and a C-Span archival research book. Buozis earned a B.A. from East Stroudsburg University and an M.J. from Temple University.
Alex Cameron, Visiting Assistant Professor of Mathematics
Cameron believes math is frequently stored in students' heads in a much more disorganized fashion than is necessary. His teaching is geared toward helping students understand very well what they already know until it becomes natural when application arises. Cameron's research is primarily focused on seaweed Lie algebras and applications of their index. He holds a B.S. in Mathematics and a B.S. in Chemistry and Business from the University of Scranton and a Ph.D. in Mathematics from Lehigh University.
Charles Collett, Assistant Professor of Physics
Collett, who earned a B.S. from Haverford College and an M.A. and Ph.D. from Northwestern University, says he became a physicist because of his own engaged, enthusiastic professors and mentors who communicated their love of physics through their work and he aspires to uphold those same ideals in his teaching. Physics is a collaborative enterprise and he models that by emphasizing group work and cohort-building in his classes. His research focuses on a class of materials called molecular nanomagnets and a main goal of his research is to design and exploit interactions between these molecules in order to create the basic building blocks of a quantum computer. Most of his experiments take place at only a few degrees above absolute zero, and he will be developing a low-temperature physics lab at Muhlenberg.
Heidi Cruz-Austin, Lecturer in Dance
Cruz-Austin arrived at her teaching perspective through the reflection of a 35-year involvement in ballet as a student, professional dancer, company director, and instructor. Preferring the identity of a mentor to a teacher, she practices guiding students to make more of their own choices and allow them room to make mistakes and learn from them. Through her work, Cruz-Austin is researching ways ballet can offer practitioners a foundation built on strength and solid principles absent of the elitist restrictions. Her choreographic process employs various exploration and extraction methods including improvisation models, creative writing and rhythmic mapping of music compositions. As an Afro-Dominican woman, her culture and upbringing inform her perspective while her classical ballet foundation provides a comfortable frame to stand on and pull away from. Cruz-Austin received an apprenticeship with Pennsylvania Ballet in 1994 and joined the Company as a member of the Corps de Ballet in 1995. She also danced with the Philadelphia-based company Ballet X and has performed as a guest artist throughout the United States and Europe. Cruz-Austin holds an M.F.A. in dance from the University of Arts, where she then became a member of the dance faculty.
Angel Diaz-Davalos, Lecturer in Spanish
Diaz-Davalos's classes promote an inclusive and welcoming environment where all students feel comfortable sharing their varied views and perspectives as they learn the Spanish language and about Hispanic/Latinx cultures. He primarily teaches specialized courses in Spanish for the professions. These are aimed at students who would like to work in areas where the language might be used, such as hospitals, community organizations and nonprofits, Hispanic businesses and more. Diaz-Davalos's current research interests include contemporary Mexican literature and culture, especially in the interdisciplinary area known as border studies. Through concepts that come from border theories, he analyzes representations of the U.S.-Mexico border in literature, music and film in order to rid this multicultural space of stereotypes and misconceptions. Diaz-Davalos earned his B.A. from University of California, Riverside and his M.A. and Ph.D. from Temple University.
Natalie Gotter, Visiting Assistant Professor of Dance
Gotter teaches modern dance technique, pedagogy and theory and is interested in developing the fully-embodied dance artist practitioner through intellectual and somatic understanding of movement. Her research primarily focuses on utilizing physical feminism--acceptance and validation of the physical form and its history--as a means to challenge socially imposed rules and expectations of the individual's form. She received a B.A. in communication from Tulane University and her M.F.A. in Modern Dance with an emphasis on Gender Studies and Screendance Certification from the University of Utah. Her work has been presented at the Dance in the Desert Festival, Utah Dance Film Festival (recipient of 2019 Audience Choice award), Great Salt Lake Fringe Festival, and commissioned and presented by companies in New Orleans, Salt Lake City, Chicago, and Minneapolis.
Greg Heller-Labelle, Entrepreneur in Residence
Heller-Labelle holds a B.A., B.S. and B.Phil. from the University of Pittsburgh, along with an M.B.A. from Lehigh University. In his teaching, he is interested in the full spectrum of innovation and entrepreneurial thinking, from the creation of startups to disruptive behavior throughout human history. With a background in freelance journalism, Heller-Labelle has written about politics as well as design, branding and business in the craft beverage sector. He is also the CEO and co-founder of The Colony Meadery in Allentown.
Fangfei Miao, Visiting Assistant Professor of Dance
Fangfei Miao holds a Ph.D. in culture and performance from UCLA and an M.F.A. in choreography from the Beijing Dance Academy. Her teaching interests are in dance history and theory, modern dance technique, and Chinese traditional performing. She studied dance in China in the New Era (1978-) from the perspective of productive cross-cultural miscommunications, which are located in profoundly different conceptions of tradition, freedom, expression and the modern.
Dana Francisco Miranda, Assistant Professor of Philosophy
Miranda holds a B.A. from Bard College and an M.A. and Ph.D. from University of Connecticut, with his doctorate in philosophy investigating the philosophical significance of suicide, depression, and well-being for members of the African Diaspora. His research interests are in Africana philosophy, political philosophy, existentialism and philosophy of psychiatry. In his teaching, Miranda cultivates an academic environment where all parties are empowered and focuses on ethical and political responsibility, dialogue and a commitment to plurality. Miranda has recently published three American Philosophical Association blog posts and is featured in the Journal of Natural and Social Philosophy, Vol. 13.
Drew Richardson, Visiting Assistant Professor of Theatre
Richardson teaches acting from multiple perspectives and emphasizes exploring the truths and joys of imaginary situations. This approach draws from and adapts the embodied imagination of Michael Chekhov, the mask and movement explorations of Jacques Lecoq, the eccentric performing principles of Avner Eisenberg and Julie Goell, and the somatic awareness exercises of Thomas Hanna and Martha Peterson. Richardson is best known as the first person in the twenty-first century to bring new silent movies to major motion picture theaters. He has directed and performed solo and ensemble devised plays for arts centers, theaters and festivals nationally and internationally. Richardson holds a B.F.A. from Ohio University and an M.F.A. in Theatre Movement Pedagogy from Virginia Commonwealth University.
Leticia Robles-Moreno, Assistant Professor of Theatre
Robles-Moreno teaches classes on race, gender, performance and politics in the Americas using multiple forms of contemporary performance (including visual and sound art, social media, literature, politics, the performance of everyday life and theatre) to think about alternative forms of world-making. She invites students to reflect upon political conflicts rooted in racial and cultural clashes and on how the liberal arts have the ability to address, analyze and work towards the transformation of these conflicts. Her research focuses on different forms of artistic collaborations, specifically "creación colectiva," the Latin American counterpart of devised theatre, with a focus on how the connections between academia, art and activism (or artivism) challenge processes of exclusion and disenfranchisement. Her research, published both in English and Spanish, fluctuates between theory and practice, critical and race theory and political engagement. Robles-Moreno holds a Ph.D. from New York University, an M.A. from New York University, an M.A. University of Colorado at Boulder and a B.A. from Pontificia Universidad Católica del Perú.
David Romberg, Assistant Professor of Film Studies
As both a filmmaker and an educator, Romberg is interested in how experimentation in film production can challenge dominant or mainstream narratives and forms in media, embracing alternative voices and modes of production. He asks students to consider how they can evolve artistically, often at the expense of feeling uncomfortable in unfamiliar territories—crucial attitudes, he believes, for creative discovery and formal innovation. Romberg makes films that combine documentary and fiction modes of storytelling through community-based collaborative modes of production. He is particularly interested in telling stories that meditate on the meaning of home or refuge in the context of immigration, political turmoil and displacement. Two films, "Man of the Monkey" and "The Return," are currently in post-production. Romberg received his B.F.A. and his M.F.A. in Film and Media Arts from Temple University.
Mirna Trauger, Assistant Professor of Spanish
Trauger believes language learning is a way for students to build bridges and make connections across cultures. Her teaching is not only based on the development of all four language skills—listening, reading, writing, and speaking—but also integrates cultural knowledge. Her areas of research include 20th-century Hispanic Caribbean literature, 20th and 21st-century Latin American and Latinx drama, Hispanic film, colonial studies, and postmodern writing and theory. She has also done research on pedagogical topics, including the use of universal design in the language classroom, and has lectured on approaches for helping faculty to effectively teach students with physical and learning challenges. Her most recent research focuses on the representation of trauma and illness in Latin American texts. Trauger earned her B.A. at Moravian College, M.A. at Rutgers University and Ph.D. at Rutgers University.
Matthew Earl Williams, Lecturer of Photography
Williams received his M.F.A. in photography and an M.A. in studio art from the University of Iowa. He also received a B.F.A. in photography from the University of Oregon. For students, image making becomes a way for them to grow and find their own voice. In his teaching, Williams enjoys showing them how to understand the power of the photograph as well as how that power has been used to make change all throughout history. This allows them to think about how they will use the potential of the image in their own lives as well as understanding how others may use its ability to convince them to think a certain way. His own work explores how we manufacture significance to our existence and the different ways we attempt to attribute value to it. It has been shown internationally with recent cities including Los Angeles, Berlin, Chicago, New York, Denver, Portland and Phoenix.
Leah Wilson, Assistant Professor of Neuroscience
Wilson appreciates the interdisciplinary nature of neuroscience and enjoys introducing students to the questions that initially attracted her to science and to an analytical framework that will serve them across disciplines and beyond the classroom. Her research is grounded in a deep curiosity about behavior. Why do animals behave the way they do? Different disciplines approach this question from different perspectives and she is interested in the question from both mechanistic and functional perspectives. Her lab investigates behavior in the zebrafish, a highly social species native to South Asia and students explore the neural systems that specifically regulate social behavior (e.g. grouping, courtship, aggression). Wilson has been featured in a number of recent journal publications and holds a B.A. from Oberlin College, an M.S. from the College of William and Mary and a Ph.D. from Indian University.
About Muhlenberg College
Founded in 1848, Muhlenberg is a highly selective, private, four-year residential, liberal arts college offering baccalaureate and graduate programs. With an enrollment of approximately 2,200 students, Muhlenberg College is dedicated to shaping creative, compassionate, collaborative leaders through rigorous academic programs in the arts, humanities, natural sciences and social sciences; selected preprofessional programs, including accounting, business, education and public health; and progressive workforce-focused post-baccalaureate certificates and master's degrees. Located in Allentown, Pennsylvania, approximately 90 miles west of New York City, Muhlenberg is a member of the Centennial Conference, competing in 22 varsity sports. Muhlenberg is affiliated with the Evangelical Lutheran Church in America.