Muhlenberg Names A. Benjamin Miles III '13 the Inaugural Weiss Fellow
The Weiss Fellowship is a selective trustee mentorship program designed to prepare recent Muhlenberg graduates for service and nonprofit leadership opportunities.
By: Bill Keller Wednesday, October 2, 2019 08:42 AM
The fellowship, named in honor of Muhlenberg Life Trustee Bishop Harold "Hal" Weiss '52, empowers the College's trustees to appoint a Muhlenberg alum to a two-year term on the College's board. The fellow will develop a foundation in leadership service through participation in trustee activities, personal mentorship from a board member, responsibility for ethical decision-making and financial stewardship and access to extensive professional development opportunities.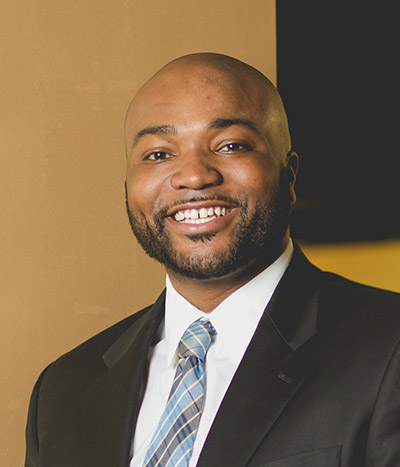 The inaugural recipient of the Weiss Fellowship, A. Benjamin Miles III, is a 2013 graduate of Muhlenberg College. Since 2015, Miles has served on the College's Alumni Board, and he is currently co-chair of the board's nominations and governance committee. He earned his bachelor's in business administration and was involved in various extracurricular activities, including participation in the Muhlenberg wind ensemble and service as a WMUH program host and Muhlenberg tour guide.
"Working with alumni from across the decades who share my passion for Muhlenberg has strengthened my commitment to the College as I have observed, firsthand, the positive and lasting impact Muhlenberg has made on generations of alumni," Miles said in his personal statement. "Serving as a Weiss Fellow will allow me to closely observe how the board makes critical decisions at the highest level and to learn about the strategic thought processes that influence major decisions with lasting impacts on the welfare of our College."
Miles' two-year term as a non-voting member began this July and will include a role in the College's triannual trustee meetings as well as voluntary service on at least one standing committee or taskforce. He will be introduced to his trustee mentor during his orientation at the board's October meeting.

About the Weiss Fellowship Program
The Weiss Fellowship program was created by the College's Board of Trustees to honor Bishop Harold "Hal" Weiss '52, a lifelong advocate for Muhlenberg College. Weiss dedicated his life's work to both the College and to his career and calling as a theologian, pastor and bishop within the Evangelical Lutheran Church. Weiss served two distinguished terms as a Muhlenberg trustee and was the recipient of the board's highest honor: the designation of life trustee, which he held from 1999 until his passing in 2017. This prestigious appointment is granted only, in the board's bylaws, to "individuals who, in the opinion of the Board, have served the College with extraordinary distinction."
Applicants to the Weiss Fellowship program must be Muhlenberg graduates who received their degrees from the College within the last 10 years. In addition to a resumé or curriculum vitae, applicants provide a reflective statement that details their vision for volunteer service as a Muhlenberg Board of Trustees member and explains how a Weiss Fellowship appointment aligns with their professional and volunteer leadership goals. Fellows receive a stipend for necessary travel and accommodations related to trustee meetings and for useful and necessary learning resources.
There will be two concurrent fellowships available, with an overlapping term of one year for each of the two fellows. The application process for the next Weiss Fellow will begin in Spring 2020, and accepted applicants will be notified by May 2020.
About Muhlenberg College
Founded in 1848, Muhlenberg is a highly selective, private, four-year residential, liberal arts college offering baccalaureate and graduate programs. With an enrollment of approximately 2,200 students, Muhlenberg College is dedicated to shaping creative, compassionate, collaborative leaders through rigorous academic programs in the arts, humanities, natural sciences and social sciences; selected preprofessional programs, including accounting, business, education and public health; and progressive workforce-focused post-baccalaureate certificates and master's degrees. Located in Allentown, Pennsylvania, approximately 90 miles west of New York City, Muhlenberg is a member of the Centennial Conference, competing in 22 varsity sports. Muhlenberg is affiliated with the Evangelical Lutheran Church in America.