Virtually Athletic
While sidelined from playing real soccer, I represented Arsenal—my favorite team—in the first ePremier League video-game tournament in London.
By: Kane Doyle '20, as told to Meghan Kita Friday, September 20, 2019 01:05 PM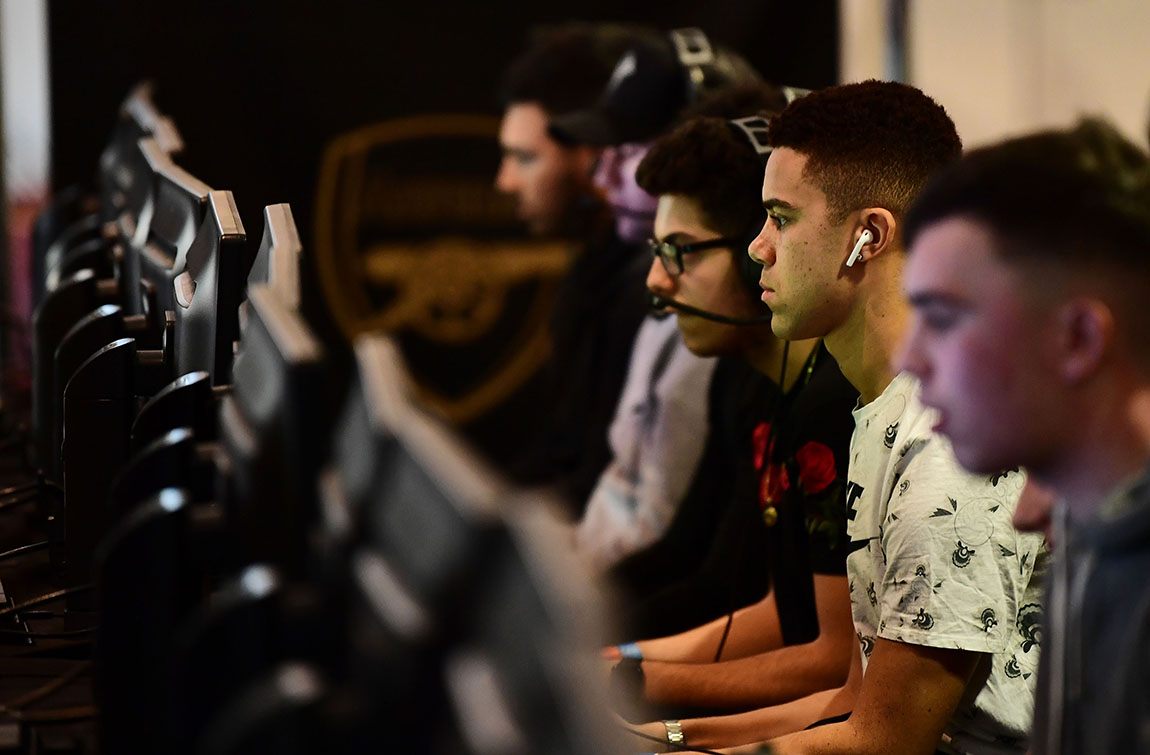 Kane Doyle '20, second from right, plays in the first ePremier League tournament. Photo courtesy of EA SPORTS FIFA.
Last winter, the Premier League, 20 teams that make up the highest tier of soccer in the United Kingdom, partnered with Electronic Arts (creators of the video game EA SPORTS FIFA) on a tournament. FIFA players from the U.K. competed online to represent a Premier League team of their choosing. The top 16 players for each team went to that team's stadium for an in-person playoff. Kane Doyle '20, a business administration major and international student-athlete from London, was one of them.
The night before my flight to Muhlenberg last summer, I was playing soccer. I tripped over the goalkeeper, went headfirst into the post and was knocked out. It was my fifth serious concussion. Now, I still go to practice, but I can't play. The time I used to spend working out, I started spending on FIFA.
No one's impossible to beat, but it helps to have a better team, and to get that, you have to put money in. When I was playing soccer, I didn't put any money into FIFA, and I still beat good players. A teammate, Shaun Bartholomew '19, would always say, "Imagine if you had those players." This year, he helped me raise money by starting an eSports team and selling merchandise. The proceeds helped: One weekend, I was ranked 53rd in the world.
In the ePremier League qualifier, 1,200 people tried out for Arsenal. You could play as many games as you wanted, and you'd get points for winning (more, if you beat someone highly ranked) and lose points for losing. One of my first games was against the top seed and I won. I was in a qualifying position, but I didn't think I could travel to London for the next round, so I stopped playing. By the end, some people had played 150 games. I'd only played 30, but I won enough to finish in the top 16. I explained to the organizers I was studying in the States and I wouldn't pay to fly home, and they said they'd cover my flight. It was great: The playoff was on February 22—my birthday—and I hadn't been home for my birthday in years.
I've been to Emirates Stadium loads to watch Arsenal, so to be invited to play there—even though it was just FIFA—was incredible. They let us in through a special entrance to the Diamond Club, where there were all these screens lined up. Because we'd spent the qualifiers playing everyone online, it was like, "Oh, you're so-and-so!" I made a friend, Zak—we'd connected through Twitter first.
It was weird competing in person. I'd brought one of my best friends, and he was shouting and encouraging me. It was pretty loud in there. I lost my second game, but I didn't mind. There were players there who are full-time, professional eSports players. They don't have to balance athletics or schoolwork; they just practice 24/7. Plus, the event had a free bar and loads of nice food. I was going to hang out with my friends that night anyway, so it was a nice way to have a few beers beforehand.