Valerie Weisler '20 Chosen as G(irls)20 U.S. Delegate
She'll travel to Japan this summer for a week-long summit focused on young women's economic inclusion.
By: Sara Tressler '19 Tuesday, February 5, 2019 10:14 AM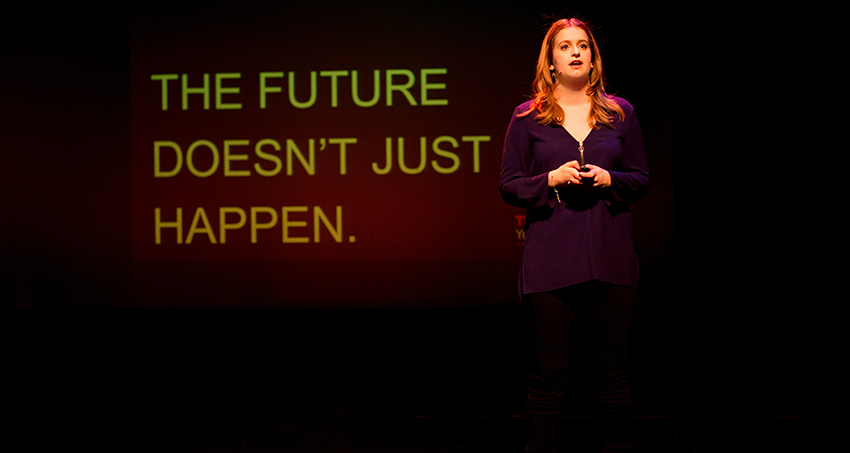 Val Weisler '20 gives a TEDx Talk titled "Turn On Your Light" during her senior year of high school. Photo courtesy of Val Weisler.
Valerie Weisler '20 has been chosen to serve as the 2019 United States delegate for G(irls)20. Launched in 2009 at the Clinton Global Initiative, G(irls)20 selects 20+ young women from the G20 countries, as well as from Pakistan, the African Union and MENA (the Middle East and North Africa region) plus one indigenous representative, to represent their countries. The delegates work together to design policies that promote young women's economic inclusion. This summer, they will convene in Tokyo, Japan, for a week-long summit that ends in delivering their communiqué to Ambassador Koji Tomita, Japan's G20 "sherpa." There were more than 1,600 applicants for the program this year.

Weisler, the founder and CEO of The Validation Project who's currently pursuing a self-designed major in educational advocacy, says she is "deeply honored to serve as the United States delegate" and appreciative for the mentorship of Muhlenberg alum Lauren Anderson '79, an international geopolitical consultant.
"After meeting in June last year, we immediately clicked and, as Lauren is a global women's rights advocate and former G(irls)20 Advisor, she coached me throughout my application process, and I am lucky enough to call her a mentor (and friend) both personally and professionally," Weisler says.
"Val Weisler is changing our world," says Anderson. "In an era when many people vocalize what's wrong in our world, Val takes action and finds a solution in the most positive and productive way possible. I mentor many young women and men globally, and Val is a rarity. Her passion, vision and deeply humane approach to countering bullying and lifting others up, which she has been doing since age 14, places Val in that special class of people who seek to 'be the change.' I'm grateful to Cliff Allen '69, my fellow Alumni Board member, who introduced us. Mentoring and sharing a friendship with Val is a gift. She will represent Muhlenberg and the United States brilliantly in Tokyo."
Weisler will be the second student with a connection to Muhlenberg College selected to this important summit. Kate Ekanem '21, who founded the Kate Tales Foundation, an NGO that seeks to empower women and girls in Nigeria through education and support of their writing and art, attended the G(irls) 20 Summit in Istanbul, Turkey, in 2015 as a representative from the African Union.
Started as an anti-bullying crusade, Weisler's The Validation Project is now an international organization working with more than 6,000 teenagers in 105 countries to solve social-justice issues. In addition to the project's one-on-one mentoring program, its pro-kindness curriculum is active in 1,000 schools, teaching students and educators how to use entrepreneurship to solve problems in their communities. In 2017, Weisler's work was recognized when she was named one of 10 recipients of the L'Oréal Paris Women of Worth award.
Weisler has held events for The Validation Project in the Lehigh Valley, including a screening of RBG last May followed by a community forum of local female leaders. Currently, Weisler is working with Professor of Political Science Michele Deegan to provide Allentown high school students with career field trips and higher education resources.
"When I started The Validation Project at 14, so many people told me to give up—that I was just a young girl," says Weisler. "My female mentors inspired me to keep going. Economic inclusion for women starts with young girls. It's so much more than giving us a seat at the table; we need the support to be leaders in every room we walk into. G(irls)20 provides a unique opportunity to work with other female leaders to confront the intersectional issues that affect economic inclusion on a global scale. It's an absolute dream come true to be the United States delegate."