Valerie Weisler '20 Named 2019 Truman Scholar
The Truman Scholarship is the premier graduate scholarship for aspiring public service leaders in the United States.
By: Kristine Yahna Todaro Wednesday, May 8, 2019 03:16 PM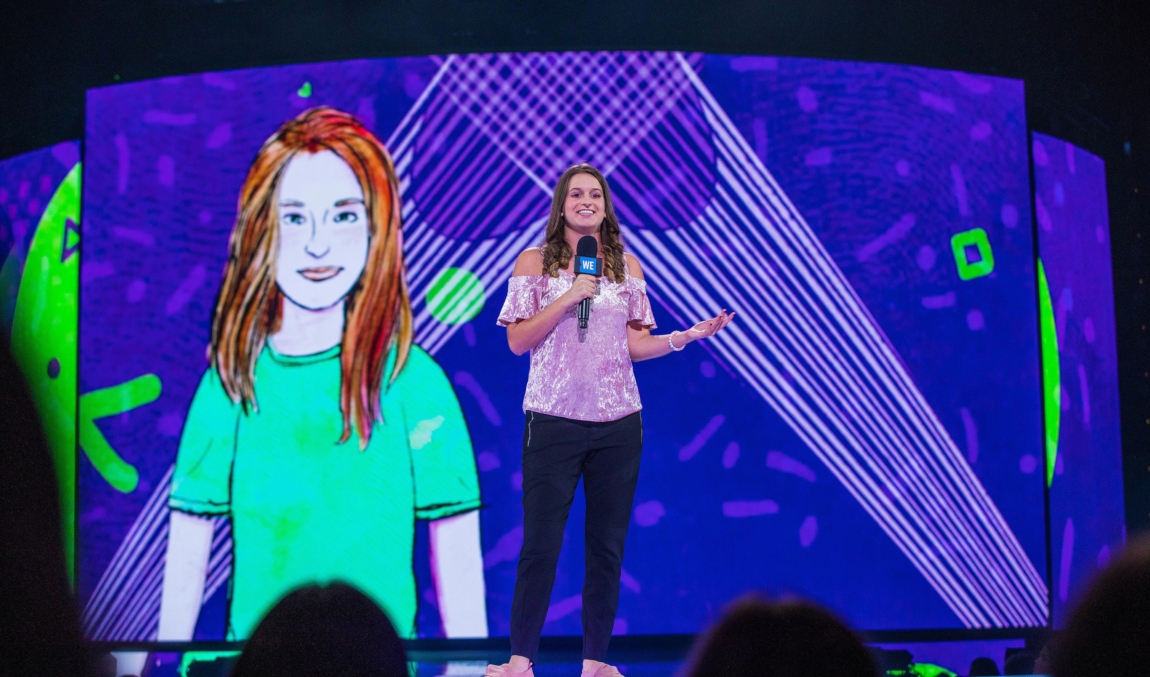 Valerie Weisler '20
Valerie Weisler '20, a Civic Fellow at Muhlenberg College with a self-design major in education advocacy and a minor in Spanish, is one of only 62 college students nationally to be named a 2019 Truman Scholar. It is the premier graduate scholarship for aspiring public service leaders in the United States.
The Truman Foundation reviewed 840 files from 346 institutions. Students were nominated by their institution based on their records of leadership, public service and academic achievement. This is the largest number of applicants from a record number of schools in recent history.
Each new Truman Scholar receives up to $30,000 for graduate study. Scholars also receive priority admission and supplemental financial aid at some premier graduate institutions, leadership training, career and graduate school counseling and special internship opportunities within the federal government.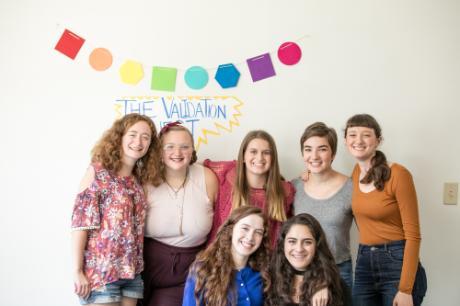 "I wouldn't be here without so many members of the Muhlenberg community, such as Professors Michele Deegan and John Ramsay and staff members Beth Halpern and Cailin Pachter," says Weisler, pictured at left with Muhlenberg friends (Weisler is top row, center). She added, "The graduate school funding is incredible, but the community I gain access to is what I am most excited about. Public service is my passion, and I cannot wait to dedicate my life to it."
Weisler is the founder and CEO of The Validation Project, a global youth empowerment organization working with more than 6,000 K-12 students in 105 countries to provide mentoring, career field trips, resources for students to lead social action projects and in-school programming.
Her kindness curriculum is taught in nearly 1,000 K-12 schools, teaching educators how to work with their students to instill self-confidence and design creative solutions for issues in the community. To date, Weisler has led more than 350 social justice workshops for students and educators around the world. Most recently, she has launched Trailblazers, a new Validation Project campaign that provides high school women from marginalized communities with career field trips, women-led workshops, female mentors and resources to navigate the college process. Trailblazers programming has been led at Facebook, Harvard University, L'Oreal Paris and EF Education First.
Weisler was also recently chosen to serve as the 2019 United States delegate for G(irls)20. The program selects 20+ young women from the G20 countries, as well as from Pakistan, the African Union and MENA (the Middle East and North Africa region) plus one indigenous representative, to represent their countries. The delegates work together to design policies that promote young women's economic inclusion. This summer, they will convene in Tokyo, Japan, for a week-long summit that ends in delivering their communiqué to Ambassador Koji Tomita.
Featured on CNN, Oprah Magazine, Inc. and Entrepreneur, Weisler is a 2017 L'Oreal Paris Woman of Worth, a Point Foundation Scholar, a recipient of the National Jefferson Award for Peace and Justice and the Princess Diana Award from former Prime Minister David Cameron. Weisler has also served as a youth ambassador for the Human Rights Campaign, a Speaking Ambassador for the U.S Department of State, and as a member of the Harvard Graduate School of Education youth advisory board.
The Truman Foundation was created by Congress in 1975 as the living memorial to President Truman and the Presidential Memorial to Public Service. The Foundation's mission is premised on the belief that a better future relies on attracting to public service the commitment and sound judgment of bright, outstanding Americans.
About Muhlenberg College
Founded in 1848, Muhlenberg is a highly selective, private, four-year residential, liberal arts college offering baccalaureate and graduate programs. With an enrollment of approximately 2,200 students, Muhlenberg College is dedicated to shaping creative, compassionate, collaborative leaders through rigorous academic programs in the arts, humanities, natural sciences and social sciences; selected preprofessional programs, including accounting, business, education and public health; and progressive workforce-focused post-baccalaureate certificates and master's degrees. Located in Allentown, Pennsylvania, approximately 90 miles west of New York City, Muhlenberg is a member of the Centennial Conference, competing in 22 varsity sports. Muhlenberg is affiliated with the Evangelical Lutheran Church in America.