Tracking a Lieutenant's Travels
As part of an independent study, Jona Lieberman '20 used mapping technology to bring an alum's World War I memoir to life.
By: Meghan Kita Tuesday, April 16, 2019 01:08 PM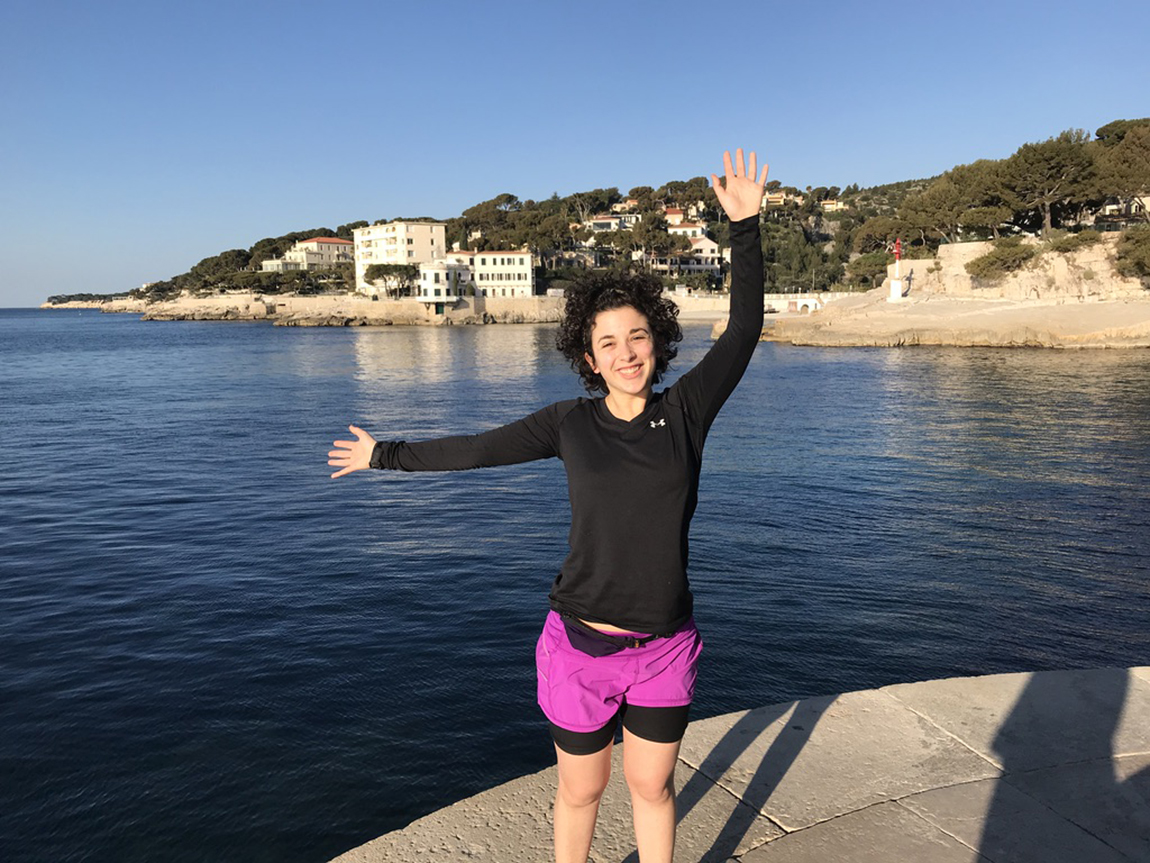 Jona Lieberman '20 in the small port town of Cassis, France, during her semester abroad
This spring, Jona Lieberman '20 is studying abroad in France, exactly 100 years after Martin Fetherolf '14 (that's 1914) studied there under extremely different circumstances.
Fetherolf, a lieutenant in World War I, remained after the war ended for a semester at the University of Montpellier. Lieberman, a French and francophone studies major and Dana Scholar, spent last fall chronicling Fetherolf's travels using primary sources from Trexler Library's Martin D. Fetherolf Collection and the mapping technology StoryMapJS. She recently earned a 2019 Library Scholar Award for her work.
"I have been to some of the places he went, places he briefly visited following the war but before he attended university," she says. "Where I am, in Aix-en-Provence, is very close to many of the places he visited in the south of France."
Lieberman's map focuses most on the specifics of his movement before and during the war, which Fetherolf detailed in a memoir he wrote years after returning home. The memoir served as Lieberman's primary source material for the project, though Carol Taylor, William Zimmerman and Karl Zimmerman, Fetherolf's grandchildren, also donated photos, a yearbook and journals to Trexler Library.
"The specificity of the memoir led us to believe he had to be referring back to those journals in some way," Lieberman says.
She learned of the memoir's existence during a class with English Professor Grant Scott. The class was discussing Ernest Hemingway's service in World War I, and Scott mentioned that Muhlenberg's archives held a memoir of an alum who'd served. Lieberman required an additional independent study to fulfill the requirements of the Dana Program—her first was on blackness in France in the 20th and 21st centuries—and Fetherolf's memoir sparked her interest.
She met with Special Collections and Archives Librarian Susan Falciani Maldonado about how she might visually represent the memoir. Falciani Maldonado had recently supervised Maddux Pearson '18 as he created the Muhlenberg College Timeline of Visitors using a sister program to StoryMapJS.
"We looked up an example [of StoryMapJS] and I was like, 'Wow, that would be perfect,'" Lieberman says. "I thought it made the memoir come alive in a way that was different from being all text."
Lieberman began by reading the memoir and taking notes. She cross-referenced what Fetherolf wrote with a book on the history of his regiment, a helpful supplement for when the memoir lacked specific dates or locations. She prepared the text—a mix of quotes from the memoir and narrative background information—and collected archival images, all in the public domain because of their age. Then, she plugged the assets into the StoryMapJS platform, which presents "slides" linked to points on a map.
The final project included approximately 40 distinct locations Fetherolf traveled to over the course of two years. Per Scott, Lieberman's advisor, "Every week or so it seemed [Fetherolf] was in a different town or village. The mapping technology allowed Jona to visualize his journey by locating him on a period map and adding words and pictures."
"It was such a tribute to Grandpa," says Taylor, Fetherolf's granddaughter, of the finished project. "To have [the memoir] be used this way is just above and beyond what I ever thought would happen."
For Lieberman, who's in the education program and aspires to teach high school French, the most compelling part of Fetherolf's memoir was his recounting of his time in a French university. She included five slides about his time at the University of Montpellier, focusing on the educational opportunities for Americans in Europe after the war, the difference between French and American universities and the cultural differences American students observed while living in France.
"I think there's a lot of benefit to doing independent studies," she says. "As someone who wants to teach in the future, I'd love to be able to incorporate tools like this into my classroom."