The Sound of Success
Mike Alexander '05, who made Billboard's 40 Under 40 list last year, entered the music business thanks to help from a fellow Mule.
By: Brittany Risher Wednesday, March 20, 2019 04:16 PM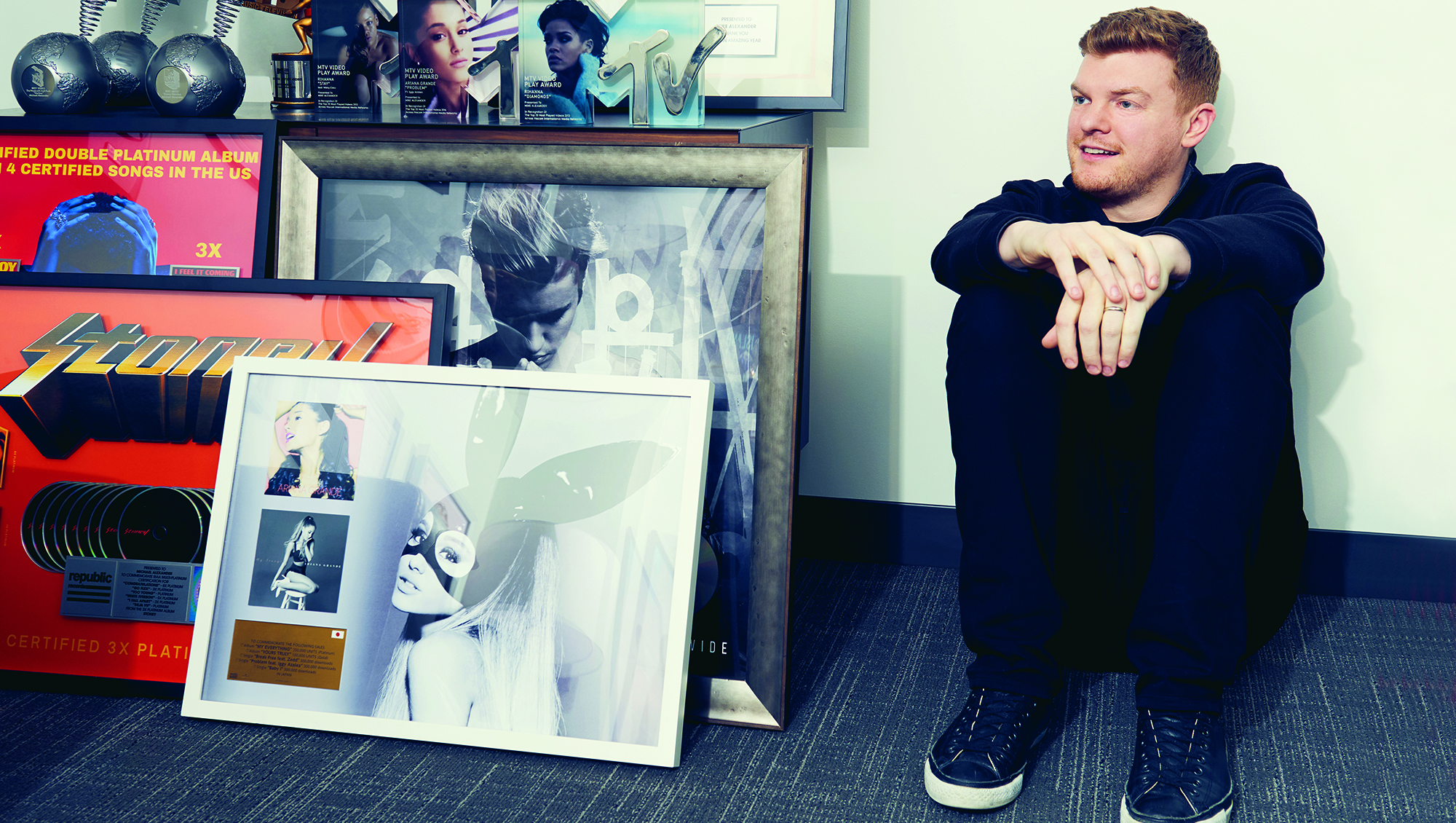 For three of his years at Muhlenberg, Mike Alexander '05 worked in the admissions office, interacting with prospective students and their parents. His supervisor, Melissa Falk '92, the dean of admissions and financial aid, noticed he often mumbled.
"I told him, 'You have to speak louder and clearer. You have a lot of good ideas that need to be shared, and if someone doesn't hear you or understand you, it's lost,'" she says. "I didn't want others to miss what he had to say."
Alexander's professional peers recently recognized his good ideas in a big way: In October, Billboard named Alexander to its annual "40 Under 40 Top Young Power Players" list. But for Alexander, the executive vice president of international marketing for Universal Music Group's East Coast labels (Republic Records, Island Records and Def Jam Recordings), one of the best things about being on the list is the number.
"It's great. It announces to the world that I'm still under 40," he jokes.
Those who know Alexander, however, aren't surprised—by his success or his humility.
"I told him, 'I'm so proud of you!'" says Falk, who's stayed in contact with Alexander since his graduation. "He said, 'It's not a big deal.' And I said, 'Yes it is!'"
Alexander acknowledges this, but adds that he didn't do it on his own. "It's an honor to be recognized alongside a lot of other amazing executives in the business," he says. "I could not do what I do without the amazing team that I have behind me. They are family. And the success we have, we accomplish together."
A Second Home
A sense of family also played a role in Alexander coming to Muhlenberg. After Falk stopped at his high school during his junior year, he decided to visit campus. Immediately, he knew Muhlenberg was his top choice. "I knew I wanted a liberal arts school, and I looked everywhere. I remember walking around campus, and there was something about it that felt like home," he says. "Leaving home was scary, but I felt like I could see myself living there, having a life there. When you go to college, you are really saying, 'This is going to be my home for the next four years.'"
However, Alexander felt he didn't have the grades to be accepted, so he did everything he could to get in. In addition to applying early decision, he also visited campus multiple times and interviewed with an admissions counselor.
His strategy worked. As a first-year student without a major in mind, he decided to take various classes to see what interested him most. And because of his passion for music, the media & communication courses stood out. His first class, Media and Society, taught by current Dean for Digital Learning Lora Taub-Pervizpour, opened his eyes to how media affects people. "I really enjoyed the idea of social sciences and at the same time, I was taking classes in music," Alexander says. "I found a way to combine things I was passionate about and really customize my education to what I wanted it to be. I really loved it, but I still didn't know what I was going to do with my life after graduation."
Taub-Pervizpour, however, noticed Alexander's focus and ability to connect concepts from class to their real-world applications. "He always had an example to share, and he had so many street smarts about media," she says. "For many students who want to study media & communication, it's challenging because it really turns our familiar ways of looking at media inside and out. We try to help students look at media with fresh eyes. Mike did that really, really well."
She also challenged Alexander, who earned a C in her class. "It was a wake-up call," he says. "OK, this is what you want to study and get your degree in? Then you need to be better and you need to work harder."
Home Team Advantage
Another woman—Justine Flax '05, his college girlfriend turned wife, with whom he has two children—also helped shape Alexander's career path. During their sophomore year, Flax told him that he needed to get an internship, because that would help him get a job when he graduated. So Alexander went to the Career Center and began flipping through a binder of alumni.
"I had no clue where I was going to get an internship," Alexander says. But he came upon the name of Tom Simon '01, who worked for Universal Music Group. "I thought, 'I love music, and working at a record label sounds cool,'" says Alexander, who cold-called Simon. He headed to New York City the next day for an interview in the same building where he's now worked for more than 13 years.
"I have a soft spot for the home team," Simon says. "Because he was from Muhlenberg, I knew he was a smart guy."
During the internship, Alexander's work ethic and passion for the industry stood out. "About a month in, I thought, 'If he doesn't get a job in this space, the music industry will have missed out,'" Simon says. More than that, he stayed level-headed. "We had four people in the international department with all this responsibility. On top of that, the industry didn't pay well in the beginning. I was a constant ball of stress," Simon says. "Mike was calming and approached things in a way that de-stressed me. He'd say, 'Let me help you get this done.'"
For Alexander, that experience plus another internship with the same team his junior year solidified what he wanted to do for his career. "During those internships, I realized I could have the opportunity to be part of something that I love—music—and play a major role in helping to shape other people's careers," he says. "There is no better feeling than meeting an artist at the very beginning of their career, and then being a part of developing them into superstardom. There is no better feeling. You are helping someone fulfill their dreams with a front-row seat."
All in the Family
Alexander began as an assistant at Universal in 2005 and worked his way up to his current position. "We handle all the marketing, publicity and sales for our artists signed here outside of the United States," he explains while sitting in his office, where photos of the musicians he works with—including Justin Bieber, Post Malone, The Weeknd, Shawn Mendes and Ariana Grande—line the walls. "A lot of them I've been with since the beginning of my career. In a lot of ways, we grew up in the business together," he says. "Those relationships are so important to me. I know them on a work basis, but I also have strong friendships with many of them. When you travel around the world with someone for years, experiencing new things together, you develop a very special bond."
"Mike is personable, and the artists latch onto that," Simon adds.
Just as important—if not more so—is his relationship with his team. "I've worked with most of the people in this department for the better part of 15 years. I can't imagine being anywhere else. This is my work family," Alexander says. "In a business that is not 9 to 5, that is a lifestyle, and that requires traveling and being away from your family a lot, it makes it a little easier when you are able to get up every day, go to work and travel the world with people you genuinely like."
His employees and past bosses say Alexander truly treats colleagues like family and promotes collaboration.
"Even as a student leader on campus, he was good about expressing gratitude and making people feel valued," Falk says. "[The music industry] is really fast-paced and demanding with weird hours. He creates a positive work environment and empowers people. He appreciates them."
"I've watched him with his team, and he cares about what they are doing. He has this leadership quality that people want to get behind," says Simon, adding that observing Alexander taught him to speak more about "us" and "we" rather than "I" and "me".
And just as Simon opened the door to the music industry for Alexander, Alexander now offers similar help to current Mules and alumni. "Mike is very committed to extending internship opportunities to Muhlenberg students that were extended to him when he was a student," Taub-Pervizpour says.
In addition to speaking at Alumni Week every April, he has hired three alumni. "Whether they're interns or we're hiring them full-time, you know you're going to get somebody that is ambitious, passionate and dedicated to whatever they are doing," Alexander says. He also answers emails and phone calls from students that faculty or Career Center staffers send his way because they want to be in the music industry.
"Having the opportunity to help students in any way I can or just talk to somebody or mentor somebody, it's fun. I enjoy it," he says. "Muhlenberg was a big family. The friends that I made there, I'm still close with many of them today. It's great to still have that connection with Lora Taub and Melissa Falk, both of whom I have tremendous respect for and care a lot about. I wouldn't be where I am today without them. I'm very fortunate to still be friends with them so many years later."
Today, Falk and Alexander laugh about the mumbling incident, and he even credits working in the admissions office for teaching him many of the skills that are important for business. "Communication—being able to talk to people and create relationships—that all came out of the admissions office," he says, without mumbling a word.