The Power of the Past
My ancestors came through Ellis Island to escape persecution, and I was just able to visit for the first time.
By: Micky Hoenig '22, as told to Meghan Kita Monday, November 25, 2019 09:33 AM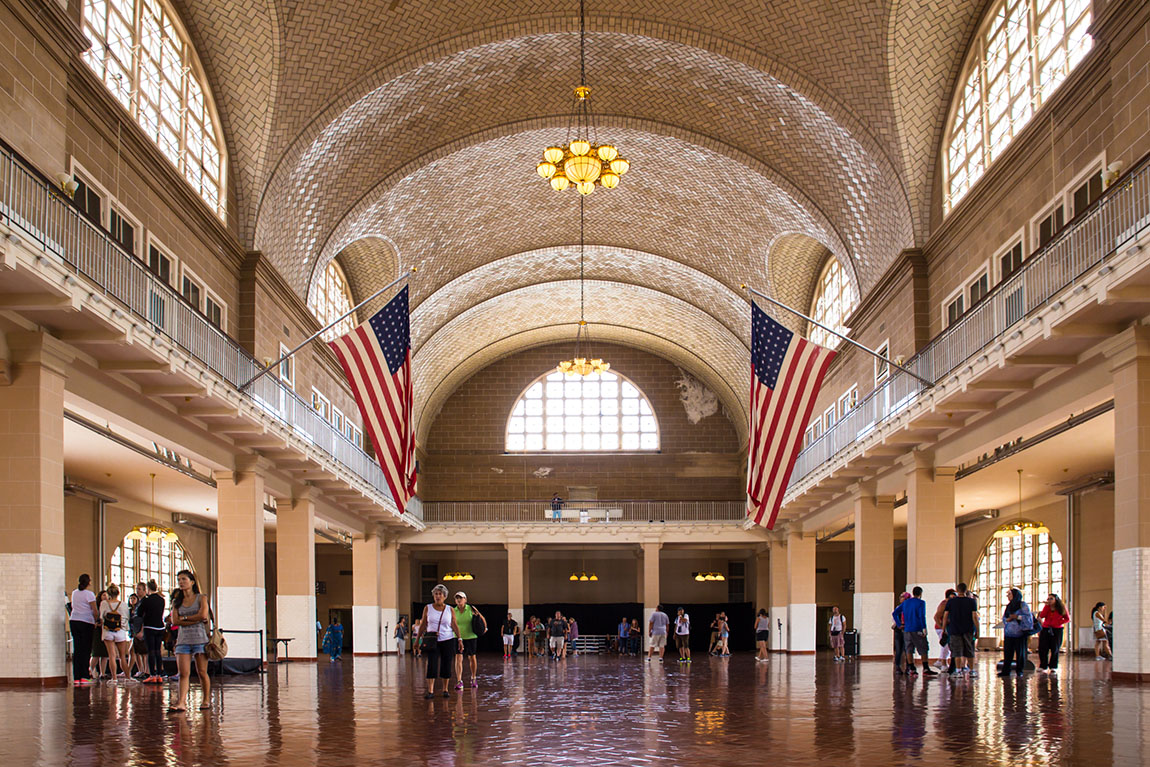 The Great Hall at Ellis Island. Photo by iStock
Last month, a group of Muhlenberg students and faculty traveled to Ellis Island as part of this academic year's Center for Ethics programming. The theme is Borders, Nationalisms, Identities: The Ethics of Global Citizenship. Micky Hoenig '22 (pictured), a political science and public health double major from Rockville, Maryland, shares her thoughts on the trip.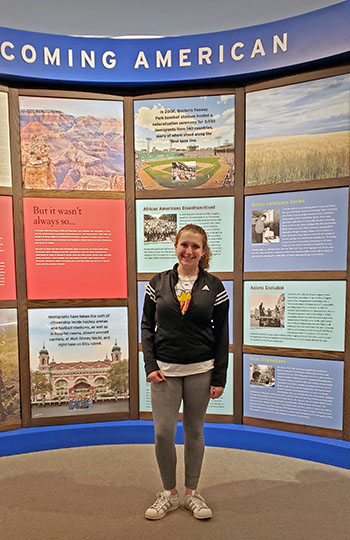 I've actually been trying to set up a family tree for a couple of years now. When we all get together on my mom's side of the family, they talk about grandparents and aunts and uncles and people I've never met, so I just got kind of curious about all of them. None of the websites I've found are that helpful. There are cousins we fell out of touch with, but apparently one of them had reached out to my grandfather to get our names for a huge family tree. I can't find a way to get in contact with him anymore, since my grandfather passed away in 2007.
I don't know much about my mom's mom's side of the family, but my grandfather on my mom's side, his uncle was one of four brothers. The oldest was killed during a pogrom in Russia, so the rest of the family fled to the United States. We know for a fact that they came through Ellis Island. I learned about them because my mom told me stories. She never met them, either, but her dad told her and she told me.
When I saw there was a trip to Ellis Island coming up, it sounded interesting. I go to New York a lot, but I never had a chance to go to Ellis Island before. I learned a lot more about it from being there than I ever had in a class—it was cool to see exhibits and manifests and records of people that have come through.
I learned that, before the U.S. government had quotas, they would really let anyone in. First, they would ask you questions—give you medical tests and literacy tests and competency tests. As long as you passed all those, you could get in. They would actually hold you there if you were sick and wait for you to get better, and then they'd let you in. That's when my family was let in—before the Holocaust. That was before the big Reconstructionist push to end immigration.
It was mentioned in a lot of places on Ellis Island that people came through to escape persecution. We know my ancestors came through there, and I was walking there, through the big processing station. If they hadn't come through there and they hadn't been let in, my ancestors would have died. It's a pretty common story, but it's still a powerful one.