Faculty Perspective: The App Trap
Evidence shows that taking a break from social media is a healthy act of self-care.
By: Jeff Pooley Thursday, August 29, 2019 03:47 PM
Perspective is a feature of Muhlenberg Magazine where faculty and alums share their expertise and experience on current issues and events. This article was originally published in the Summer 2019 issue of Muhlenberg Magazine.
In late June 1945, New York City's newspaper deliverymen went on strike—depriving the residents of their daily fix for 17 days. Desperate readers snaked around city blocks, in line to buy over-the-counter copies at the papers' offices. The mayor read Sunday comics over the radio. An Australian correspondent spotted a "well-known member of the Stock Exchange" emerging from a limousine "engrossed in the Communist Daily Worker"—one of the only papers not hit by the strike. New Yorkers missed their newspapers.
Almost 75 years later, I deprived my Muhlenberg students of social media. For a single day. The students—enrolled in the class Social Media & the Self—were required to document the abstention. One student described her day off social media as "one of the most challenging things I have had to do in my life." Another "felt alone and absent from the rest of the world." Losing a 689-day Snapchat "streak" with a best friend was, for a third, "extremely upsetting." My students missed their apps.
When students file into my class in the first week of the semester, they are already experts. They maintain multiple social media accounts: always Instagram and Snapchat, which they use frequently, and Facebook, which they do not. They are skilled navigators of the multiple- audience problem: the dilemma of posting to a mix of classmates, high school friends, coaches, elderly relatives and even future employers. Scholars call this "context collapse," and my students have it covered. They segregate their audiences by app ("Snapchat is for close friends") and many of them even maintain a second, private Instagram, a so-called "Finsta," to share the frank and silly content that's unsafe for future work.
But they arrive to class shackled to their phones. From middle school on, their lives have been marinated in social media. They are like fish in water, only dimly aware of their Instagram enclosure. Thus the involuntary respite was, for most of my students, disconcerting. They were no longer immersed—and keenly aware of their submerged peers. A meal in the Commons was, for one, an "alone together" experience—suitemates scrolling through their "socials" while he ate in annoyed silence. Conversation, when it did happen, centered on "funny Snapchats and memes that were circulating group chats."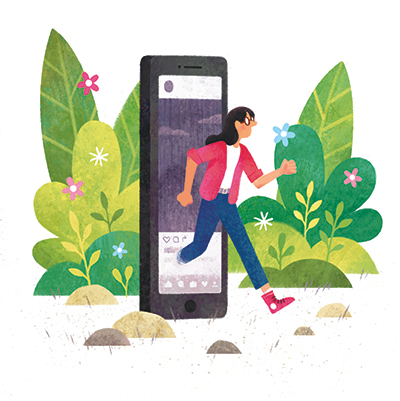 In a cruel twist, I asked the students to stare at their blank iPhones—they all have iPhones— for five minutes as part of the assignment. This, for a few students, was like looking behind the curtain. One described seeing her phone for the first time, a "little brick made of plastic, metal and glass." Another said it "felt as if I was looking at a dead person." The iPhone was, she added, "simply a device." This sort of reflection gave me hope that the assignment was serving its purpose. I had wanted students to demystify their phones, to face their dependency head-on. Media scholars have documented the scale of what they label "addiction" to social media, and it's not just 19-year-olds. Almost half of Americans 65 and older use Facebook, and most of those visit at least once a day. Most studies show that social media platforms leave their users feeling worse, and the main reason, according to scholars, is "social comparison." In the offline world, we measure ourselves against our peers, but on Instagram, the "peers" we scroll past are airbrushed and filtered—an endless highlight reel that casts our earthbound mediocrity in stark relief.
Evidence shows that taking a break from social media is a healthy act of self-care. In a recent experiment, University of Kansas researchers randomly assigned volunteers of all ages to abstain from social media for one to four weeks. A control group was asked to keep using their apps. The abstainers reported feeling happier than their Facebook-tethered counterparts. A similar Danish study carried the unambiguous title, "Quitting Facebook Leads to Higher Levels of Well-Being." In a third study, participants were invited to share a restaurant meal with friends or family and randomly asked to keep their phones on the table or put them away. The phoneless diners had a much better time than their distracted counterparts. Even the 2019 World Happiness Report (produced by the United Nations) blamed our digital devices, in part, for the precipitous decline in Americans' self-reported happiness since 2010.
"I am like a fish out of water…lost and nervous…put out and isolated from the rest of the world." So reported a newspaper-deprived New Yorker, back in 1945. The complaint was repeated in dozens of other interviews conducted in the midst of the strike. "I am suffering! Seriously! I could not sleep, I missed it so," a respondent complained. Another said that she "sat around in the subway, staring, feeling out of place."
Not much has changed. The interviews from 1945 are hard to distinguish from the laments of my students. And the lesson is the same: taking a break—voluntary or otherwise—is taking back control.
Jeff Pooley is a professor of media & communication at Muhlenberg College. Illustration by Ileana Soon. Video by Jonathan Schlegel.