Harvard Sociologist Discusses How Institutions of Higher Education Fail Lower-Income Students
Tony Jack discussed his research, which examines the divide between poor college students who come from under-resourced public schools and those who attended elite private schools on scholarship, alongside his own experiences as a first-generation college student.
By: Sara Vigneri Thursday, October 24, 2019 08:54 AM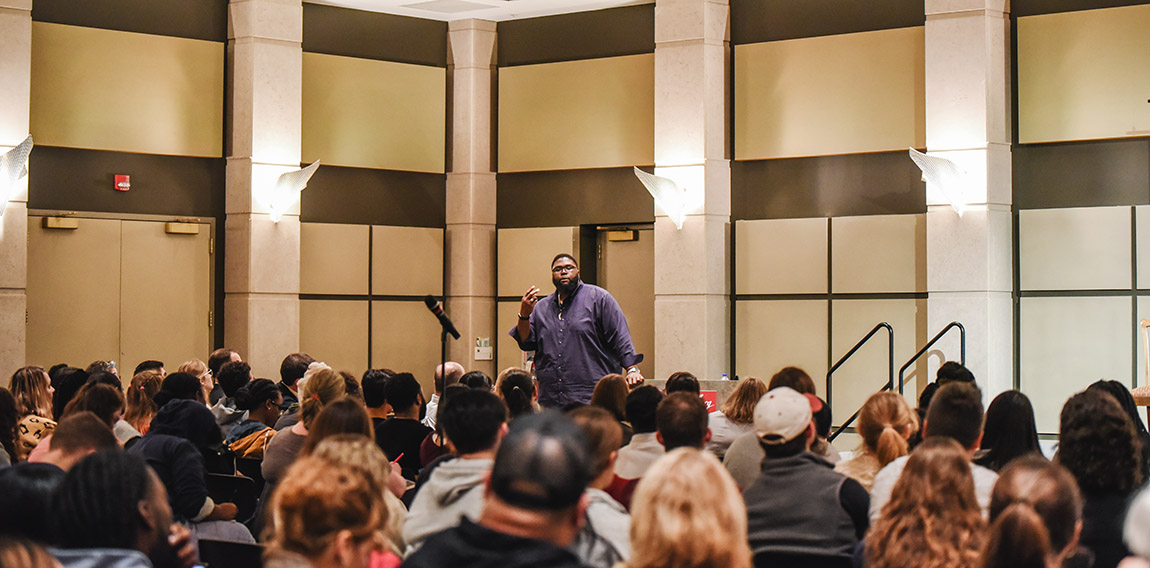 For many first-generation and lower-income students, the tenuous journey for acceptance to an elite college doesn't end once they get in—the process of navigating cultural norms and financial barriers in order to thrive at these institutions is a continuous challenge. This is what Tony Jack, a sociologist and assistant professor at Harvard and the author of The Privileged Poor: How Elite Colleges Are Failing Disadvantaged Students, experienced as a lower-income student at Amherst College, and it was the topic of his discussion to a packed audience in Miller Forum on October 22.
Jack explained how, in a bid to increase diversity, colleges introduced no-loan financial aid policies that expanded the attendance of first-generation and lower-income students. While these colleges ensured that money was no longer a barrier to entry, they often failed to eliminate the barriers students face on campus.
For example, Jack noted that of all the colleges to date that have adopted no-loan financial aid policies, only one in five keep their dining halls open during spring break without restriction. The assumption is that students can afford to go home or travel, but according to his research, one out of every seven students faces food insecurity during these breaks.
"I faced similar problems," Jack said, reflecting on his own undergraduate experiences. "Amherst opened its doors to lower-income students but forgot to keep everything else open to them."
Students like Jack navigate school workloads while juggling multiple jobs to support their families, leaving little time to indulge in campus social activities. "I thought I couldn't even go to concerts, even if tickets were free, if extra work shifts in the gym became available," he said. "Rest was a luxury I thought I couldn't afford."
There is also an unacknowledged divide among lower-income students: When elite colleges began recruiting these students, they turned to places that were already familiar—the private boarding and prep schools that use their large endowments to bestow scholarships on lower-income students. Jack dubs these students the "privileged poor."
Students of all socioeconomic backgrounds from more privileged high schools with attentive teachers are trained to advocate for themselves and to build relationships that result in better grades, access to internships and letters of recommendation. Therefore, lower-income students who come to college from an under-resourced public high school are at a double disadvantage.
"Colleges expect students to be proactive and comfortable in forging relationships with faculty from the moment they set foot on campus," Jack said. "Imagine the culture shock that some first-generation college students experience navigating this hidden curriculum, the system of unwritten rules and unsaid expectations."
Jack mentioned the benefit of establishing groups for first-generation students to provide both a community and space for talking about issues related to their experience. "The ability to have that shared understanding without having to explain yourself is incredibly important," he said. He also suggested that colleges adopt meaningful, non-academic pre-orientation programs focused on "localized knowledge of people and place" to help students who have never visited a college campus before learn how to navigate everything from the career center to the provost's office.
"As an institution, we are dedicated to providing living, learning and working spaces that are diverse and inclusive," said Kathleen E. Harring, interim president, in introductory remarks before Jack's lecture. "However, it is very clear that simply holding diversity as a fundamental value is not enough. We must continually cultivate the desire and ability to understand, respect and meaningfully engage with all perspectives and experiences, particularly those of historically underrepresented and marginalized groups."
Jack participated in a number of other events while on campus, including a dinner with students and a breakfast with the College's senior staff. His final event, a Q&A on Wednesday morning, gave College faculty and staff an opportunity to explore how Jack's research can be applied to make Muhlenberg a more inclusive and supportive community.