Shows That Make WMUH Special
To celebrate 70 years of "the only station that matters," enjoy one of these programs that can't be found elsewhere in the Lehigh Valley.
By: Meghan Kita Friday, September 20, 2019 04:17 PM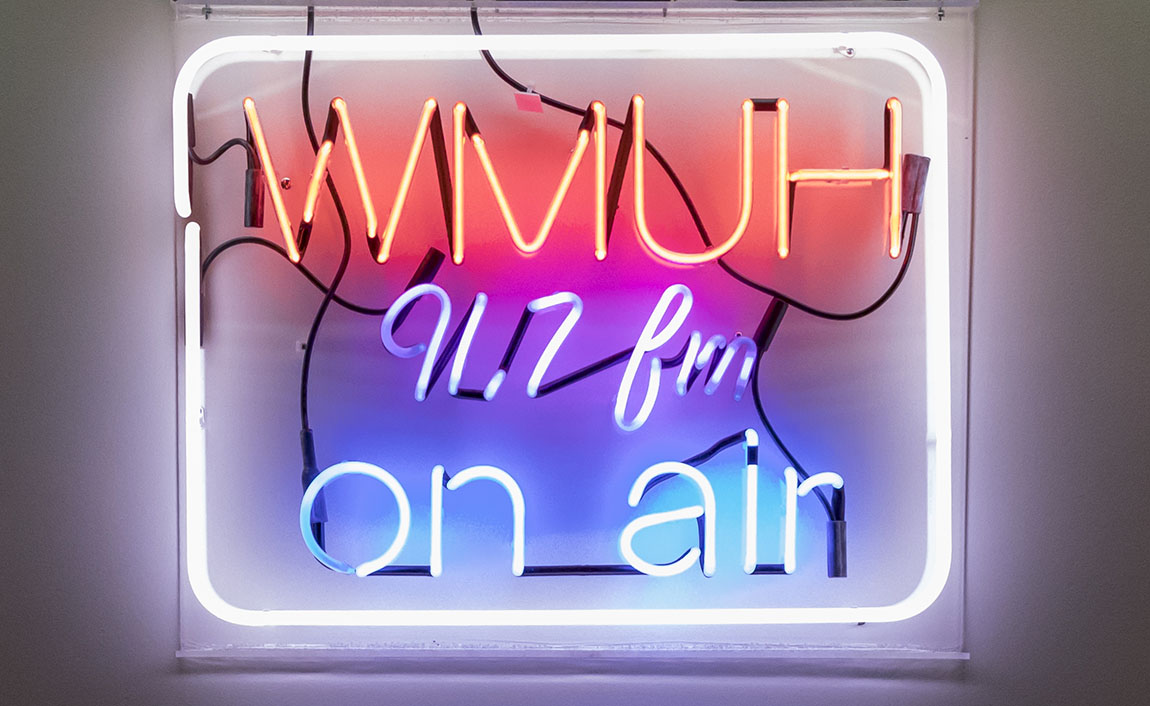 You already knew that WMUH, which wrapped up its 70th academic year of operation in the spring, is "the only station that matters." But do you know what makes it so important to the community, both on campus and off? General Manager Paul Krempasky Jr., who's been a community DJ with the station since 1984, puts it this way: "Not everybody wants to eat at TGI Fridays."
Some people enjoy hearing the same dozen or so pop songs on their drive to work and on their drive home. Or perhaps they favor programming like NPR's, with the same hosts delivering the news each weekday. But WMUH, which utilizes student, as well as community volunteers to fill its airwaves, offers a variety that's unmatched in the Lehigh Valley. "People need to know we offer things that are not on any other station in the area," Krempasky says.
These six shows prove his point. Tune in to 91.7 FM in the Lehigh Valley or via muhlenberg.edu/wmuh anywhere for the antithesis of a chain-restaurant listening experience.
Movie Chat
Hosted by Troy Schnyder, JD Clauser and Brice Brown
Mondays, 9-9:30 a.m.
Three community DJs and film buffs meet weekly to discuss their shared passion. The tone is conversational with friends discussing things—new or old—they watched over the previous week.
Spotlight Muhlenberg
Hosted by a variety of faculty, staff and student hosts and guests
Wednesdays (except in August), 9:30-10 a.m.
This weekly program, which Krempasky launched last fall, has included segments on theatre and dance performances; information from the Career Center and Office of Student Engagement; and interviews with Muhlenberg's director of counseling services, Title IX coordinator and faculty and alumni public health experts. Past episodes are archived at soundcloud.com/muhlenberg.
Kol Ha'Emek
Hosted by Cantor Kevin Wartell
Fridays, 8:30-9:30 a.m.
The name means Voice of the Valley, and the program, which has been on the air for more than 30 years, celebrates Jewish music and culture. Wartell talks to community leaders and highlights events.
Jhankaar: Music of India
Hosted by various members of the Indian-American Association of Lehigh Valley
Saturdays, 8-10 a.m.
A large contingent of Indian listeners in Chicago tune into the online stream to hear this show, which has been broadcast since the early '80s. Music varies based on the host, but includes everything from traditional music to the latest Bollywood tunes.
The Zach Hoffman Show
Hosted by Zach Hoffman
Saturdays, 10 a.m.-12 p.m.
Known as The International Showcase when it launched in the 1980s, this polka show draws streaming listeners from throughout the U.S. and Europe. It's had a variety of hosts over the years, with the longest run belonging to local polka musician Al Meixner.
Arabic Music
Hosted by Alex Khalil
Sundays, 12-2 p.m.
Khalil presents in both English and Arabic. The focus is on the music of the Middle East, with a mix of traditional and new tunes.