Shoot for the Stars
Media & communication major Maggie Zerbe '17 does a little bit of everything in her role with the Philadelphia 76ers.
By: Meghan Kita Tuesday, March 5, 2019 03:41 PM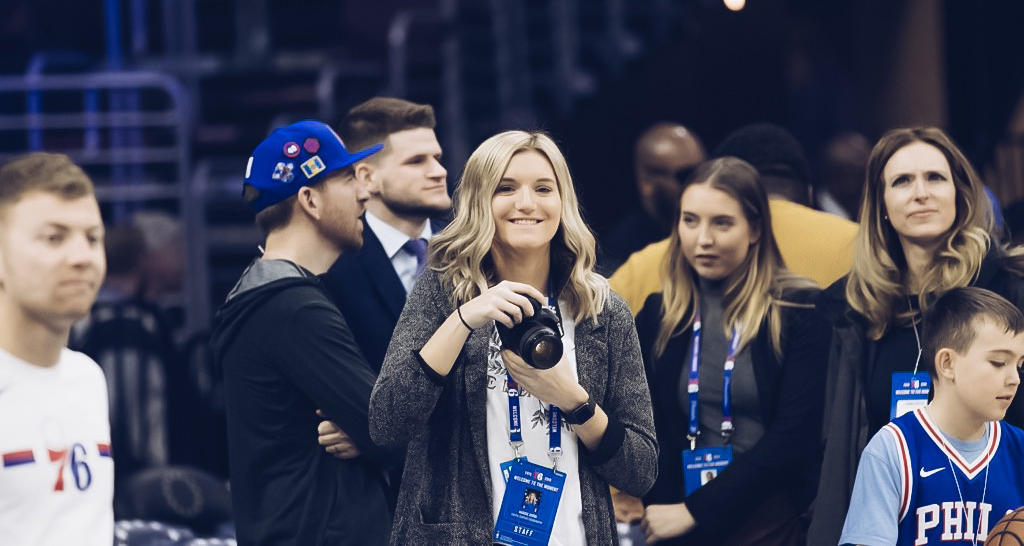 Maggie Zerbe '17 does some photography as part of her digital content coordinator role with the Philadelphia 76ers.
After Maggie Zerbe '17 graduated, it didn't take long for her work to make it to the big screen—the Jumbotron, that is. As the digital content coordinator for the Philadelphia 76ers, Zerbe sometimes edits video that's used at the Wells Fargo Center during games. She also edits video for the team's social media accounts, and helps manage said accounts, and takes photos at games, and…
"To be able to do a lot of different things breaks up the monotony of work," Zerbe says.
Her versatility is one of the things that helped her land a full-time gig with the NBA team. Shortly after graduation, Zerbe, a media & communication major with a creative writing minor, started a seasonal production assistant role with NFL Films, where she'd previously interned. In football's offseason, she took a seasonal digital content role with the 76ers before returning to NFL Films for another season as a production assistant.
"My end goal was always to get a full-time job," Zerbe says.
And two months into her second post-grad stint at NFL Films, it happened. The 76ers' former digital content creator left, and the hiring manager asked her to apply for the job. Within a week of submitting her resume, Zerbe was hired—no in-person interview required. The individual who had the job previously focused entirely on social media; Zerbe's additional skills, which she'd demonstrated in her seasonal role, made her the top choice to fill the void.
Zerbe had dreamed of working in sports even before starting at Muhlenberg, where she played basketball. Early coursework showed her that she'd be better suited to a creative field like sports media than another potential area of interest, sports psychology. When she discovered video production and editing, she fell in love, and she went on to produce documentaries about media coverage of women's sports and about the women's basketball team at Muhlenberg.
In her final semester, she did an independent study with Jack McCallum '71, who wrote for Sports Illustrated for 30 years, called Longform Sports Journalism. One of her assignments was an essay on former professional basketball players Rebecca Lobo and Teresa Edwards. Her reporting took her to the WNBA draft, where Lobo was working as an analyst. McCallum helped connect Zerbe to the players for interviews.
"He's such a cool person. I learned so much from him," Zerbe says of McCallum. "Through him, I was able to do some really awesome stuff."
"I found Maggie to have a seriousness of purpose and a maturity that was rare among the students I taught," McCallum says. "She picked up things instantly and what I appreciated most was her versatility. When we got together, she leaned more toward video, but she wrote some really excellent pieces for me that, again, demonstrated maturity. Any team in any league would be fortunate to have her in any position."