Sam Brown '19 Named a 2019-2020 Newman's Own Foundation Fellow
The Fellowship Program provides recent college graduates a stipend that supports a one-year work commitment for a nonprofit organization that aligns with each fellow's passions and interests.
By: Laura Diorio '20 Wednesday, October 23, 2019 01:19 PM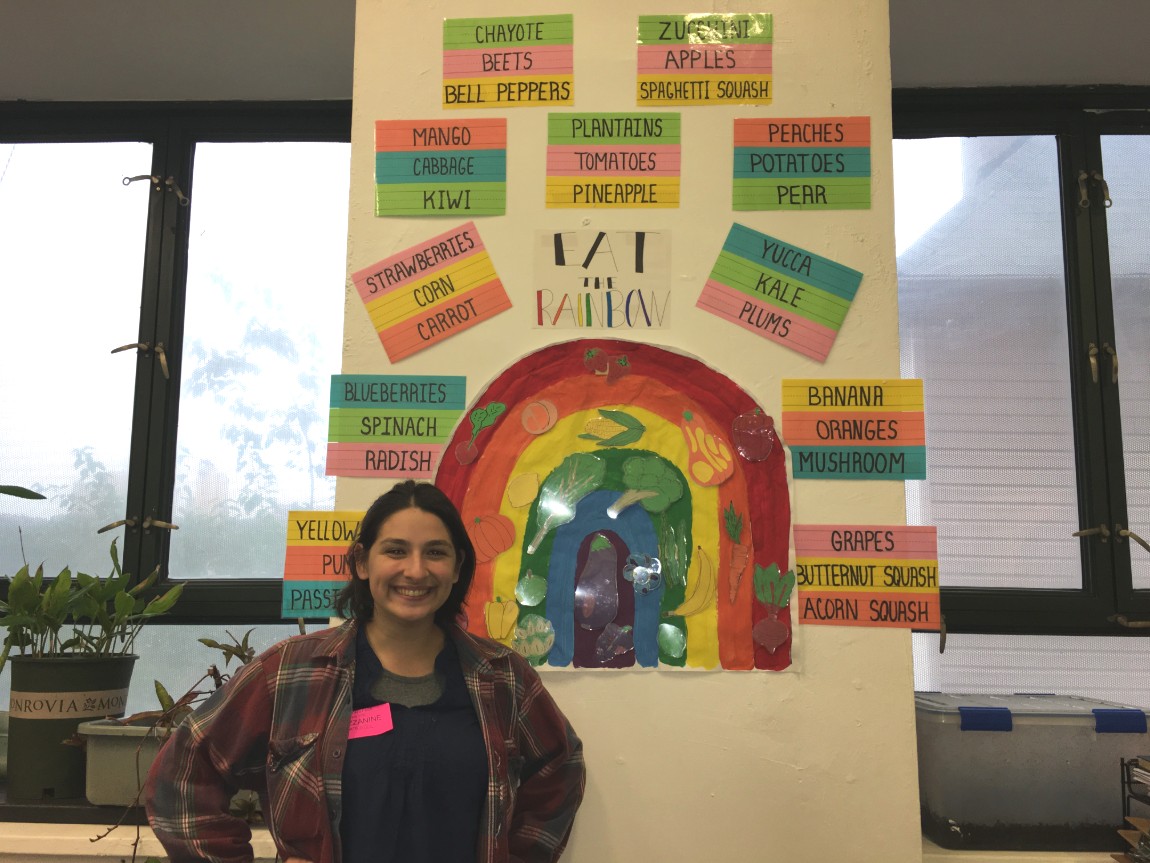 Sam Brown '19 is working with Edible Schoolyard NYC, a nonprofit organization that partners with New York City public schools, for their Newman's Own Foundation fellowship year. Photo courtesy of Sam Brown.
Recent graduate Sam Brown '19 was one of just 14 fellows accepted into the 2019-2020 Newman's Own Foundation Fellowship Program. They will complete a fellowship year with Edible Schoolyard NYC, a nonprofit organization that partners with New York City public schools to support edible education through hands-on cooking and gardening with children.
Brown, an anthropology major and sustainability studies minor, has been tasked with developing and coordinating a volunteer program for the organization's six network schools. On-site at Edible Schoolyard NYC, Brown recruits prospective volunteers, collaborates with program staff and manages volunteer tasks. They also coordinate background checks, build volunteer schedules for each school and manage aspects of internal communications. This summer, they visited New York City colleges and universities to develop and strengthen community partnership programs and solicit volunteer support.
This year's Newman's Own Foundation Fellow cohort began work with their assigned nonprofits this summer. Brown felt particularly drawn to return home to work with Edible Schoolyard NYC due to their childhood education in the New York City public school system.
"I wanted to work somewhere in the field of education and accessibility in New York City," says Brown. "During the summers [while at Muhlenberg] I worked in Youth Initiatives at the American Museum of Natural History, and I think that program shaped [my desire] to be a coordinator or an administrator in an educational setting. My fellowship year calls upon my anthropology, sustainability studies and community engagement disciplines of my education in very explicit ways."
In addition to placement in their assigned nonprofit, Brown and the other fellows will receive mentoring, training and coaching through the foundation.
"The Newman's Own Foundation does an incredible job of supporting the fellows," says Brown, who recently applied for graduate studies in public administration. They remain hopeful that this experience will result in future opportunities to pursue additional community engagement roles—a hallmark of the program, according to the foundation's website. To date, many of the program's 50+ alums have continued to work in philanthropic and nonprofit sectors.
"What I've gained so far is a lot of confidence, and practice in advocating for myself in communicating with others," says Brown. "I dove right into a full-time job in which I was in charge of building and running a full program kind of immediately after graduating from college, which takes a lot of guts. Now I'm in the thick of coordinating the program, and it's very rewarding. I feel totally in my element and really lucky to keep working in the field of community engagement."