Pure Poetry
This summer, Kristen Corless '20 is diving into the work of Emily Dickinson.
By: Meghan Kita Friday, July 26, 2019 04:00 PM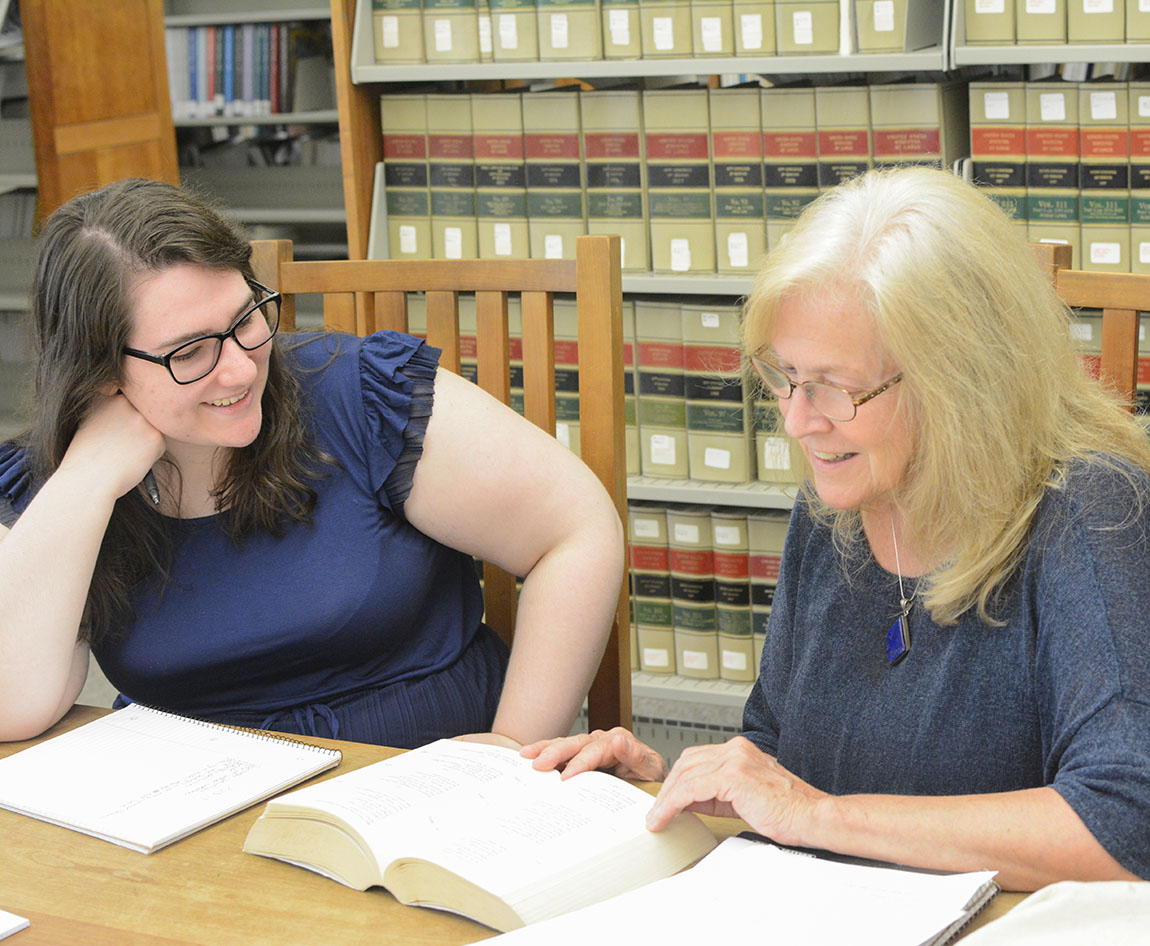 Kristen Corless '20 meets with her summer research advisor Jill Stephen, professor of English. Photo by Kate Ekanem '21.
Not everyone would be enthusiastic when describing their summer research as "a lot of sitting by yourself in your room or the library and reading for hours on end until you forget what your own name is." But Kristen Corless '20, an English and theatre double major, clearly enjoys her work. It helps that she's reading Emily Dickinson, a poet Corless got into as a first-year student at Muhlenberg. She was taking a class with Professor of English Grant Scott, who showed the students a photocopy of Dickinson's poem "How the Old Mountain Drips with Sunset" in the author's handwriting.
"I just took one look and it was like love at first sight," Corless says. "I bought my own copy of her poems and started devouring them."
Since then, Corless has amassed a solid amount of background knowledge in Dickinson's life and work through classes and her own independent reading. That proved critical when Corless approached Professor of English Jill Stephen to advise her through a Dickinson-related senior honors thesis.
"To do an adequately informed thesis on Dickinson requires not only surveying relevant scholarship (and there is a lot available!) but reading all of the nearly 1,800 poems, preferably more than once," Stephen says. "This is a tall order, one that I have hesitated to think could be reasonably managed by a busy undergraduate. But Kristen's dedication to the project and the amount of reading she had already done before embarking on her summer research persuaded me that she could and would succeed."
Stephen suggested that Corless get a jump start on her thesis by participating in Muhlenberg's summer research program. Their discussions helped Corless narrow down a topic—how Dickinson uses nature to explore immortality and death—as well as a starting point. Corless has been spending her days categorizing Dickinson's poems and pulling quotes from primary and secondary sources that might be useful when the thesis-writing begins in earnest. Corless meets with Stephen weekly, sometimes for hours at a time, to give updates and discuss next steps.
"She is so excited to talk about Emily Dickinson," Corless says of Stephen, who shares her passion for the poet, "and she takes this on as an adventure."