Pitching the Airwaves
Hanna Work '15 shows advertising clients the power of national sports radio.
By: Cindy Kuzma Wednesday, March 27, 2019 00:13 PM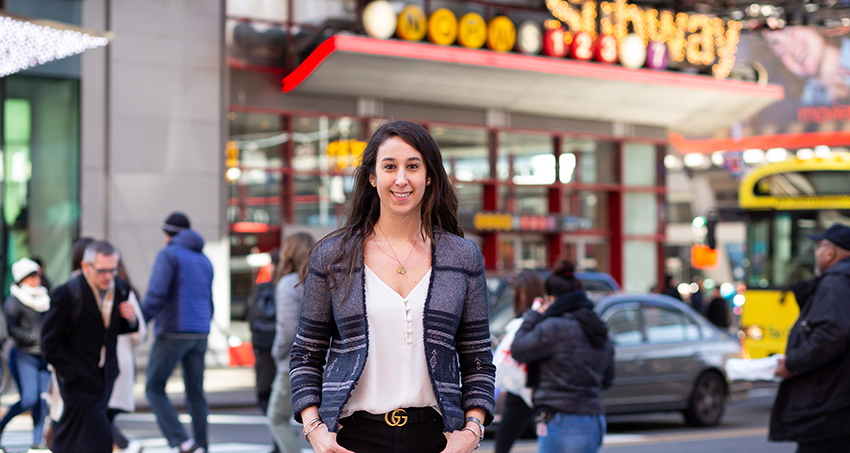 During their morning drive to school in Chappaqua, New York, Hanna Work '15 and her dad always tuned the dial to WFAN Sports Radio.
Now, Work serves as a director of national sports partnerships at Westwood One, charged with procuring advertisements within play-by-play broadcasts. "I'm extremely passionate about sports, so it's fun to sell something I actually believe in," she says.
In addition to growing up an avid sports fan, Work excelled in singing and theatre. She knew she wanted a small college with a strong theatre department and close relationships to her professors. "Muhlenberg checked off all the boxes," she says. She quickly became "obsessed," visiting six times during her senior year.
Once enrolled, Work set her sights on a job in sports media. Through varied media & communication courses—along with an internship at CBS Sports Radio during the summer of her junior year—she learned she preferred broadcasting to writing and behind-the-scenes to on-camera roles.
Media & communication faculty like Professor Susan Kahlenberg '93, Associate Professor Jeff Pooley, Associate Professor Paul McEwan and Lecturer Roberta Meek—along with alum Jack McCallum '71, a longtime Sports Illustrated reporter—served as her personal advisory board as she pivoted toward marketing and sales.
After graduation, Work signed on as a sales associate at—that's right—WFAN, where she was promoted to an account executive the following year. When it was time for the next step in 2017, she consulted McCallum, who encouraged her move to Westwood One.
The transition has been eye-opening, in part because of the value of a national network: WFAN was one station in three states, but Work can now offer companies opportunities to share messages on more than 500 stations touching every corner of the country.
Group projects she completed at Muhlenberg honed the collaborative skills essential in her team environment, Work says. And though she focuses on sports, she works closely with her counterparts who are also selling music and news programming. "All my passions have touch points in my career," she says.
Now, she aims to keep pace with the increasing sales goals set for her. She returns to campus at least once a year to check in. And she'll gladly talk to any student considering Muhlenberg about its advantages. "Muhlenberg is just such a happy place," she says. "Everyone is always willing to help you."