Next Stop: North Carolina
Political science and neuroscience double major, student-athlete and salutatorian Meghan Falk '19 starts at Wake Forest Law this fall.
Wednesday, May 22, 2019 08:43 AM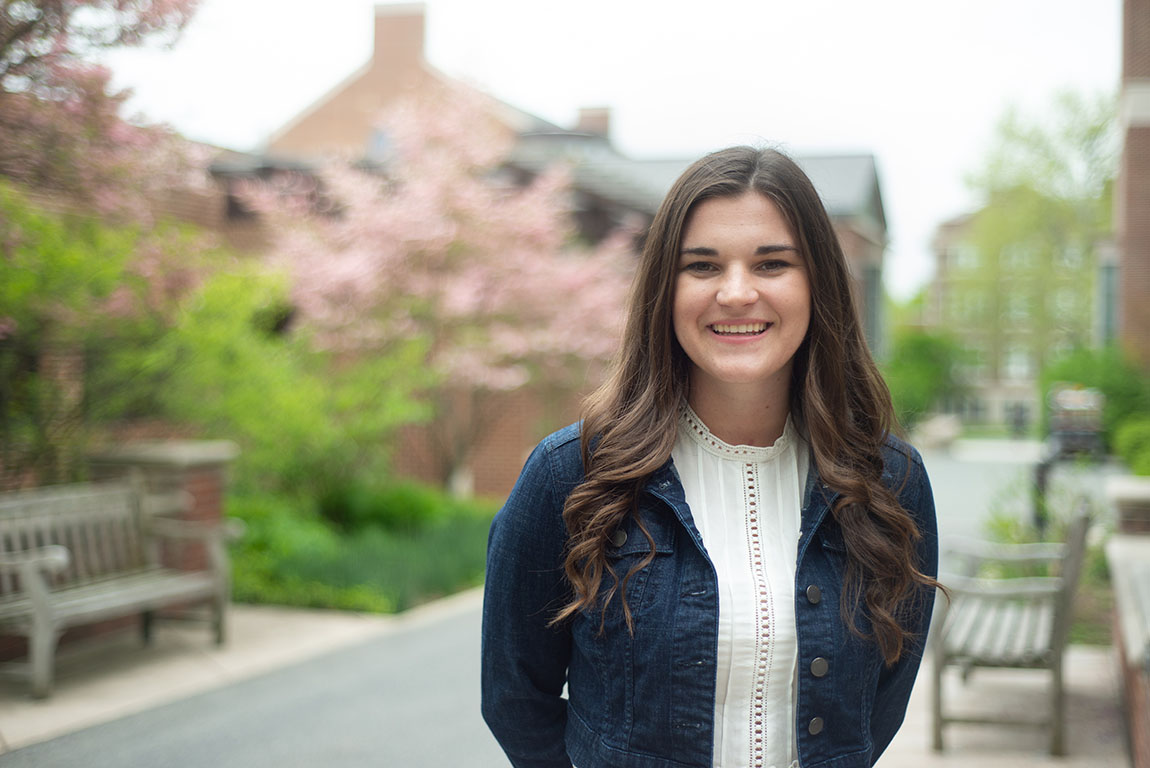 Salutatorian Meghan Falk '19 is headed to Wake Forest Law this fall.
A big part of the story of how Meghan Falk '19 ended up bound for Wake Forest Law can be told in numbers: 31, for Wake Forest's U.S. News & World Report ranking among law schools, and 98, for the percentage of Falk's tuition there that will be covered by scholarships.
"Wake Forest was the highest ranked school that gave me a lot of money," Falk says. "It was hard to turn it down."
But one other big number had her apprehensive: nine, for how many hours it would take her to drive to Wake Forest from her hometown in New Jersey. Luckily, she connected with just the right alum during this year's Alumni Week: Dianna Shinn '14. Shinn spoke in one of Falk's classes, and that's how Falk learned that Shinn, a fellow New Jerseyan, had attended Wake Forest Law after graduating from Muhlenberg and then returned to New Jersey to start her career.
"I held her after for at least 15 minutes, asking her a bunch of different questions," Falk says of Shinn. That conversation—as well as attending Wake Forest's programming for accepted students—helped Falk feel better about the big move to North Carolina.
Falk came into Muhlenberg with her sights set on either a legal career or one in physical therapy. To hedge her bets, she took a variety of classes, thinking her grades would shed light on her strengths and weaknesses and help her decide which path to follow. She got straight As that year—and the next year, and the next. She graduated Sunday as salutatorian, just a single A- away from a perfect GPA, and a degree in neuroscience and political science.
"I can think of only a handful of students over the years whose level of academic achievement has so clearly prepared them to excel at law school as Meghan Falk," says Political Science Professor Jack Gambino, director of prelaw advising.
Falk hoped her unusual double major would help her stand out as she applied to law schools. In her essays, she drew upon her experience as an intern with her county prosecutor as well as her time playing basketball at Muhlenberg, citing Title IX as an example of how the law has had a direct effect on her life. Looking ahead, she's interested in the medical area of law as well as sports law, and she hopes to pursue externships to explore the two fields.
In the meantime, she's using her undergraduate experience to put the time she'll spend far from home in perspective: "After doing this, you just know how fast it goes," she says. "Three years, it's not that bad at all."