Mules and Regulations
Assistant Professor of Economics Ranajoy Ray-Chaudhuri lends his expertise to student teams studying how new regulations will affect a local community bank.
By: Meghan Kita Monday, September 9, 2019 02:38 PM
When the 10 students in the finance course Community Banking: A Case Study first met, Assistant Professor of Economics Ranajoy Ray-Chaudhuri brought them up to speed. "I spent almost an hour talking about the history of banking in the U.S., from the first bank in 1780 all the way until now," says Ray-Chaudhuri, who'd written a book (The Changing Face of American Banking: Deregulation, Reregulation and the Global Financial System) on the topic. "We clearly identified the patterns where there were regulations, they were diluted, there was a financial crisis, the regulations were brought back and history repeated itself."
In 2010, after the most recent financial crisis, President Barack Obama signed the Dodd-Frank Wall Street Reform and Consumer Protection Act into law. Last year, the United States entered a diluted-regulations phase when President Donald Trump signed into law the Economic Growth, Regulatory Relief and Consumer Protection Act, which rolled back some of Dodd-Frank's changes.
"There's a reason why we have regulations; the financial crisis we had proved that," Ray-Chaudhuri says. But leading up to it, "a lot of the excessive risk-taking was by bigger banks."
His students went on to examine a smaller bank—QNB, headquartered in nearby Quakertown, Pennsylvania—as part of the 2019 Conference of State Bank Supervisors Case Study Competition. Each team in the national contest partnered with a community bank (that is, one with less than $10 billion in assets) and analyzed how that bank might benefit from the loosened regulations—with fewer resources required for compliance, for example. Prizes for the winning team included scholarship money and the publication of their findings, plus an invitation to present at the sponsoring group's conference.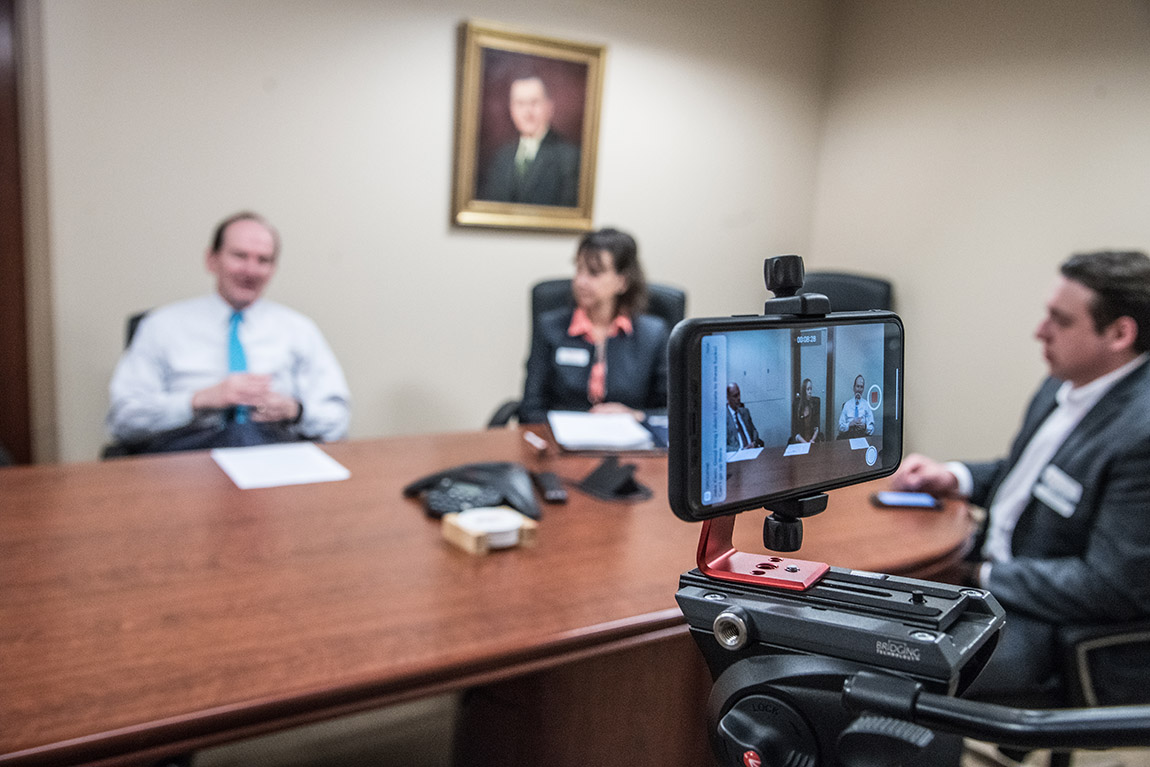 Ray-Chaudhuri's students interviewed employees at Quakertown, Pennsylvania's QNB as part of their work in the 2019 Conference of State Bank Supervisors Case Study Competition.
The Pennsylvania Department of Banking and Securities reached out to Department of Accounting, Business, Economics & Finance Chair Art Raymond to suggest that Muhlenberg participate, to help Pennsylvania continue to have the most teams of any state. Given his regulatory expertise, Ray-Chaudhuri seemed a logical choice to lead the students. He and Raymond built the competition into a special-topics course to lend it more structure.
In addition to regulatory history, the first few sessions covered accounting basics crucial to understand before tackling the competition's requirements: a research paper of up to 25 pages and a video, filmed in part at the bank, that summed up the paper's findings and included insights from bank leadership. The students also visited the bank twice and met with the CEO and two VPs. Then, the students broke into two teams of five—the maximum number allowed per team—and began their work.
The students found that the most significant benefit for QNB will "be due to the provision on simplified capital rules," Ray-Chaudhuri says, which will allow the bank to not have to comply with certain complex international regulations. However, larger community banks will benefit more from the legislation, and it's too early to tell how big banks will be affected. In theory, discrimination in mortgage lending could go undetected, since the new regulations have decreased the amount of data institutions are required to report. (QNB plans to continue collecting this data even though it's not required to, Ray-Chaudhuri says.)
Though much of Ray-Chaudhuri's research deals with regulations, he felt like he learned from the process: "I wasn't that familiar with community banking and the regulations that specifically applied to those banks," he says. And though neither team of students won—there were 58 teams from 44 institutions competing this year—they also took away something valuable: "It's a personal connection between some of our best students and a local bank," Ray-Chaudhuri says. "If the students were to reach out to them in the future for an internship or for a job once they graduate, that could definitely be a possibility, because they got to know three of the top people at QNB."