Muhlenberg to Host Redistricting Town Hall
The inaugural event will explore the impact of redistricting in Pennsylvania and provide opportunities for colleges and universities to examine district lines in their own regions and the significance of districts for democratic elections.
By: Bill Keller Thursday, January 31, 2019 11:49 AM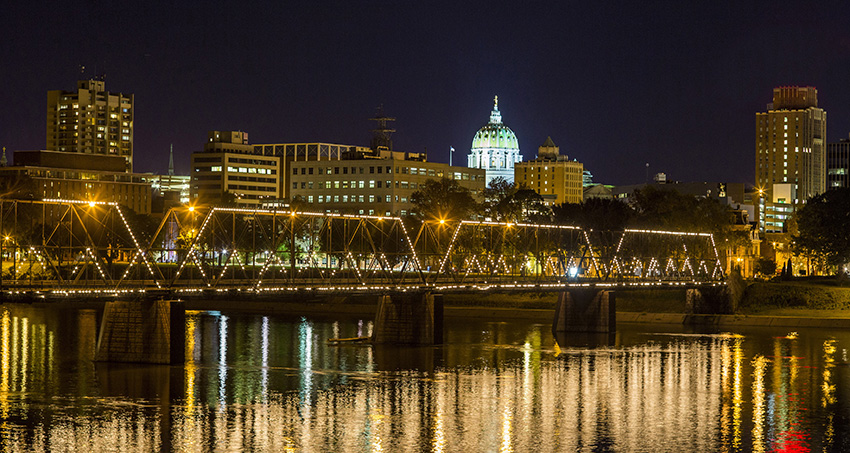 On Thursday, February 21, Pennsylvania's first-ever Redistricting Town Hall will initiate a community conversation about the effects of redistricting at the local and state level. The event will be held on campus at Muhlenberg College from 6-8:30 p.m. in Moyer Hall's Miller Forum and it is free and open to the public. Expert panelists will discuss Pennsylvania's recent redistricting and the actions that preceded the most recent legal battles.
Simultaneously, over a dozen Pennsylvania colleges and universities will host events on their campuses to both tune in to the conversation via Muhlenberg's video portal and discuss the impact in their home districts. The live broadcast will be available through the video portal to the public as well.
Decades of partisan efforts led to Pennsylvania's ill-gained reputation as one of the nation's leading offenders of biased districting practices, or gerrymandering. The state's legislative districts have been in the national spotlight regarding this issue for the past several years.
Recently, Republican-drawn districts were the basis for a lawsuit that eventually reached the United States Supreme Court. The results of that case included a federal mandate for new district maps. An impasse between Tom Wolf, Pennsylvania's Democratic governor, and the Republican-led legislature led to newly drawn districts by the state supreme court in early 2018. The shakeup resulted in a confusing election cycle and new seats in the House of Representatives.
Muhlenberg's Redistricting Town Hall Program Agenda
6-7 p.m. What is Redistricting and Why & How Does it Matter?
Panelists include:
Carol Kuniholm, Fair Districts PA Chair
Amanda Holt, Lehigh County Commissioner
Jill Greene, Executive Director of the Pennsylvania League of Women Voters
Pennsylvania Senator Mike Folmer (Rep)
Chris Borick, Muhlenberg College Professor of Political Science & Director of the Muhlenberg College Institute for Public Opinion

7-7:45 p.m. What Difference has Redistricting Made in Your District?

The live-stream from Muhlenberg will continue, though host sites are encouraged to use this time to discuss issues pertaining to their districts.
Participating colleges and universities are encouraged to discuss the districts that affect their campuses. During this time, the conversation at Muhlenberg will continue to be live-streamed for the public and participating institutions to watch.
At Muhlenberg, Congresswoman Susan Wild of Pennsylvania's 7th district will be joined by Benjamin Lieberman '19, a student who has undertaken significant research on redistricting, and Rubi Garcia, a senior political science and global studies major at Cedar Crest College.
7:45-8:15 p.m. Lessons Learned and A Call to Action
Panelists from the first session will offer reflections and parting thoughts. Audience may participate in a question/answer session by submitting questions via Twitter by tagging @TownhallPA.
About the Panelists and Event Participants
Christopher Borick is a professor of political science and director of the Muhlenberg College Institute of Public Opinion. He is a nationally recognized public opinion researcher who has conducted over 300 large-scale public opinion surveys during the past two decades, and is a frequent commentator and political expert who discusses local, state and nationwide politics with national and international press.
Pennsylvania Senator Mike Folmer represents the state's 48th district, which includes Lebanon, Dauphin and York counties. Folmer currently serves as Chairman of the Senate State Government Committee. Other committee assignments include Education; Intergovernmental Operations; Labor and Industry; Communications and Technology and Rules and Executive Nominations.
Jill Greene serves as executive director of the League of Women Voters of Pennsylvania. Prior to her current role, she was director of election reform on the LWV PA State Board and served as assistant borough manager of New Morgan Borough in Berks County, Pennsylvania. She has served on the boards of several nonprofit organizations and municipal authorities and previously taught college-level history and government.
Amanda Holt serves as a Lehigh County Commissioner-At-Large and is on the steering committee of Draw The Lines PA. In 2018, she was appointed to serve on the Pennsylvania Redistricting Reform Commission. She is best known for her state redistricting efforts, which eventually led her to a historic victory before the Pennsylvania Supreme Court in 2012.
Carol Kuniholm is co-founder and chair of Fair Districts PA, a non-partisan, all-volunteer coalition working on redistricting reform in Pennsylvania. She is also Vice President of Government and Social Policy on the state board of the League of Women Voters of Pennsylvania. She taught literature and writing at the college level and served for over a decade as Director of Ministry to Youth and their Families at the Church of the Good Samaritan in Paoli.
In attendance will be former Pennsylvania State Senator and Representative Franklin Kury. In 2018, he authored "GERRYMANDERING! A Guide to Congressional Redistricting, Dark Money and the U.S. Supreme Court." Kury will offer signings of the work following the event programming.
Representative Susan Wild is a member of the U.S. House of Representatives, representing Pennsylvania's 7th district. Her election in 2018 marked the first Democratic representative for the Lehigh Valley in nearly two decades. She previously served as the first female solicitor for the city of Allentown, Pennsylvania.
Event Support & How to Participate
This event is sponsored or made possible by the Department of Political Science at Muhlenberg College, Todd Zimmerman and the Department of Political Science at Lehigh Carbon Community College, and the Pennsylvania Political Science Association.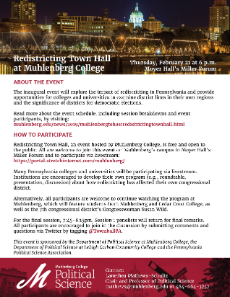 Would you like your college or university to serve as a participant and remote viewing location for this event? Contact Professor of Political Science Lanethea Mathews-Schultz at mathews@muhlenberg.edu for additional details. Download our Redistricting Town Hall - Participation Guide for facilitating conversations about your college or university's district. To read more about issues of redistricting, or to conduct research prior to participation at your own college or university, view our select bibliography.