Muhlenberg's New Honor Society, Tri-Alpha, Recognizes and Honors First-Generation College Students
In addition, a new advocacy and support group is providing faculty and staff mentoring and institutional and peer support to first-gen students.
By: Kristine Yahna Todaro Friday, June 7, 2019 00:48 PM

The first Muhlenberg College inductees of Alpha Alpha Alpha, a new first-generation college student honors society.
On April 26, a group of 66 outstanding Muhlenberg students proudly stepped forward, one by one, to be inducted into Alpha Alpha Alpha, a new first-generation college student honor society. Muhlenberg is the Delta, or fourth, chapter of Tri-Alpha in the country.
To be eligible for the Tri-Alpha Honor Society, students must have completed at least three full-time terms, earned an overall GPA of 3.2 and come from a family where neither parent nor any legal guardians earned a bachelor's degree.
Alpha Alpha Alpha was founded in 2018 at Moravian College, an initiative of Associate Provost Carol Traupman-Carr. Muhlenberg Provost Kathy Harring, who learned of the new honor society from Traupman-Carr, connected with interested faculty and staff members who moved the idea forward at the College.
Dawn Lonsinger, assistant professor of English, who was instrumental in bringing Tri-Alpha to campus, says the honor society is important in that it recognizes "students who largely have had to work harder and with fewer kinds of support to be at college in the first place, and who have not stopped there, have continued to excel in multiple ways in college—to become independent thinkers, advocates for each other and leaders in the community."
During Muhlenberg's ceremony, students were welcomed by Lonsinger and heard personal stories from Samantha Brown '19, an anthropology major and sustainability studies minor, and Glenna Jones '19, an English major and music minor—all of whom were first-generation students.
Keynote speaker Brooke Vick, associate provost for faculty and diversity initiatives, highlighted the inductees' shared experiences and underscored the impact their college pursuit and success has on their future as well as on their families, friends, and communities at home. "You are a leader by definition as the first in your family to go to college," she said. "You are the Neil Armstrong, the Sonia Sotomayor, the Barack Obama of your families—and when you are the first, you achieve something for yourself, but you also leave a footprint that creates a path behind you so that others may follow."
During her talk at the event, Brown said, "Everyone experiences imposter syndrome once in a while, but perhaps what makes the experience of the first-generation student unique is that we are the first role models in our family to go through higher education. We don't have parents who talk about their college days or have college friends or give advice about college that is rooted in experience. My brothers and I were the first people not only in our immediate family but also in our extended families and communities who lived away at private institutions. This is largely due to being raised by the most family-oriented and selfless people I know."
Brown spoke of her parents' difficult childhoods and added that on June 15, 2017, the day she watched her mother, "a first-generation student, second-generation immigrant and the only person in her family to graduate high school, receive her associate's degree, was not only the first moment I felt aware, but the first moment I felt proud to be a first-generation student….The awards and accomplishments I have been fortunate enough to experience as my time ends [at Muhlenberg] have been great, but I have been floating in this feeling lately that these things do not belong to me [rather to my parents] who couldn't imagine the opportunity to go to college themselves but wanted to give their child a better life."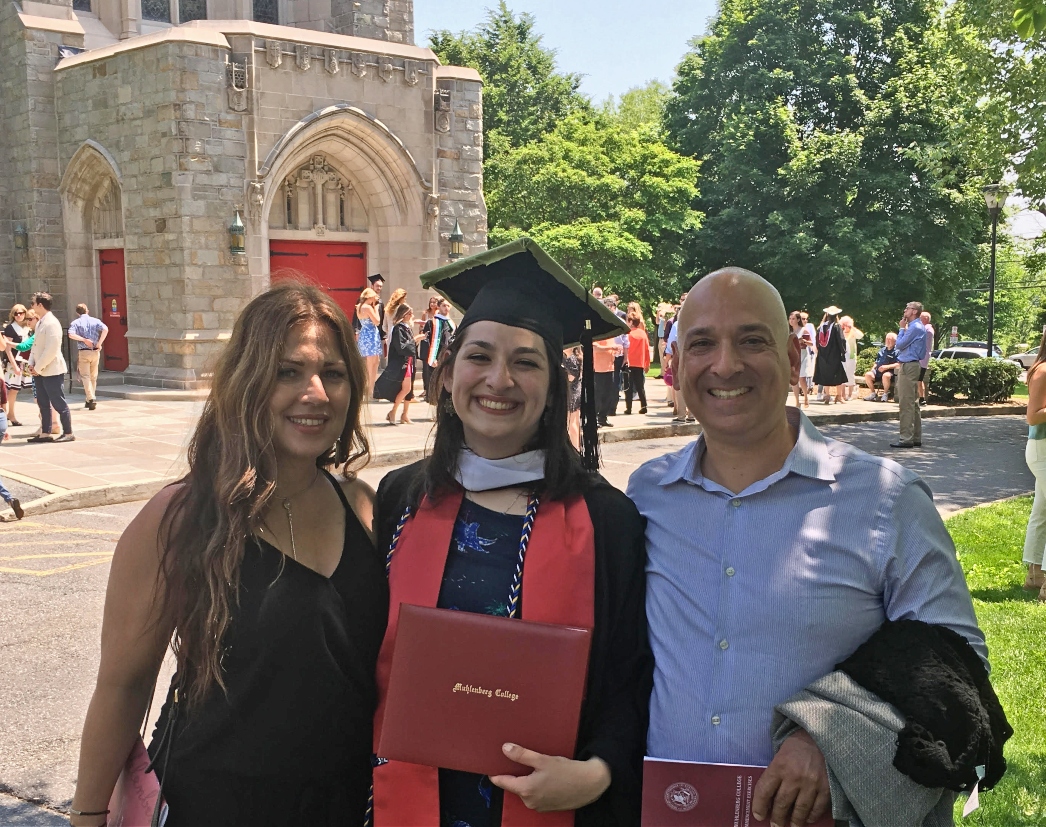 (Pictured: Samantha Brown '19 with her parents at the 2019 Muhlenberg Commencement.)
However, for most Muhlenberg first-gen students, even more significant than the Tri-Alpha chapter is the College's new First Generation Advocacy and Support group, which will provide institutional and peer support, faculty and staff mentoring and camaraderie.
Lonsinger initiated the advocacy and support group and co-directs it with Bruce Anderson, dean of academic life. It launched with the assistance of Susan Clemens-Bruder, senior lecturer in history, Linda McGuire, professor of mathematics & computer science, Robin Riley-Casey, director of multicultural life, and Gregg Scully, associate dean of Wescoe School of Continuing Education. The program began to take shape in fall 2017 with an event attended by about 50 faculty and staff mentors, many of whom were first-gen students themselves, and was followed by an inaugural event for Muhlenberg's first-generation students in April 2018.
Lonsinger believes the support group is vital to the health, well-being and success of first-generation college students. She says, "Because social class is still something we are uncomfortable talking about in American culture, because we are all sold on the notion that we should want to escape and transcend our class (and that such a transformation is complete), because most college students from poor or working-class families have a different set of skills and concerns than their peers, because they are an invisible group who are inadvertently but omnipresently taught to feel shame about their upbringing, because they do not have easy access to material privileges and the cultural cache that comes with money and status, because they should know they are not alone, the development of a first-generation community at Muhlenberg is very important."
The daughter of a janitor and a factory worker, Lonsinger says she dreamed of going to college because it provided better career opportunities but had no real understanding of college life and culture. When she arrived on her undergraduate campus, there was no support for students from working class or poor backgrounds for whom college was largely, before stepping foot on one, a foreign concept.
"That always seemed odd to me, but more importantly, it made college harder for me because I continued to carry the shame of growing up poor amid my largely upper-middle-class peers who always knew they'd go to college….Like most first-generation students, I was straddling two worlds, the world of intellectuals and the middle class and the world I returned to at home, and the longer I was in college, the more strongly I felt a sense of exile in both places. Now I know that there must have been other people on campus who were also first generation, but I had no way of knowing and thus no easy accessible community that could understand all I was grappling with."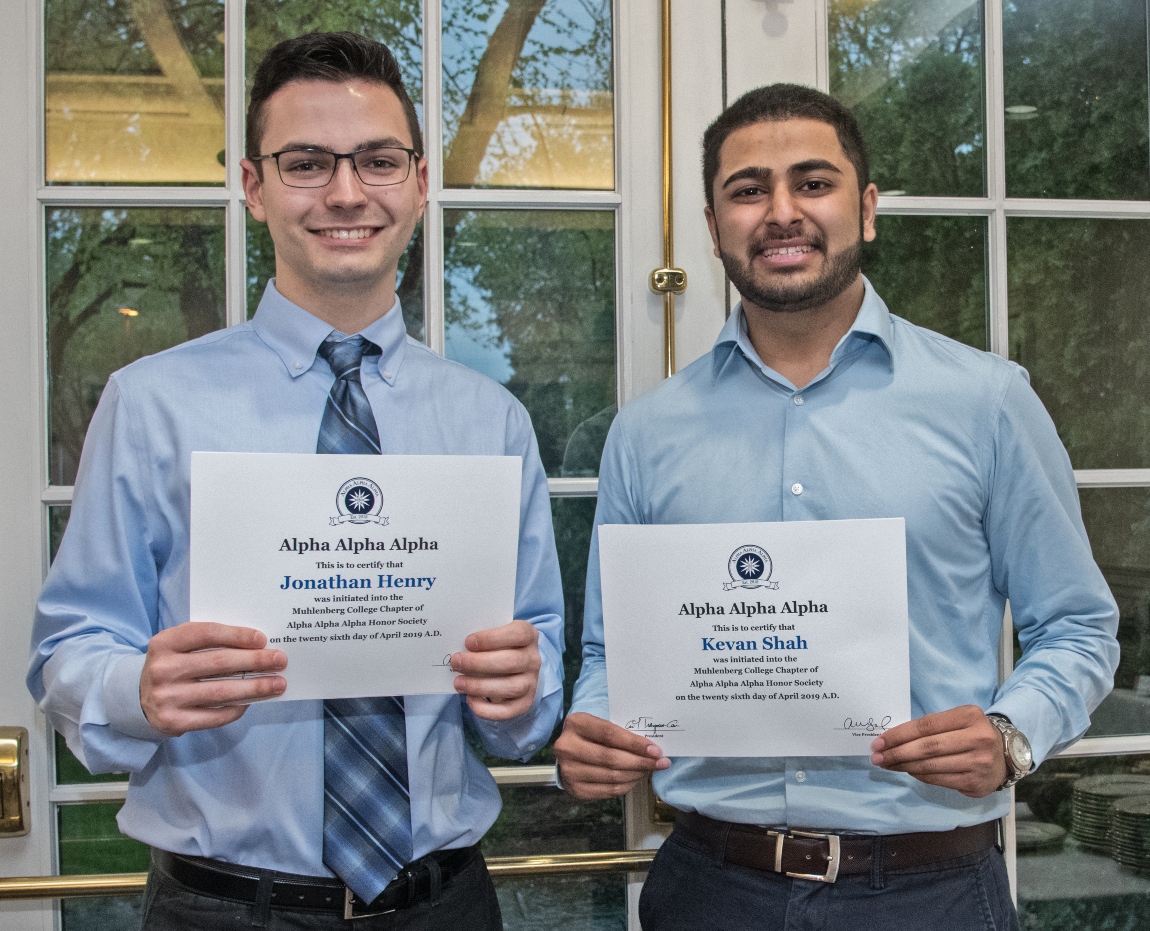 Muhlenberg is striving for a better experience for its first-gen students. The Academic Resource Center, for example, develops and implements programming for any first-year students, including first-generation students, for whom the transition to college life can be more difficult, both academically and socially. Associate Director Mary Beth Kallen says the First Generation Advocacy & Support Group can help ease the transition to college even further "by helping to close whatever gaps may exist—encouraging involvement and self-advocacy, building self-confidence and developing a sense of community and shared experience."
McGuire says when she was a first-generation college student, "higher education, with its unique language and culture, was an alien land." She's committed to making sure first-gen faculty and staff are visible and accessible on campus and knows it can make a significant difference for many students. "Being first gen is an important component of one's identity...and it is important to make sure these students are seen and their voices are heard as our community continues to prioritize issues of diversity and inclusion."