Muhlenberg Receives Silver Seal for Excellence in Student Voter Engagement
The College received the recognition for improving democratic engagement on campus.
By: Laura Diorio '20 Thursday, November 14, 2019 08:46 AM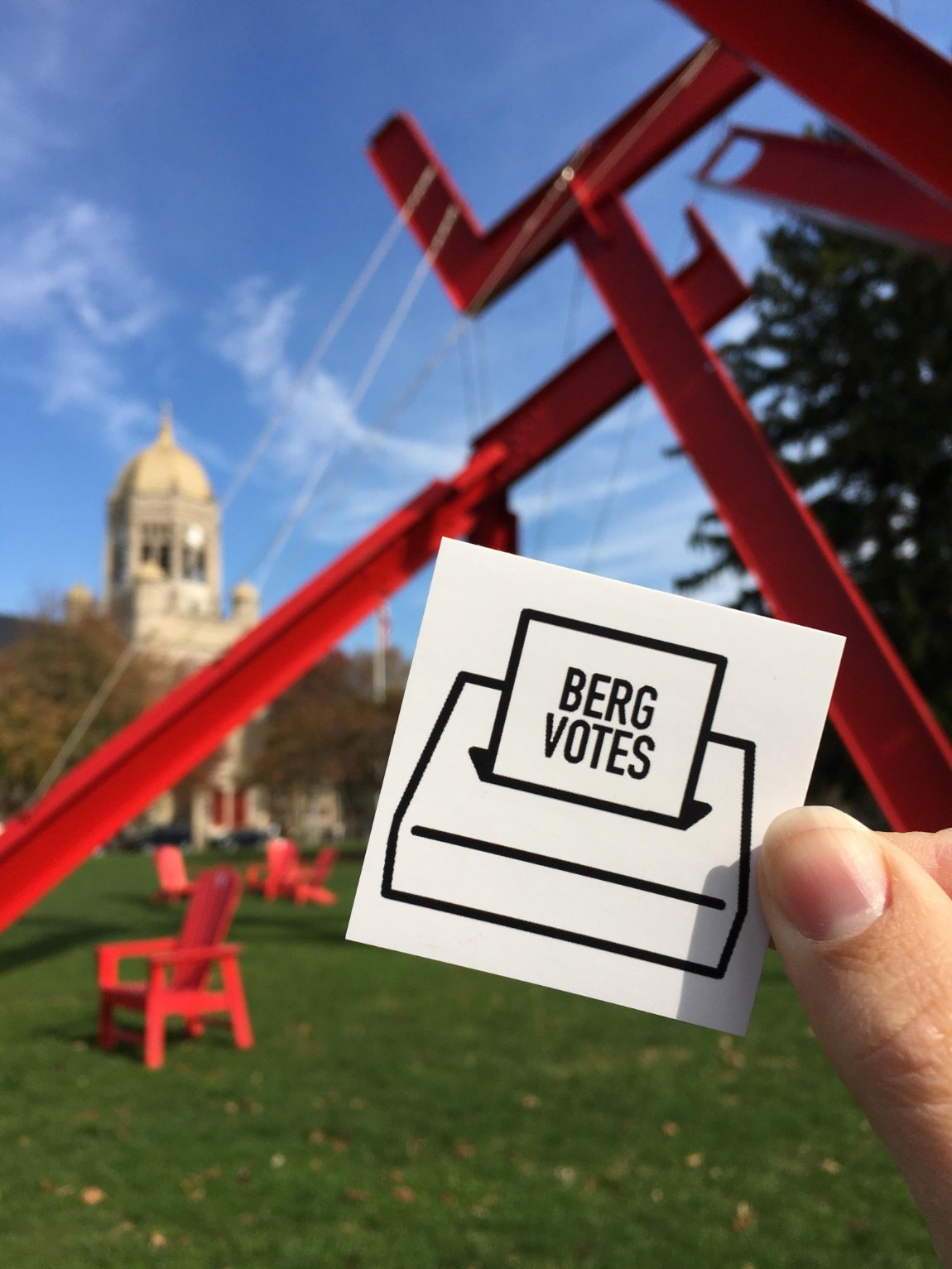 Muhlenberg was recently honored for its commitment to increasing college student voting rates. On November 12, the College received a silver seal at the 2019 ALL IN Challenge Awards Ceremony in Washington, D.C., for achieving a campus voting rate between 30% and 39% in the 2018 midterm election.
This level of engagement wasn't always the case. Michele Deegan, professor of political science and now dean of academic life, and Beth Halpern, director of the Office of Community Engagement, saw a decline in student voting rates in the years following the 2008 presidential election. In 2016 they met with student leaders from the College Democrats and Republicans and other campus groups to see what could be done to boost civic engagement. Students launched BergVotes, a nonpartisan group aimed at increasing voter registration and turnout. It was followed by the BergVotes Collective, which encourages faculty and staff to work with BergVotes.
"Campus-wide support from so many members of our community has really made the difference," says Deegan. "BergVotes and the Collective organize round-table discussions and events with local candidates that encourage one-on-one conversations with students, as well as helping demystify and encourage the registration and voting process."
Student participation in elections nationwide has increased from the 2014 midterm election to the recent 2018 midterm election. According to the National Study of Learning, Voting, and Engagement, an initiative of Tufts University's Institute for Democracy & Higher Education, voter turnout at the more than 1,000 institutions participating in the study increased by 21 points from 19% to 40%. Muhlenberg's data reveals having a 2018 campus voting rate between 30-39% in the 2018 midterm election.
"We are excited to honor Muhlenberg with an ALL IN Challenge silver seal in recognition of their intentional efforts to increase democratic engagement and full voter participation," said Jennifer Domagal-Goldman, executive director of the ALL IN Campus Democracy Challenge. "More institutions like Muhlenberg are changing culture on campus by institutionalizing nonpartisan democratic engagement efforts that are resulting in the incredible student voter turnout rates that we've seen across the country."
A full list of seal awardees can be viewed here. The ALL IN Campus Democracy Challenge is a nonpartisan, national initiative recognizing and supporting campuses as they work to increase nonpartisan democratic engagement and full student voter participation. The Challenge encourages higher education institutions to help students form the habits of active and informed citizenship, and make democratic participation a core value on their campus.
More than 560 campuses, enrolling more than 6.2 million students, have joined the Challenge since its launch in summer 2016.
About Muhlenberg College
Founded in 1848, Muhlenberg is a highly selective, private, four-year residential, liberal arts college offering baccalaureate and graduate programs. With an enrollment of approximately 2,200 students, Muhlenberg College is dedicated to shaping creative, compassionate, collaborative leaders through rigorous academic programs in the arts, humanities, natural sciences and social sciences; selected preprofessional programs, including accounting, business, education and public health; and progressive workforce-focused post-baccalaureate certificates and master's degrees. Located in Allentown, Pennsylvania, approximately 90 miles west of New York City, Muhlenberg is a member of the Centennial Conference, competing in 22 varsity sports. Muhlenberg is affiliated with the Evangelical Lutheran Church in America.