Muhlenberg College is Now Smoke-, Tobacco- and Vape-Free
The College is providing educational programming and access to area tobacco-cessation programs for the campus community.
Thursday, September 26, 2019 11:51 AM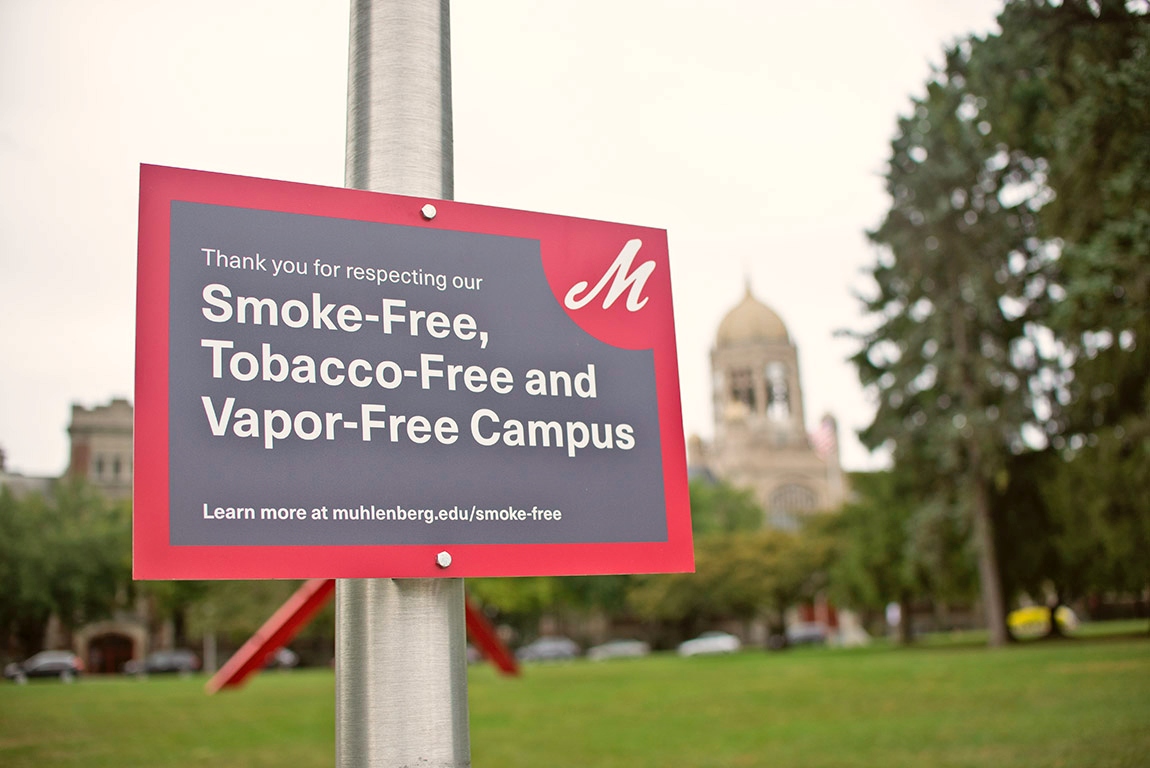 On August 15, 2019, Muhlenberg officially became a smoke-, tobacco- and vape-free campus, joining more than 2,000 colleges and universities nationwide who have made this commitment. The policy prohibits the use of all smoke and tobacco products, including cigarettes, e-cigarettes (including Juul) and smokeless tobacco, on College property.
While Muhlenberg's buildings have been smoke-free for many years, conversations with campus constituents about a proposal to expand that policy began in spring 2018.
A multi-year research project done by public health major Greg Kantor '18 helped set in motion a change to the campus policy. Kantor surveyed more than 500 campus members, including students, faculty and staff. More than two-thirds of respondents—including some who identified as smokers—said they were in favor of a move toward a smoke- and tobacco-free policy. The College administration approved the new policy framework this past spring.
This policy is in keeping with Muhlenberg's strong commitment to the health and wellness of all members of our campus community, says President Kathleen Harring, adding, "I encourage each of you to support one another in changing our campus culture and adapting to this expanded smoke-free policy. I also want to thank the many people who worked together to create and implement this new policy at the College."
As part of the implementation plan, Muhlenberg has presented educational programming and arranged for access to tobacco-cessation programs through the Lehigh Valley Health Network, St. Luke's Hospital Network, the American Lung Association and the American Cancer Society, in addition to those offered to faculty and staff through the College's insurance provider, Highmark. Interested community members can learn more about these programs by contacting the Office of Human Resources.
New signage was installed on campus this fall to help make community members and visitors aware of the policy. The implementation of the new policy is not intended to be punitive. Community members are asked to remind those in violation of the policy that the campus is a smoke-, tobacco- and vape-free campus. If offenders continue to violate the policy, they will be subject to appropriate discipline or sanctions.
About Muhlenberg College
Founded in 1848, Muhlenberg is a highly selective, private, four-year residential, liberal arts college offering baccalaureate and graduate programs. With an enrollment of approximately 2,200 students, Muhlenberg College is dedicated to shaping creative, compassionate, collaborative leaders through rigorous academic programs in the arts, humanities, natural sciences and social sciences; selected preprofessional programs, including accounting, business, education and public health; and progressive workforce-focused post-baccalaureate certificates and master's degrees. Located in Allentown, Pennsylvania, approximately 90 miles west of New York City, Muhlenberg is a member of the Centennial Conference, competing in 22 varsity sports. Muhlenberg is affiliated with the Evangelical Lutheran Church in America.