Muhlenberg College Hosts Community Radon & Public Health Workshop
The collaborative one-day workshop focused on the challenges faced by public health professionals and the need for action to further reduce radon-induced lung cancer in Pennsylvania.  
By: Kristine Yahna Todaro Friday, October 18, 2019 07:50 AM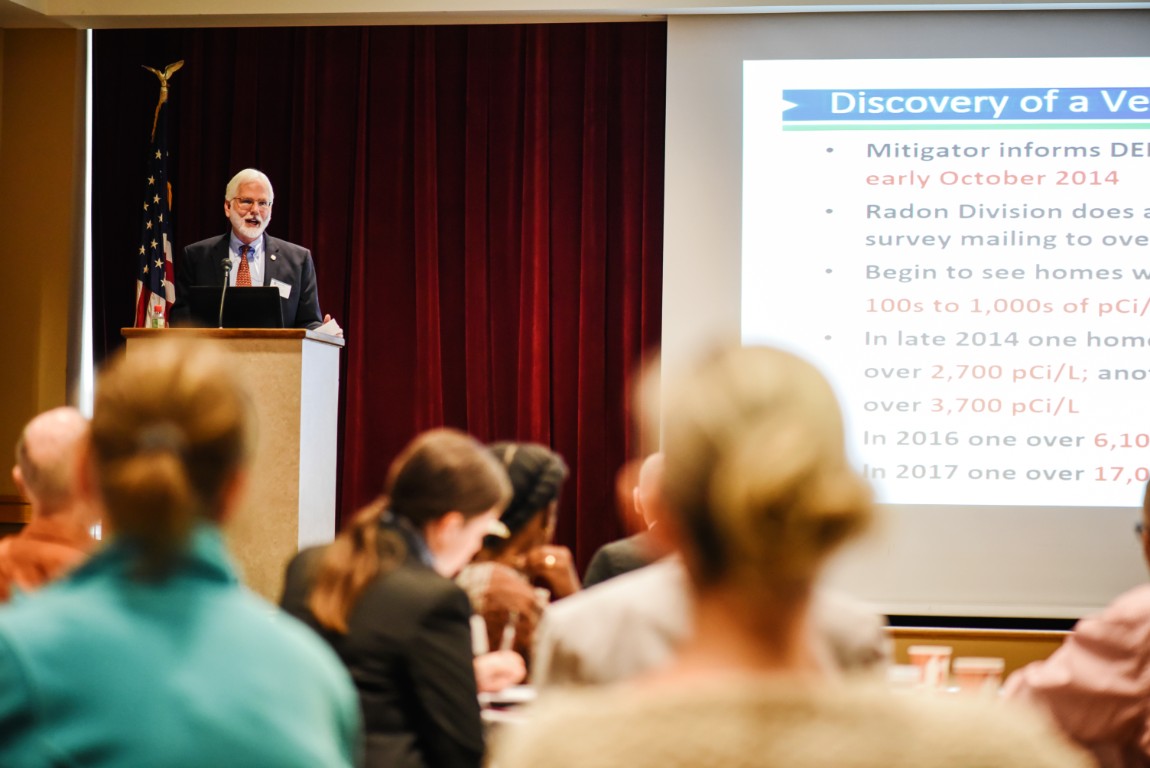 Dave Allard, Director of the Bureau of Radiation Protection, Pennsylvania Department of Environmental Protection, speaks at Muhlenberg College.
On October 11, Muhlenberg hosted the "Lehigh Valley Community-Campus Coalition Building: Radon & Public Health Workshop," which brought together over 50 local, state and federal stakeholders—including community partners, medical and public health practitioners, academics and legislators—to focus on the serious public health threat from indoor radon in Pennsylvania.
"Our goal for this workshop was to build a coalition of community stakeholders who work together to develop and advance an action plan that leads to better policies in Pennsylvania," says Muhlenberg Assistant Professor and Director of Public Health Chrysan Cronin, who headed up the workshop. "These policies would require radon testing and mitigation of schools, daycare centers and rental properties as well as required testing during real estate transactions."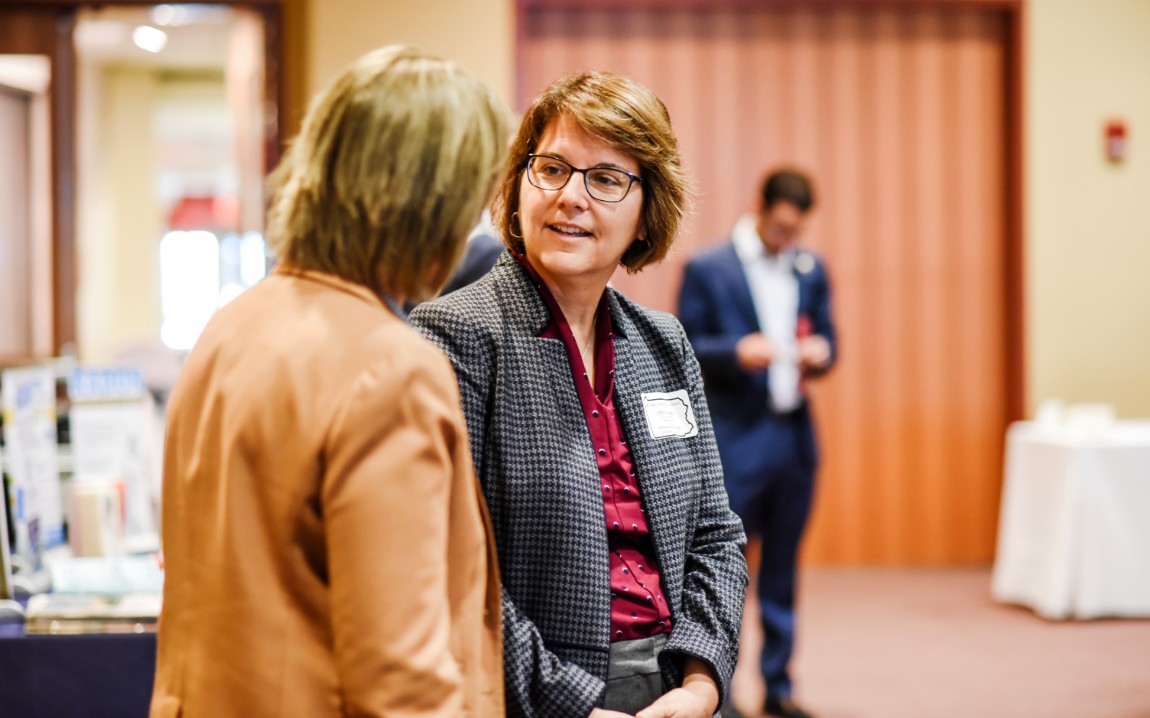 Muhlenberg Assistant Professor and Director of Public Health Chrysan Cronin (right) speaks with President Kathleen Harring at the radon and public health workshop.
Radon is a radioactive gas that is the second leading cause of lung cancer after smoking, yet many people are unaware of its presence because it is odorless, tasteless, and colorless. The only way to know if a building has high levels is to do a simple test. The Lehigh Valley has the highest levels of indoor radon in the country, first discovered in 1984. The workshop began with a look at the progress achieved over the past 35 years in recognizing and addressing the serious public health threat from indoor radon.
Morning presentations included a review of the scientific basis of radon-induced lung cancer, success in reducing radon risk, building science, recommendations for testing, EPA action levels for mitigation, PA laws and regulations, and effective radon risk communication strategies that can be used to motivate testing in the Lehigh Valley. The day concluded with small-group sessions and collaborative work on strategies to determine effective measures that can minimize or eliminate radon-induced lung cancer.
"Developing better communication about the risk as well as advocating for and enacting state policies to address the problem will have a major impact on decreasing the harmful health effects of radon," says Cronin.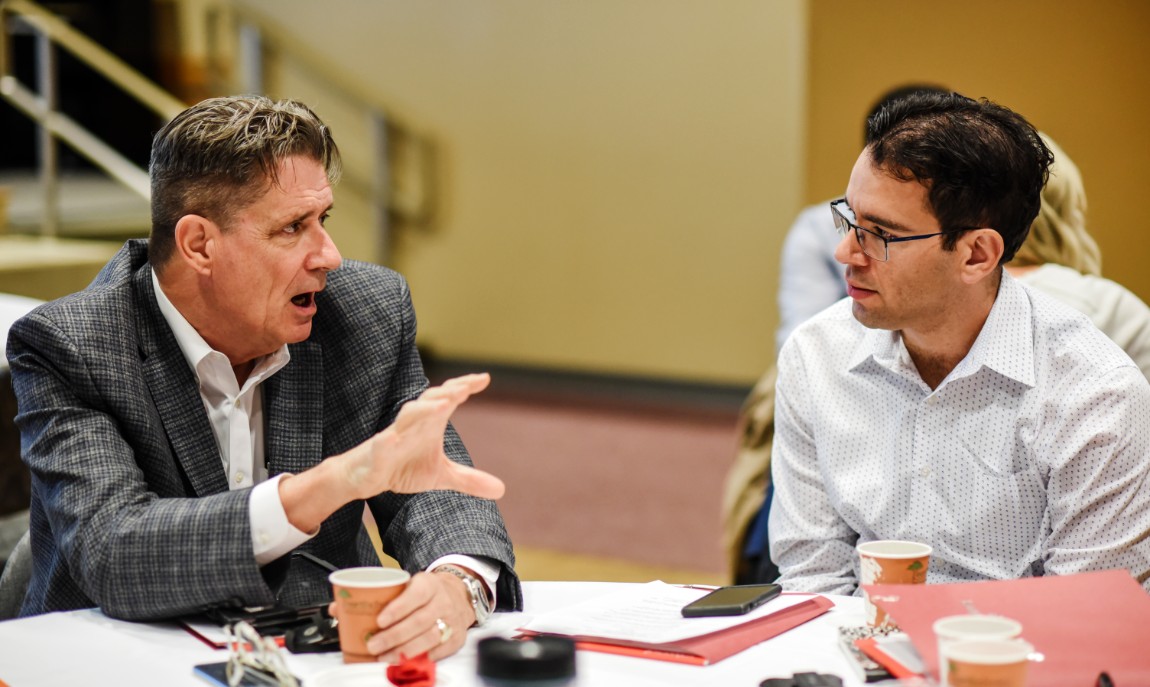 Dave Zimmerman, LVHN Community Health Department, (left) and Representative Mike Schlossberg '05 at the collaborative workshop.
In addition to Cronin, featured speakers included Dave Allard, director, Bureau of Radiation Protection at the Pennsylvania Department of Environmental Protection (PA DEP); Paul Locke, associate professor at the Johns Hopkins Bloomberg School of Public Health in the Department of Environmental Health Sciences; Jackie Nixon, senior VP marketing and communication, Citizens for Radioactive Radon Reduction (C3); Jane Malone, national policy director, American Association of Radon Scientists and Technologists (AARST); and Nate Burden, director, Environmental Services, Fidelity Inspection and Consulting Services, PA President of AARST.
The workshop also included panelists who spoke about radon testing in schools and a demonstration of radon test methods and recent radon research by Denise Bleiler and Bob Lewis of the PA DEP, Radon Division.
In addition to Muhlenberg faculty, attendees included representatives from the state legislature, including Rep. Mike Schlossberg '05, faculty from several Lehigh Valley Association of Independent Colleges and Johns Hopkins University, Allentown Health Bureau, Lehigh Valley Health Network, Realtors of the Greater Lehigh Valley, Radon Mitigators and others associated with radon testing and mitigation. In addition, representatives from the American Lung Association, Pennsylvania Cancer Coalition, PA DEP and EPA attended.