Muhlenberg Featured in The Princeton Review's "Best 385 Colleges" Guide for 2020
The College was also named to the Best Value Colleges and Green Colleges lists.
By: Kristine Yahna Todaro Tuesday, August 6, 2019 00:37 PM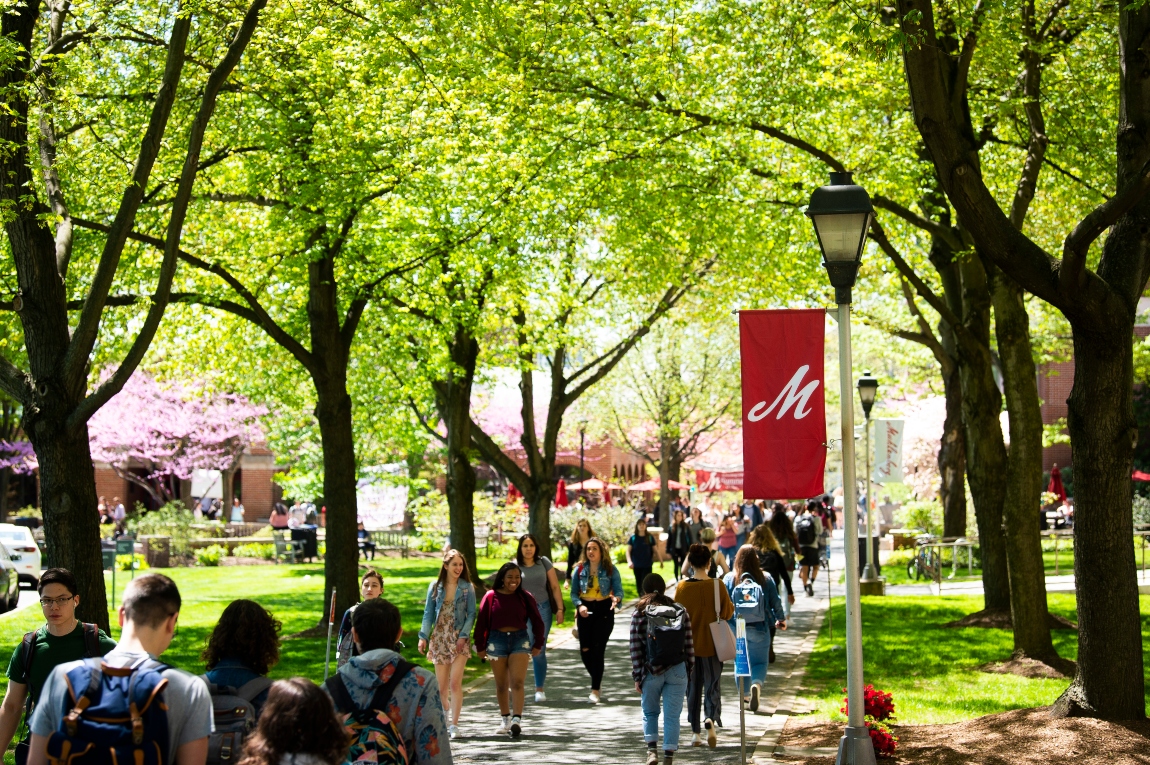 Students walk Muhlenberg's Academic Row.
Muhlenberg College is one of the nation's best institutions for undergraduates to earn their college degree, according to The Princeton Review. The education services company profiles and recommends Muhlenberg in the 2020 edition of its annual college guide, The Best 385 Colleges.
The College is also featured on the 2020 Best Value Colleges and Best Northeastern lists as well as the Green Colleges list. Muhlenberg recently announced a new sustainability studies major and a newly revised sustainability studies minor which offer students an interdisciplinary approach to understanding complex environmental challenges and developing solutions to effect real change.
In response to The Princeton Review's survey questions, Muhlenberg students had the most agreement on these topics: Students are happy, lab facilities are great, class discussions encouraged, great financial aid, students are friendly, great food on campus, easy to get around campus, recreation facilities are great, theater is popular and there's an active student government.
In the survey, Muhlenberg students also championed their "dedicated" professors who understand how to create and foster "engaging courses" and appreciated that they "really take the time to get to know you and answer your questions."
A French and education double-major said, "Most people are involved with many different aspects of campus life, and these aspects tend not to be 'cliquey' because of the crossover. For example, there are many football players who are members of a cappella groups or who take dance." Students said they felt it was quite easy to lead a full and fulfilling life on campus but also gave a shout out to Allentown's public parks which provide "great areas to hike, explore, bird-watch, read or take a jog" and said they periodically capitalize on Muhlenberg's relatively close proximity to both Philadelphia and New York.
Only about 13 percent of America's 3,000 four-year colleges are profiled in the book, which is one of The Princeton Review's most popular publications. The company chooses the colleges for the book based on data it annually collects from administrators at hundreds of colleges about their institutions' academic offerings. The Princeton Review also considers data it gathers from its surveys of college students who rate and report on various aspects of their campus and community experiences for this project.
The Princeton Review is an education services company known for its tutoring, test-prep courses, books and other student resources. It is headquartered in New York, New York, and not affiliated with Princeton University.
About Muhlenberg College
Founded in 1848, Muhlenberg is a highly selective, private, four-year residential, liberal arts college offering baccalaureate and graduate programs. With an enrollment of approximately 2,200 students, Muhlenberg College is dedicated to shaping creative, compassionate, collaborative leaders through rigorous academic programs in the arts, humanities, natural sciences and social sciences; selected preprofessional programs, including accounting, business, education and public health; and progressive workforce-focused post-baccalaureate certificates and master's degrees. Located in Allentown, Pennsylvania, approximately 90 miles west of New York City, Muhlenberg is a member of the Centennial Conference, competing in 22 varsity sports. Muhlenberg is affiliated with the Evangelical Lutheran Church in America.