Muhlenberg College Faculty Members Promoted to Professor
Five members of the faculty were recently awarded promotion to full professor.
By: Kristine Yahna Todaro Friday, May 10, 2019 11:44 AM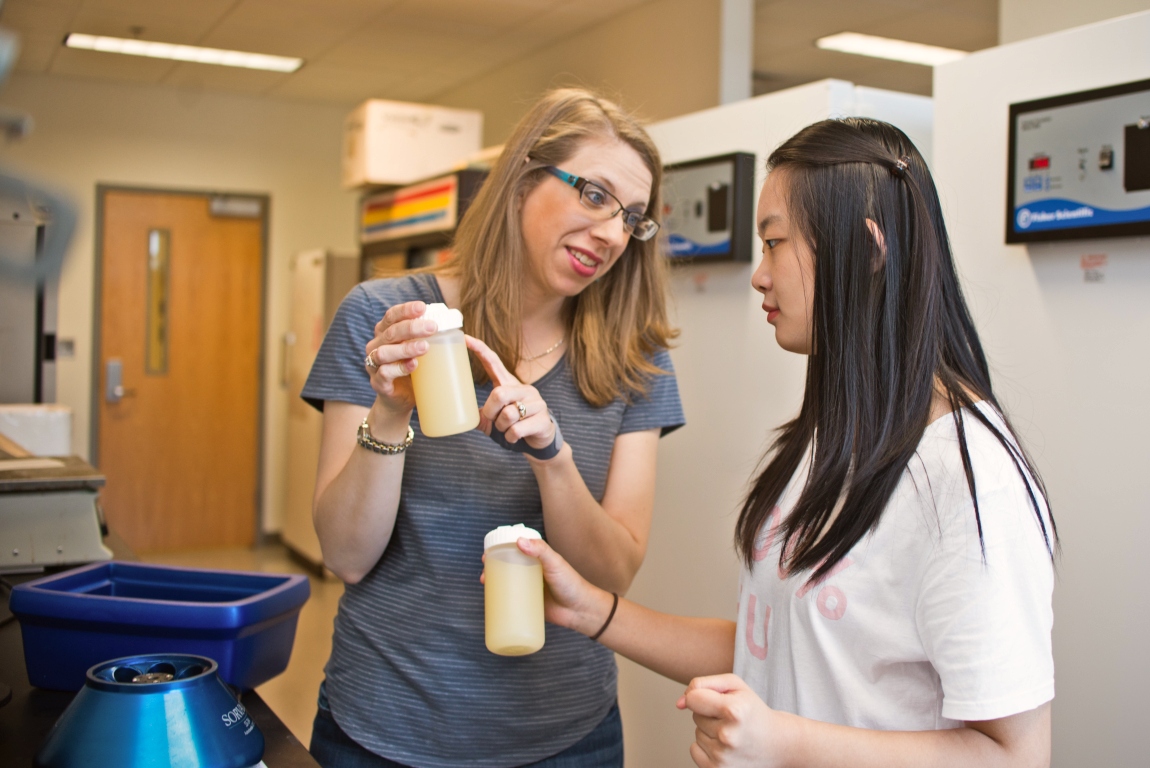 Keri Colabroy, professor of chemistry, (above left), in the lab with Yizhi (Vera) Fu '19.
The Board of Trustees, on the recommendation of President John I. Williams Jr. and Provost Kathy Harring, awarded full professorship to Keri Colabroy, Steve Coutinho, Brett Fadem, Paul McEwan and Jefferson Pooley.
Professor of Chemistry Keri Colabroy, (pictured above, left), is co-director of the biochemistry program and the coordinator of student research and scholarship. She received her B.S. from Messiah College and her M.S. and Ph.D. from Cornell University.
Colabroy's primary research interest is the chemistry of biological systems, especially mechanisms used by enzymes to catalyze complex reactions. Currently, her work includes using the tools of chemistry to understand the enzymatic mechanisms of antibiotic assembly.
In order to engage as many students as possible in the high-impact learning that accompanies faculty-mentored research, she integrates research into her courses and engages students outside the classroom through independent research in her lab. Courses taught include Organic Chemistry, Experimental Biochemistry and Advanced Biochemistry as well as Kitchen Chemistry, a course designed for non-majors to engage, reason with and practice scientific principles in a familiar setting—the kitchen.
Steve Coutinho, professor and chair of philosophy (pictured above), is a specialist in early Chinese philosophy with an emphasis on early Daoist texts. He studied at University College London, where he earned his B.A. in analytical philosophy, and M.Phil in the phenomenology of Husserl. At the University of Hawai'i, he completed his Ph.D. in Chinese and Comparative Philosophy under the supervision of Roger Ames and studied classical Chinese with David McCraw.
Coutinho teaches courses in Philosophies of China, Philosophies of India, Daoist Philosophies, Logic and Philosophy of Language. His first book, Zhuangzi and Early Chinese Philosophy: Vagueness, Transformation and Paradox, was published by Ashgate in 2004. His second book, An Introduction to Daoist Philosophies, was recently published by Columbia University Press.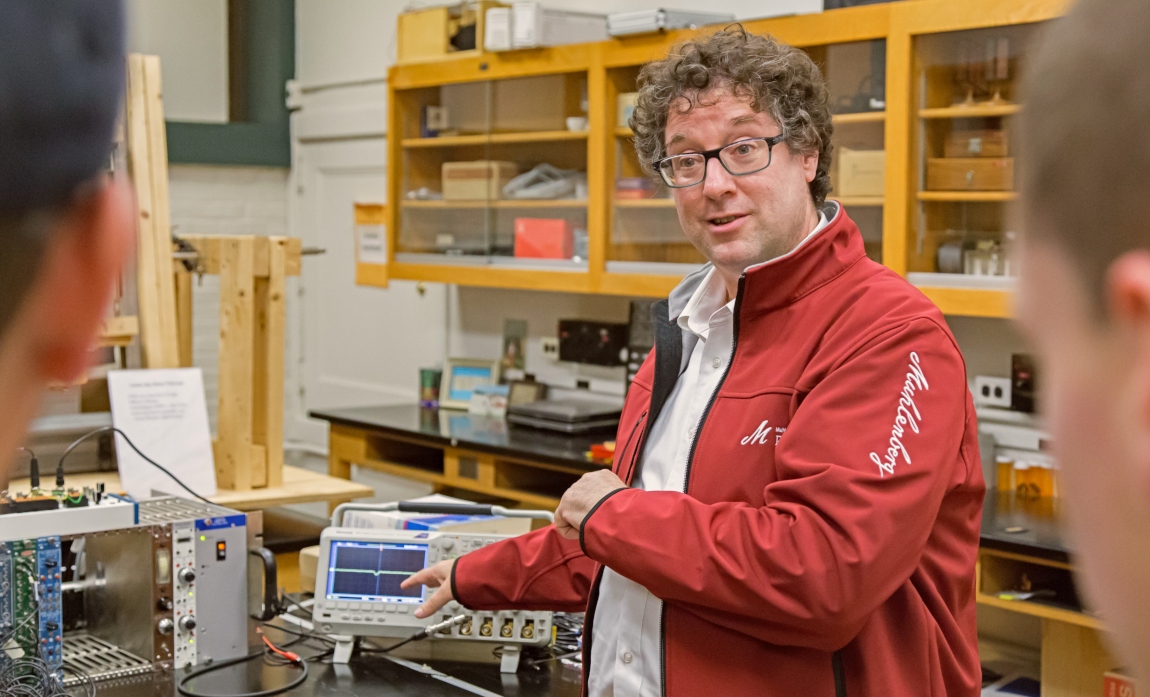 Through his teaching, Brett Fadem, professor and chair of physics (pictured above), works to deepen the ties between the nuclear physics research community and the liberal arts environment at Muhlenberg.
Fadem studies high energy collisions between the nuclei of atoms. The premier experiments in this field are being performed with the Relativistic Heavy Ion Collider (RHIC) located at Brookhaven National Laboratory in Long Island. He works with Muhlenberg students there to assist in the construction of a factory that will assemble and test high energy particle physics detectors based on resistive plate chamber (RPC) technology, research with important implications for cosmological models.
He received a B.A. in physics from Grinnell College and a Ph.D. in physics from Iowa State University.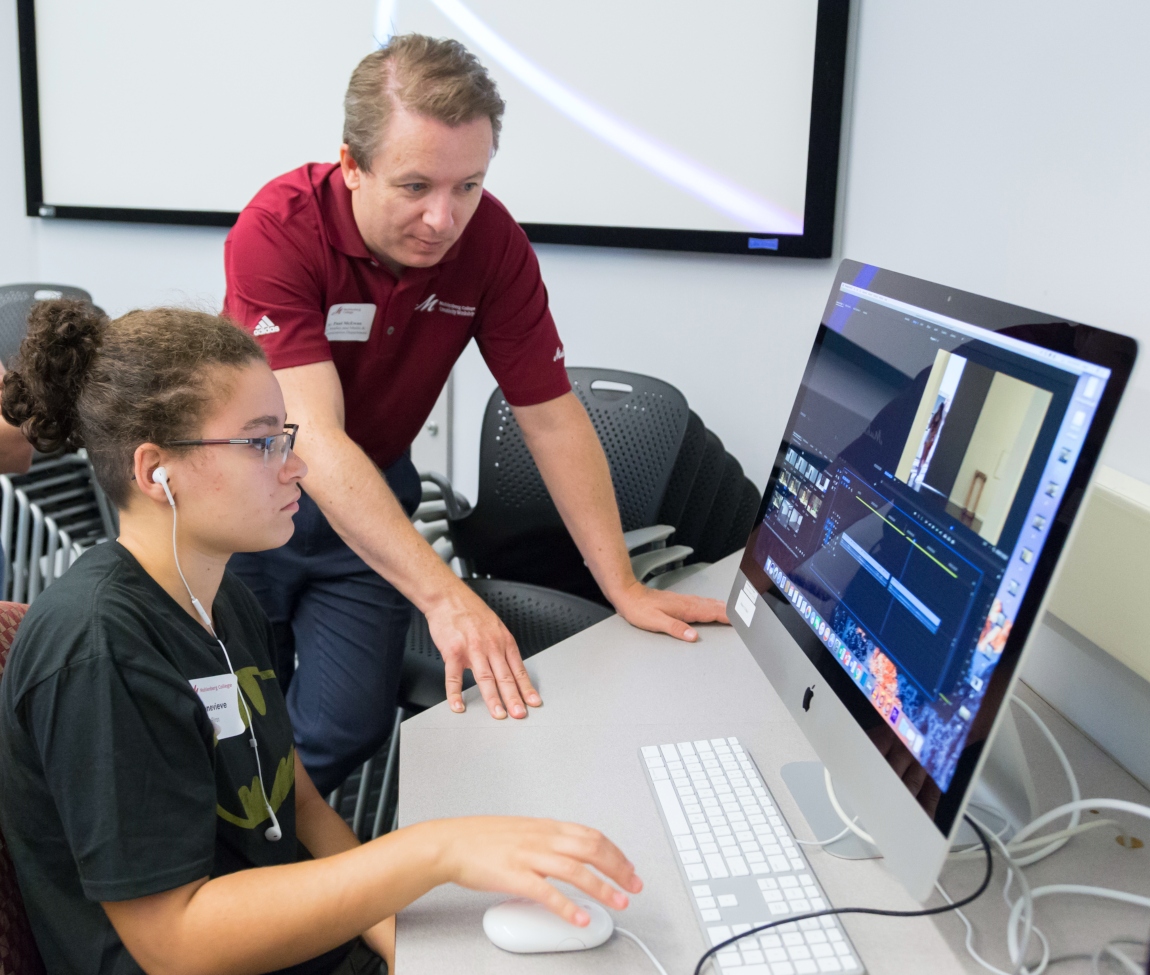 Paul McEwan, professor of media & communication and director of the film studies program (pictured above), received his B.A. from University of Guelph, B.Ed. from University of Western Ontario, M.A. from Wilfrid Laurier University and Ph.D. from Northwestern University.
McEwan has two major research areas:
The history of the reception of D.W. Griffith's 1915 racist epic

The Birth of a Nation

, an ideal text with which to study changes in race relations and the status of film as an art over the past century. He is the

author of

The Birth of Nation (BFI Film Classics)

and is working on a full-length monograph entitled

Birth of a Film Nation: D.W. Griffith, American Racism, and the Rise of Cinema Culture

.

The study of Canadian Cinema. He wrote

Bruce McDonald's Hard Core Logo (U Toronto P, 2011)

, which examines the idea of Canadian identity, the challenges of creative success in a small nation and the film's complex treatment of masculinity and male bonding.
McEwan teaches Bollywood Cinema, Film History, Film Reviewing, French New Wave, Introduction to Film Analysis, Popular Music, Video Production, Advanced Video Production, Screenwriting I and Writing the TV Spec Script.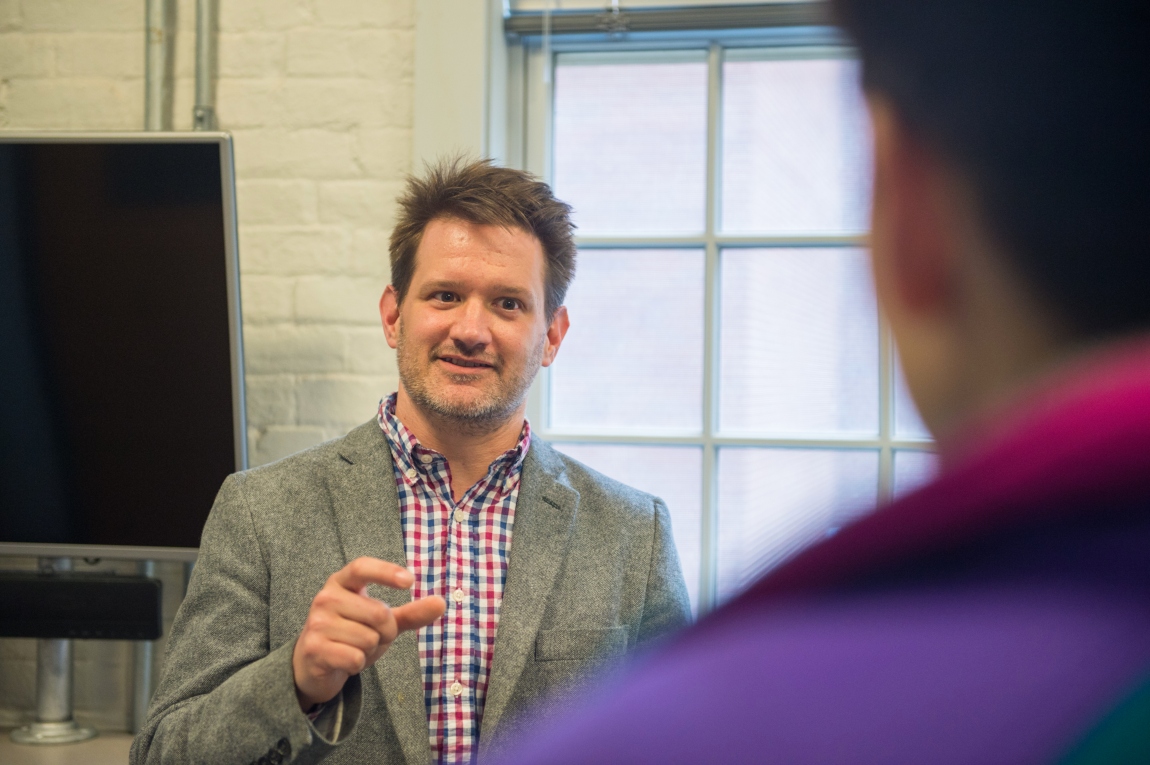 Jefferson Pooley, professor and chair of media & communication (pictured above), writes on the history of media research, the history of social science, scholarly communications and consumer culture and social media. His writing looks at how scholars communicate with each other, including how new technologies might help to live up to older ideals, and the way identities are "performed" on social media. Pooley is the author of James W. Carey and Communication Research: Reputation at the University's Margins (2016) and his writing has appeared in Washington Post, Chronicle of Higher Education, Jacobin and many academic and communications journals.
Pooley teaches courses that encourage students to reflect on what it means to live in a media-saturated society and to make the familiar strange—to help students see how little the social world they inhabit resembles ways of living from even two centuries ago—and how to make sense of it. Courses include Media & Society, Media Theory & Methods, and advanced courses like Social Media & the Self and Data & Society.
He received his B.A. from Harvard University and his M.A. and Ph.D. from Columbia University.