Muhlenberg College Announces Appointment of AJ Lemheney as Vice President and Executive Director of the Wescoe School
Lemheney will lead an expansion of the Wescoe School of Continuing Education.
Wednesday, February 27, 2019 11:00 AM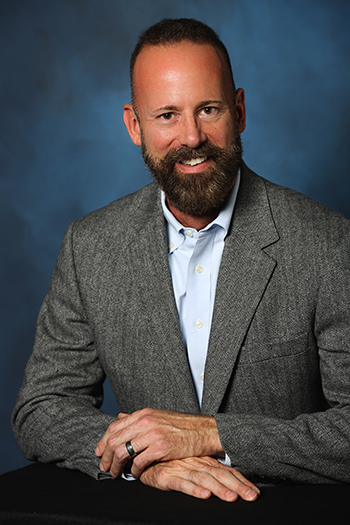 Muhlenberg College has hired AJ Lemheney for the role of vice president and executive director of the Wescoe School. He joins the College on March 11.
Lemheney was offered the position following an exhaustive, national search that produced a tremendous amount of interest. He stood out from other candidates particularly due to his experience with adult learning, his entrepreneurial experience and his deep and broad experience throughout the Lehigh Valley. Most recently, Lemheney served as chief learning officer at Knowledge to Practice, a company that provides postgraduate education to physicians. Prior to that, he spent 12 years with Lehigh Valley Health Network, most recently as its vice president of education. He has more than 25 years of experience in strategic development of teaching and learning initiatives in a variety of sectors, including higher education.

"We are absolutely delighted that AJ Lemheney has agreed to join Muhlenberg to lead the Wescoe School," says John I. Williams Jr., president of Muhlenberg College. "AJ's career to date has been marked by outstanding leadership and success, and his educational background and experience position him ideally to collaborate well with our faculty, staff and students, as well as institutional partners as we expand the Wescoe School with new programs both at the graduate and undergraduate levels."
Lemheney earned a bachelor's degree in computer science and philosophy from DeSales University; a master's degree in education, instruction and curriculum from Kutztown University; and a doctoral degree in education, learning and technology from Pepperdine University. He has amassed more than 15 years of experience designing and overseeing educational programs for adult learners.
"My interest in Muhlenberg College stems from my belief that education raises people's productivity and creativity, promotes entrepreneurship and increases the individual's participation in the communities they live," Lemheney says. "I have always admired the College's mission to provide liberal arts education framed within curricular excellence that emphasizes discovery, inclusion, self-expression and creativity."
"We are thrilled that AJ Lemheney will be joining Muhlenberg as the vice president and executive director of the Wescoe School," says Muhlenberg College Provost Kathleen Harring. "His significant experience with online programs in a variety of educational settings and his ability to develop institutional partnerships positions him well to to lead the College's efforts to expand our adult learning programs."
Founded in 1848, Muhlenberg is a highly selective, private, four-year residential college located in Allentown, Pennsylvania, approximately 90 miles west of New York City. With an undergraduate enrollment of approximately 2,200 students, Muhlenberg College is dedicated to shaping creative, compassionate, collaborative leaders through rigorous academic programs in the arts, sciences, business, education and public health. A member of the Centennial Conference, Muhlenberg competes in 22 varsity sports. Muhlenberg is affiliated with the Evangelical Lutheran Church in America.