Muhlenberg Announces Appointment of Rabbi Ari Perten as Campus Rabbi and Associate College Chaplain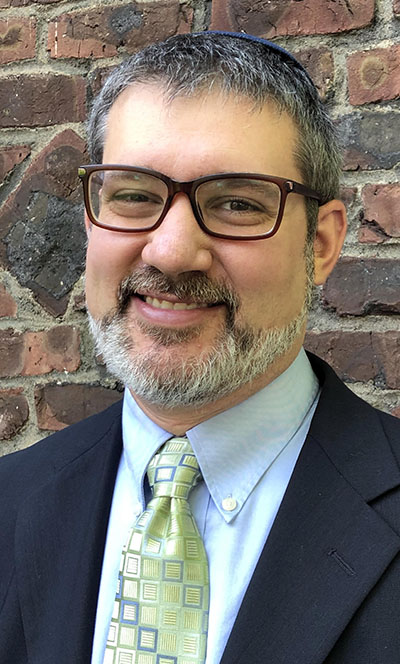 Perten, who begins his role August 1, will serve as a member of the College Chaplain's senior leadership team and the lead representative for Jewish student life at Muhlenberg.
By: Bill Keller Friday, May 17, 2019 08:40 AM
Rabbi Ari Perten comes to Muhlenberg after more than a decade at Camp Ramah in the Berkshires in Wingdale, New York, where he had recently served as assistant director and previously served as head of camp. In those roles, Rabbi Perten was responsible for developing and implementing a recruitment and retention strategy for the camp's more than 750 participants and building an employee engagement model for the camp's 350-plus staff.
Rabbi Perten served previously as a rabbi for Congregation Eitz Chaim in Monroe, New York, and director of the high school program at Temple Ner Tamid in Bloomfield, New Jersey. His congregational experience also includes service as a high school Hebrew educator and working with parents raising children in the Jewish faith.
Rabbi Perten received a bachelor's degree in international politics from Columbia University and a bachelor's in Bible and ancient Semitic languages from Albert A. List College. He received his master's in experiential Jewish education from the William W. Davison Graduate School of Jewish Education and his rabbinical ordination from the Jewish Theological Seminary.
"Rabbi Perten brings to Muhlenberg a passion for work as a Jewish educator and extensive experience working with young adults," says College Chaplain Rev. Kristen Glass Perez. "I am thrilled to welcome him to the Muhlenberg religious life team and look forward to the entire campus community meeting him in August."
"I'm excited to join the Muhlenberg community," says Rabbi Perten. "During my campus visit, I was very impressed by the environment of caring and trust so clearly demonstrated by students, faculty and staff. I am eager to join the greater team and build on a strong foundation to help enhance the experience for Muhlenberg students."
The search committee, chaired by Rev. Kristen Glass Perez, college chaplain, represented a cross-section of Muhlenberg campus life, including: Rebekkah Brown '99, vice president of advancement; Jessica Cooperman, associate professor of religion studies and director of Jewish studies; Steve Dutton, associate director of student engagement for clubs & organizations & fraternity & sorority affairs; Melissa Falk '92, dean of admissions and financial aid; Mark Stein, associate professor of history; Marissa Zondag, associate director of annual giving; Anne Cannon '21, Brielle Levy '22 and Eric Steinbach '19.
About Muhlenberg College
Founded in 1848, Muhlenberg is a highly selective, private, four-year residential, liberal arts college offering baccalaureate and graduate programs. With an enrollment of approximately 2,200 students, Muhlenberg College is dedicated to shaping creative, compassionate, collaborative leaders through rigorous academic programs in the arts, humanities, natural sciences and social sciences; selected preprofessional programs, including accounting, business, education and public health; and progressive workforce-focused post-baccalaureate certificates and master's degrees. Located in Allentown, Pennsylvania, approximately 90 miles west of New York City, Muhlenberg is a member of the Centennial Conference, competing in 22 varsity sports. Muhlenberg is affiliated with the Evangelical Lutheran Church in America.