'Mr. Burns, a Post-Electric Play' brings Springfieldian end times to Muhlenberg
Anne Washburn's speculative drama runs Feb. 20-24 in Muhlenberg's Studio Theatre, Trexler Pavilion for Theatre & Dance, and offers an examination of pop culture, storytelling and myth-making in post-apocalyptic America.
By: Sarah Jae Leiber Wednesday, February 13, 2019 03:51 PM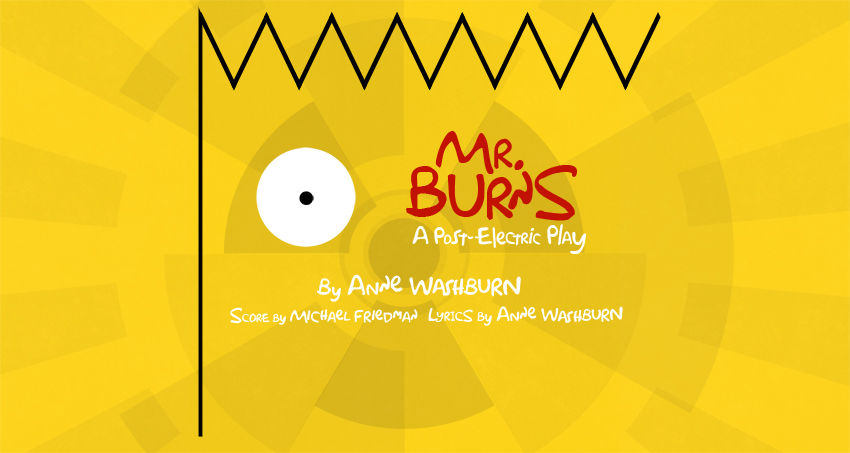 A three-act play that fluctuates between hyperrealism, shows-within-a-show, and a fully realized Simpsons operetta is taking shape at Muhlenberg College. It's "Mr. Burns: a Post-Electric Play," by Anne Washburn—a meditation on media, the apocalypse, and "The Simpsons."
"'The Simpsons' is arguably the most iconic piece of modern pop culture in the past 30 years, and the thing that really draws me to this play is the importance that it places on pop and media culture," says Nick Reit '19. He plays Gibson, a traveling survivor and "Simpsons" enthusiast. "In this play, we're reaffirming the importance of community-making that occurs when you consume that culture and then talk about it."
The first act of "Mr. Burns" chronicles the immediate aftermath of a nuclear apocalypse and features a group of survivors sitting around and talking through a well-known episode of "The Simpsons." The second act, seven years later, depicts that same group of survivors, now performing in a ragtag theatre troupe, collecting and performing beloved episodes of "The Simpsons" for a paying audience. The third act takes place 75 years later still, in a future culture in which "The Simpsons" has transformed into mythic allegory of epic proportions.
"I love working on shows that have great swings of energy and emotional colors across both comedy and drama, says director and theatre professor Beth Schachter. "This show encompasses truly devastated characters who are dealing with grief and loss, but also the hilarious ways those people entertain themselves and create their own Simpsons-inspired mythology as performance."
The first two acts of "Mr. Burns" examines the role of community in the aftermath of a crisis—exploring how people react, how they come together and talk to each other when their entire cultural context has been razed to the ground.
"Something that really gets me is when all else fails, we still make culture," says Julia Baker '19, who plays Quincy in the first two acts and Marge Simpson in the third. "The play shows how much pop culture can ground someone, regardless of situation—and it's interesting that 'The Simpsons' has risen to become the embodiment of American culture."
"You can build something out of nothing," says Nicole Morris '21, who plays Jenny, another survivor. "You may have lost a political system, but you can still make culture. You have the people, which is all you need to make anything happen."
The third act in particular raises the social position of pop culture to grand heights, highlighting the way in which the stories we tell depend on the environment in which we live. In this act, 82 years after the nuclear meltdown, that old "Simpsons" episode from around the campfire has been elevated to high culture—a "Simpsons" operetta, stuffed with the bits and bobs of turn-of-the-millennium American life.
"The play takes these classic characters we love and makes them all the more universal," says Griffin O'Connor '19, who's playing the titular villain. "These archetypes start to show up, and it's been interesting to figure out how to embody Mr. Burns and how to embody evil in a way that pays homage to the 75 years of trauma and pain these people have gone through to create this society."
Constructing society involves more than just performance. Costume designer Matthew Ryan Limerick says that a lot of his work had to do with conceptualizing how people would rebuild industry in the aftermath of disaster.
"In designing the costumes for the third act, I'd tell one of my friends the name of some obscure Simpsons character and ask them to describe the character to me," Limerick says. "That's how I'd get my design. It's about how we'll remember these characters when we don't have the internet, or books about 'The Simpsons' lying around to reference.
"We've gotten to this point where clothing has become temporary and limited. But what happens when we don't have the machines to mass produce anymore?" he says.
Through music and dance, "Mr. Burns"' third act takes us through some unifying cultural highlights while critiquing culture-destroying systems. The score, written by late composer Michael Friedman ("Bloody Bloody Andrew Jackson"), combines modern pop music, classical church pieces, and some of Gilbert & Sullivan's greatest hits. Ed Bara musical directs and Sammy Reyes choreographs.
Baker says audiences should anticipate the musical cues being familiar, with allusions to such songs as "Livin' La Vida Loca" and "Toxic."
"No one considers those the best songs of all time, but they're songs we all know," Baker says. "They're songs that make us happy."
The cast of "Mr. Burns" has spent much rehearsal time living in that dark, post-apocalyptic space. Reit says the third-act pop music lightens everyone up enough that they're able to work through the difficulties together.
"I think we have an awesome ensemble of collaborators and talented people in the room," Reit says. "Everyone involved is bringing it both in the actual act of doing it and in creating an environment for us all to work with."
"Mr. Burns, a Post-Electric Play" Feb. 20-24. Showtimes are Wednesday through Saturday at 8 p.m., Saturday and Sunday at 2 p.m. Regular admission tickets are $15. Tickets for youth and LVAIC students and staff are $8.
Tickets can be purchased online at muhlenberg.edu/theatre or by phone at 484-664-3333. Performances are in the Studio Theatre in the Baker Center for the Arts, Muhlenberg College, 2400 West Chew St., Allentown.
Muhlenberg College offers Bachelor of Arts degrees in theatre and dance. The Princeton Review ranked Muhlenberg's theatre program in the top twelve in the nation for eight years in a row, and Fiske Guide to Colleges lists both the theatre and dance programs among the top small college programs in the United States. Muhlenberg is one of only eight colleges to be listed in Fiske for both theatre and dance.
About Muhlenberg College
Founded in 1848, Muhlenberg is a highly selective, private, four-year residential, liberal arts college offering baccalaureate and graduate programs. With an enrollment of approximately 2,200 students, Muhlenberg College is dedicated to shaping creative, compassionate, collaborative leaders through rigorous academic programs in the arts, humanities, natural sciences and social sciences; selected preprofessional programs, including accounting, business, education and public health; and progressive workforce-focused post-baccalaureate certificates and master's degrees. Located in Allentown, Pennsylvania, approximately 90 miles west of New York City, Muhlenberg is a member of the Centennial Conference, competing in 22 varsity sports. Muhlenberg is affiliated with the Evangelical Lutheran Church in America.