Learning and Listening Mark Athletic Director's First Year
Lynn Tubman prepares for developing a strategic plan for athletics at Muhlenberg.
By: Jeremy Fuchs '14 Tuesday, September 17, 2019 01:56 PM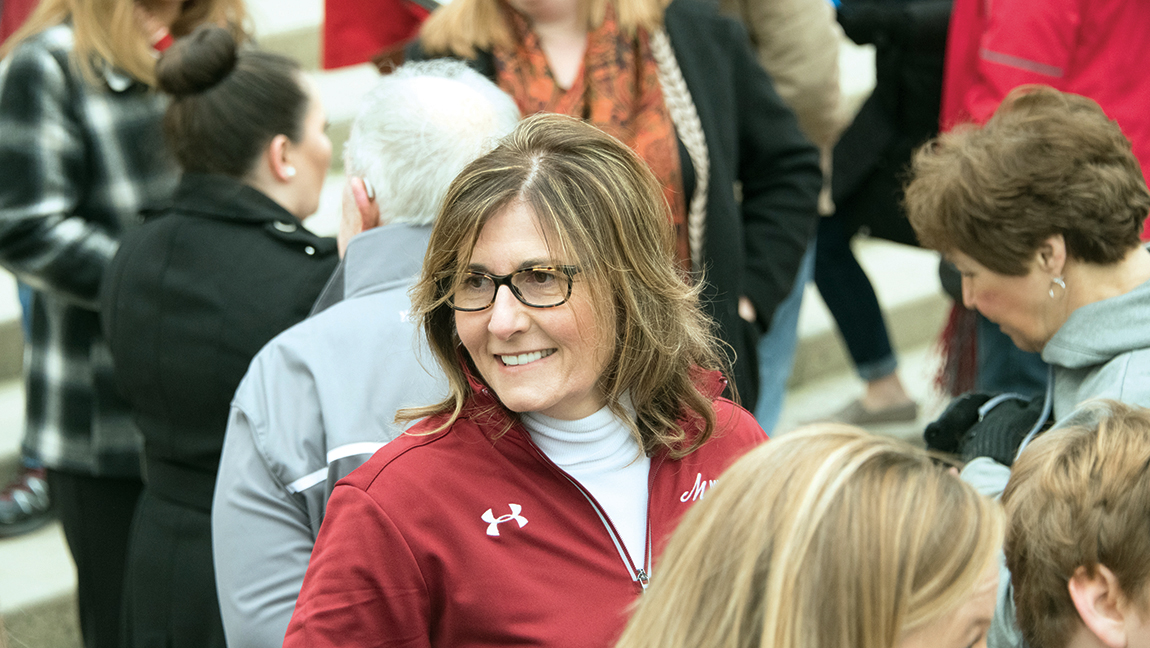 This article was originally published in the Summer 2019 issue of Muhlenberg Magazine.
Lynn Tubman played basketball at DeSales University and earned her master's degree in educational administration from Lehigh University, so both the Lehigh Valley and Division III athletics were familiar to her when she came across an opening at Muhlenberg College for the position of athletic director. Tubman, who had served for nine years as the athletic director at Chestnut Hill College, a small Division II school in Philadelphia, wasn't actively looking for a new gig. But the opportunity to return to her roots proved too tempting to pass up, and when she stepped onto campus, the deal was sealed: "I just felt comfortable," she says. "It's a very warm, caring group of individuals."
So, the transition from Chestnut Hill to Chew Street was a fairly easy one, personally. Professionally, Tubman, a former three-time Division III All-American—and De-Sales's all-time leading scorer—isn't one to move fast and break things.
Instead, Tubman set out to spend her first year as athletic director, which began last June, understanding the needs of the department and how it fits within the larger campus community. It's been a period of getting to know the College and what makes Muhlenberg tick. "My style is very reflective," she says. "I needed a full year under my belt before we moved forward with any major strategic plan. This year has been very informative."
Developing that strategic plan is Tubman's main goal for the coming year. She'll use what she's learned from her year of review to discern the best ways to advance the department's aims. In particular, Tubman wants to look at other revenue streams to broaden the program's budget. "We recognize that there will be limitations in what the operating budget will support," she says. "We've been developing a plan and strategy to increase that."
Tubman's year wasn't only future-focused: Of many 2018-2019 highlights, two that stood out were the success of the football team in the fall and the addition of a scholar- athlete honors program in the spring.
The football team went 11-2 and earned a spot in the Elite Eight, a first for the College. "I had never been a part of a team making it [that far]," she says. "To have a firstyear coach [Nate Milne] who's carried on a strong tradition [from longtime coach, the late Mike Donnelly], it was really fun to watch."
In March, Muhlenberg was accepted into the Chi Alpha Sigma honors society. The society recognizes student-athletes who earn a varsity letter and maintain a cumulative 3.5 grade point average. This year, a first group of 27 student-athletes were inducted. "We were listening to feedback from the students, and academic success is important to them," she says. "This is a great academic recognition."
Tubman says she's become more comfortable in the role after an admittedly "overwhelming" start, with lots of people to meet and information to absorb. But after a year in which the department reached new heights, athletically and academically, year two is shaping up to be something special. "I have a better sense of our priorities," she says. "And the tremendous amount of support and commitment from the institution has made it rewarding."