I Used to Think I Wasn't Interested in Documentary Work...
But I fell in love with the genre when I learned more about it, and I hope to pursue a career in documentary filmmaking after graduation.
By: By Annie Diaz '19, as told to Meghan Kita Monday, January 21, 2019 11:51 AM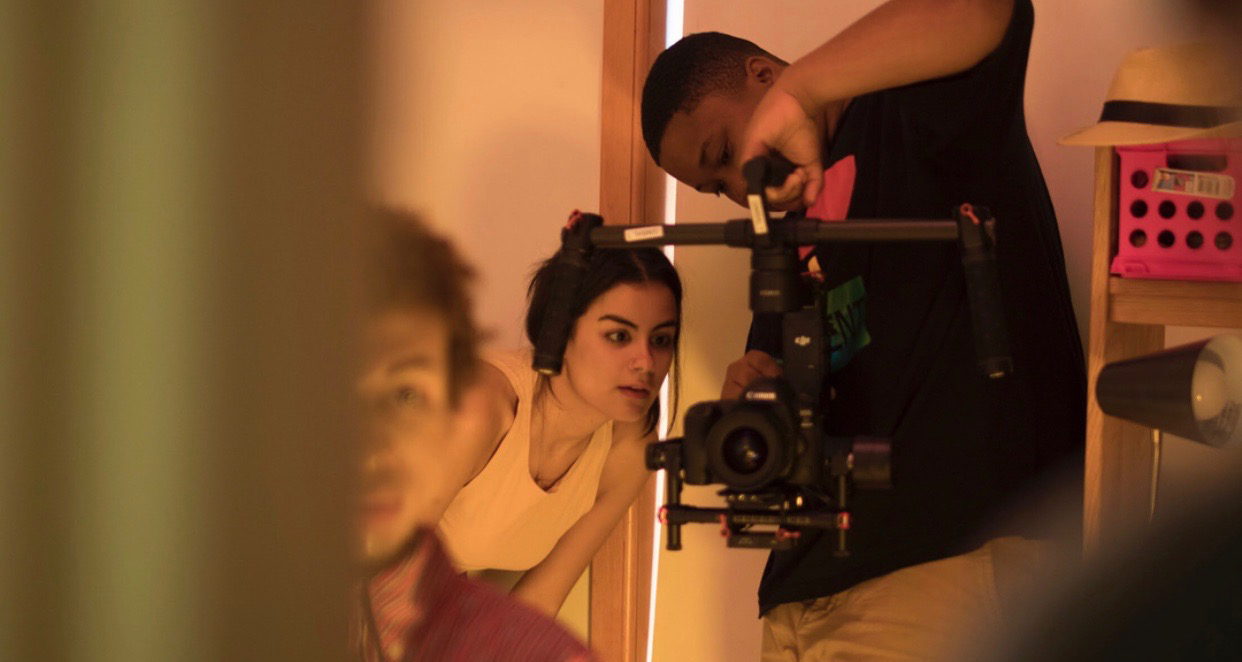 Annie Diaz '19 works behind the camera on a project for one of her documentary storymaking classes. Photo courtesy Annie Diaz '19.
Diaz is a film studies and media & communication major with a minor in documentary storymaking, a collaborative minor offered in partnership with Lehigh University and Lafayette College. To learn more about this unique program, click here.
Documentary storymaking became a minor my sophomore year, and a lot of professors were encouraging students to try going for it. I remember telling them, "No, I'm not really into documentary work," but my understanding of documentary was just like what's on Animal Planet, or Planet Earth. Then, I took Video Journalism with Professor Aggie Bazaz, and that really opened my eyes to what documentary can be: It's a way to tell stories that are not heard or highlighted in the media, like my own personal battles in terms of social justice and identity.
There are three core courses for the minor, and they rotate between campuses. I took the first, Introduction to Documentary Storymaking, at Lafayette College. It was one of the best experiences I had in my college career, because you get to meet students from other campuses and see how they understand college life and documentary theory and the genre in general. There were a lot of black and brown students in the class, and I started realizing how many people of color were engaging in the minor and with the genre itself, which made me excited to do more.
In that class, I worked with two Lehigh students and one Muhlenberg student on a film called Digital Divide about the lack of access to WiFi in lower income communities in Allentown. Right downtown, there are fancy restaurants and cafes that provide free WiFi, but the more you go into the lower income communities, that's where the WiFi stops. We were following a man who used the funds from his thrift store to provide WiFi in those areas, and we also investigated the implications of what it means to be divided digitally: A lack of access to WiFi means a lack of access to education, to resources, to job applications, even to getting your financial work completed. There are so many negative things that come out of not having free public WiFi.
For my capstone project, I was interested in turning the camera onto myself, to tell my own story. I was born in Puerto Rico—my parents moved over here when I was 5, and that really affected my way of growing up and perceiving myself. My mother is someone who is white-passing while my dad isn't, and I was kind of looking at her as this role model, which made me adopt ideas of whiteness that were toxic to me growing up. My film became a personal memoir about my childhood.
Through pursuing the minor, I learned that you can apply the same artistic techniques that you apply to fiction on documentary. People tend to get intimidated by the genre just because they believe it has to be so static and correct and perfect when it can actually be something unique and personal to you. And if you're not making your story in any way personal to you, if you can't engage with it in a way where you really care about the product you're making, then you probably shouldn't be making it.