Muhlenberg's Institute of Public Opinion Earns A+ Rating from FiveThirtyEight
The College's institute is one of only six pollsters in the nation to achieve the top rating.
By: Kristine Yahna Todaro Friday, November 15, 2019 10:33 AM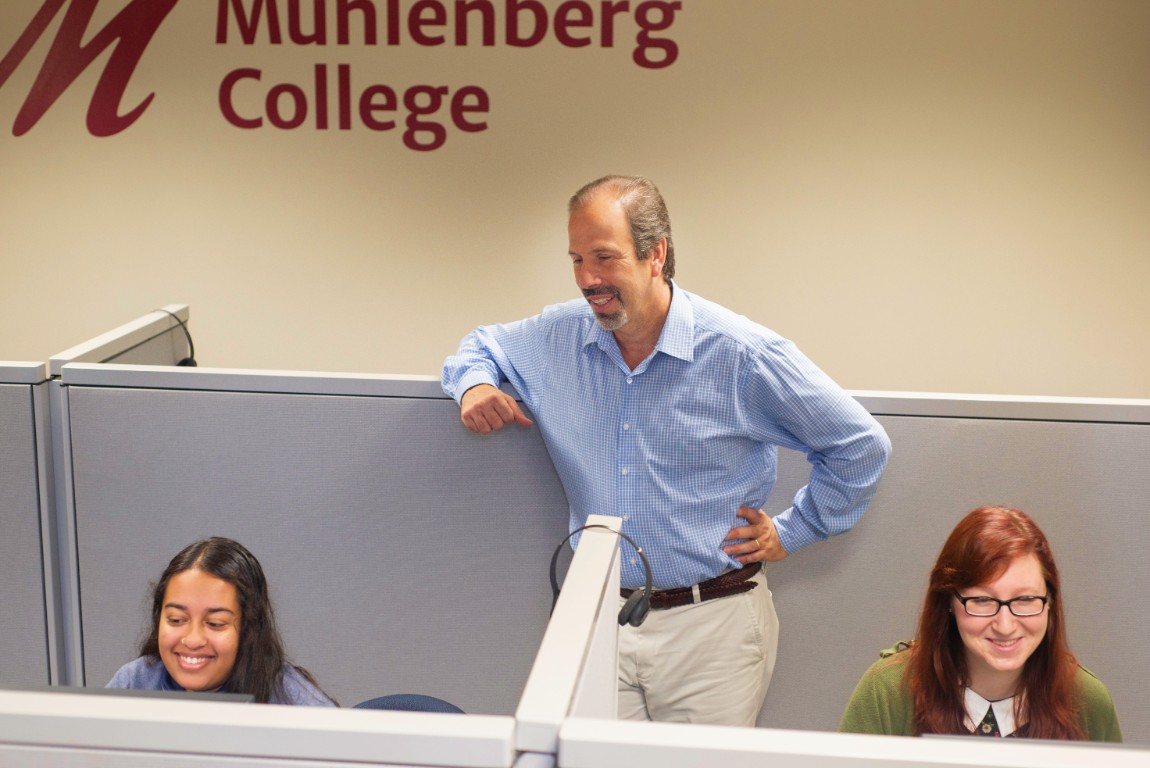 Student supervisors Prianka Hashim '19 and Abigail Edwards '19 work with Chris Borick, director of the Muhlenberg College Institute of Public Opinion, in 2018.
Muhlenberg College's Institute of Public Opinion (MCIPO), consistently named one of the top pollsters in the country, has earned a top grade from the polling analysis website FiveThirtyEight.
MCIPO is a state of the art public opinion research center that measures the public's views on electoral and public policy issues with a concentration on environmental and health matters. In addition to this month's A+ rating, FiveThirtyEight gave the institute an A rating in 2018, an A- in 2016 and ranked it first among all colleges and universities in the nation in 2014.
FiveThirtyEight's pollster ratings are calculated by analyzing the historical accuracy of each firm's polls along with its methodology. Accuracy scores are adjusted for the type of election polled, the poll's sample size, the performance of other polls surveying the same race and other factors. They also calculate measures of statistical bias in the polls.
For over two decades, MCIPO's director, Professor of Political Science Christopher Borick, has worked with teams of undergraduate student supervisors and interviewers to conduct more than 300 large-scale public opinion surveys. In addition to voter interviews, students are involved in developing the questionnaire designs and survey sampling as well as the analysis of the completed surveys.
In an article accompanying the ratings, Nate Silver, the founder and editor in chief of FiveThirtyEightSilver, writes that polls just had one of their best election cycles ever. But, he adds, challenges abound in the industry, noting, "Four of the top five, and six of the 10 best pollsters according to this metric were exclusively live-caller telephone polls." This includes Muhlenberg.
"Compared to online and automated polls, live calling is arduous and time-consuming because it's increasingly difficult to get people to answer the phone from a number they don't know—but we haven't found an alternative that is as effective to date," says Borick. "I'm so proud of the work our students have done producing top-quality public opinion research, and it's very gratifying to see this work recognized by FiveThirtyEight.
A complete, interactive list of FiveThirtyEight's new pollster ratings can be found here: https://projects.fivethirtyeight.com/pollster-ratings/.
About Muhlenberg College
Founded in 1848, Muhlenberg is a highly selective, private, four-year residential, liberal arts college offering baccalaureate and graduate programs. With an enrollment of approximately 2,200 students, Muhlenberg College is dedicated to shaping creative, compassionate, collaborative leaders through rigorous academic programs in the arts, humanities, natural sciences and social sciences; selected preprofessional programs, including accounting, business, education and public health; and progressive workforce-focused post-baccalaureate certificates and master's degrees. Located in Allentown, Pennsylvania, approximately 90 miles west of New York City, Muhlenberg is a member of the Centennial Conference, competing in 22 varsity sports. Muhlenberg is affiliated with the Evangelical Lutheran Church in America.