Film Festival Selects the Work of Haley Hnatuk '20
The Muhlenberg student, who served as editor for the film "Dos Hermanos: The Blood of the California Fields," will have her work screened at the 13th Pennsylvania College Student Film and Video Festival.
By: Laura Diorio '20 Monday, October 14, 2019 09:43 AM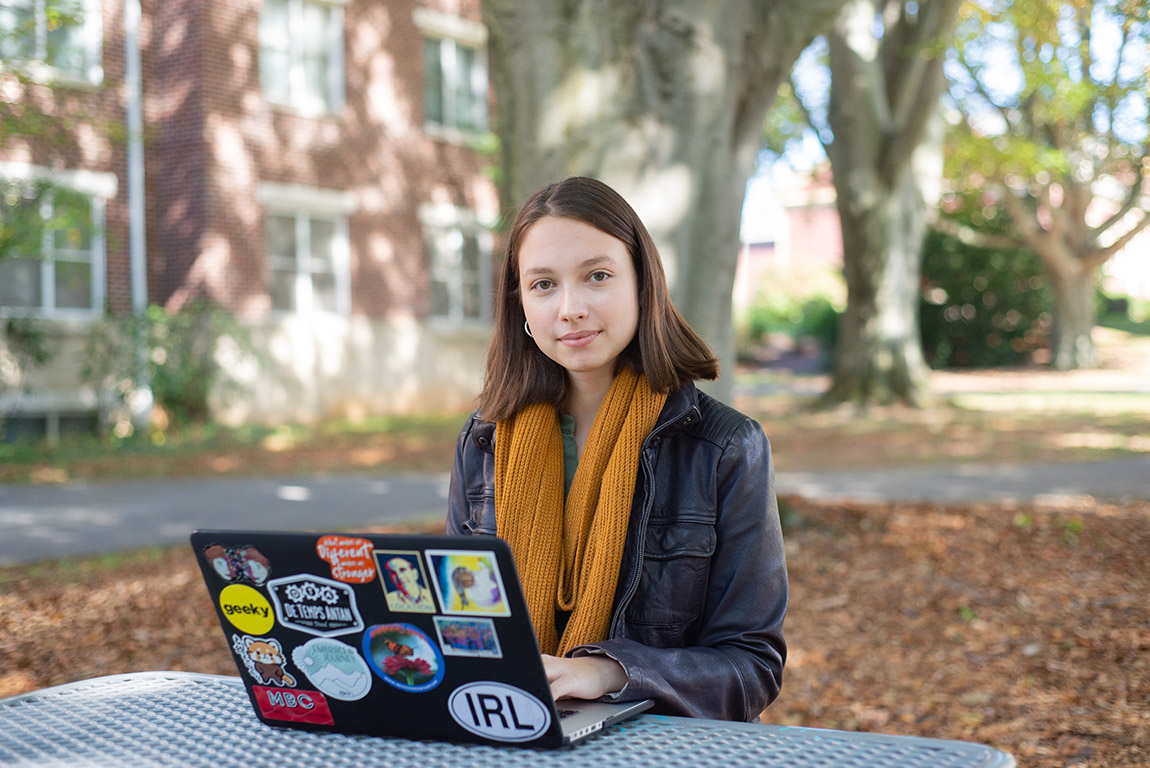 Haley Hnatuk '20, a film studies major, served as the editor for former Muhlenberg professor Aggie Bazaz in the documentary film "Dos Hermanos: The Blood of the California Fields." The film follows Luis Magaña, an immigrant rights organizer, as he recounts two tragic losses of indigenous youth from Mexico working in Central Valley vineyards.
Of the nearly 100 films submitted, just nine will be screened and presented at the 13th annual Pennsylvania College Student Film and Video Festival, hosted by the film and video arts program at Lycoming College.
The festival will take place on Thursday, October 17 at 7 p.m. at the AMC Classic 11 in Williamsport, Pennsylvania. While the screening is free and open to the public, tickets are limited. Those wishing to attend the festival must RSVP at http://evite.me/WdktQhQm3P.
Hnatuk took several months to edit the film, beginning in 2018 when she was enrolled in one of Bazaz's film studies courses. The collaboration continued while she studied abroad in Dublin, Ireland, finalizing the cut with Bazaz remotely from across the Atlantic Ocean. The slower nature of the work was in part due to the vast scope of footage being processed, but Hnatuk also noted that the impactful nature of the footage and the documentary's subject material challenged her to reflect and observe the story being told.
"I wanted to let the material speak for itself," says Hnatuk. "So I spent a really, really long time sitting with it, because I wanted to make sure I was using the right clips and I was cutting them together the best way that I could."
Entry into the Pennsylvania College Student Film and Video Festival, the first film selection for Hnatuk, has provided an opportunity to reflect on what the future might hold. Scheduled to graduate a semester early this December, she's been inspired to continue submitting her work into film festivals and explore ways to grow as a film editor.
"I always thought I would have the most control over a story by physically writing it; I thought screenwriting was a thing I really wanted to do. Then I started editing and I thought 'maybe this is really what I want to do.' Once you get to the point where shots start coming together and you start seeing something that was completely formless come into being, it's a beautiful moment."