From E Street to Law School
An early class on Bruce Springsteen guided Tara Pachter '16 toward Muhlenberg's American studies major, which prepared her well for her continued education.
By: Steve Neumann Monday, April 15, 2019 00:14 PM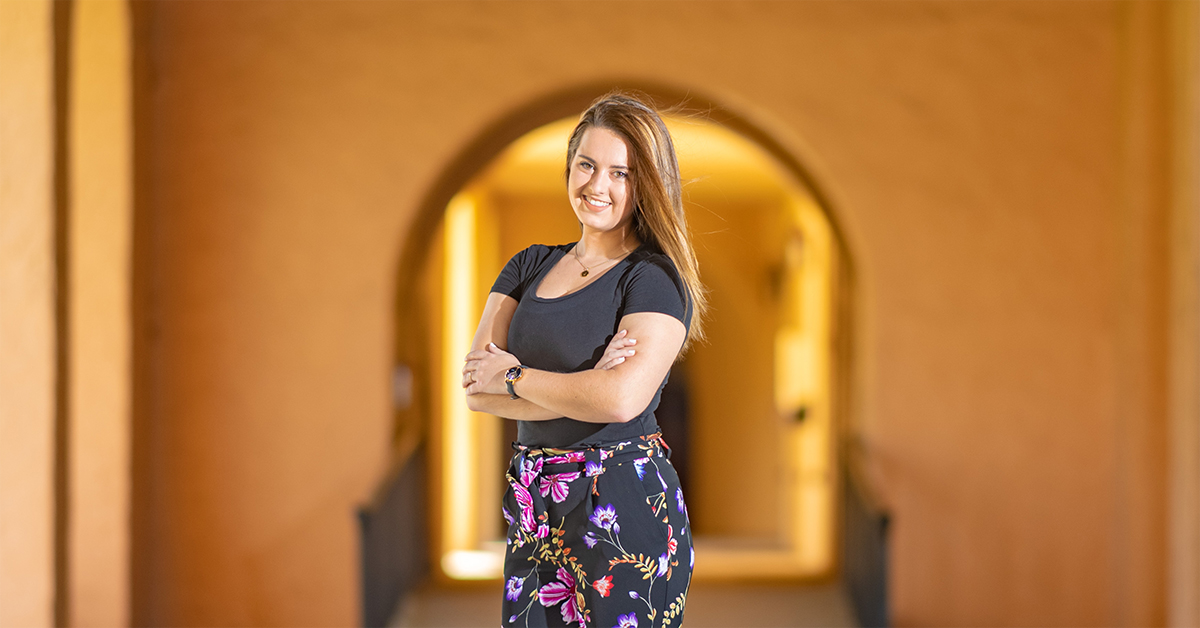 Tara Pachter, pictured at Stetson University College of Law, credits a Muhlenberg first-year seminar as the start of her path to law school. Photos by Justin Schaber.
Tara Pachter '16 never expected to use the songs of an iconic rock star to examine issues like war, racism and immigration when she got to Muhlenberg. She had never intentionally listened to Bruce Springsteen's music. But her experience with the first-year seminar Springsteen's America, taught by Political Science Professor Chris Borick, is what inspired her to become an American studies major.
"I thought I'd be interested in political science," Pachter says. "I took a couple of American studies courses and found that, because the classes were so interdisciplinary, it allowed me to get a broad view of the nation—the way that it works and how it was formed."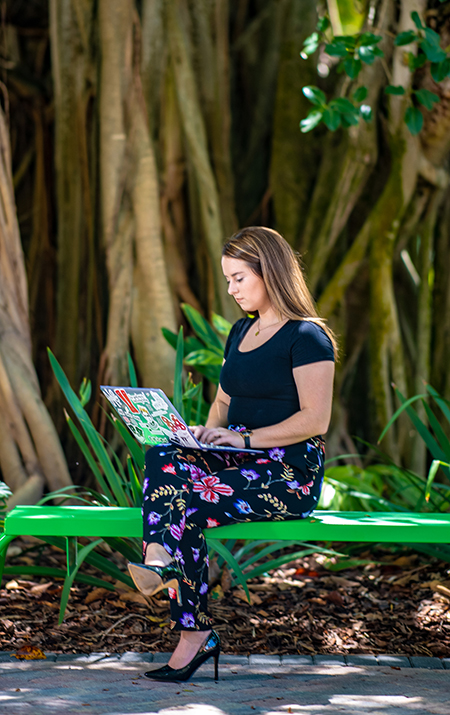 American studies majors complete four core requirements, a senior seminar and six electives. The core courses include an introductory course and three foundational courses in American history, literature and government, but the choices of electives are wide open, as long as they focus on America. That's where students like Pachter could zero in on what interests them most; American studies majors go on to pursue careers in a diverse array of fields such as history, literature, economics, religion, or, in Pachter's case, law.
"I thought that was really awesome," Pachter says, "especially since I knew I wanted to be a lawyer. I thought it was great to see how our laws worked, and how our country started, and then go to law school and uphold those laws and policies."
Pachter ultimately chose Stetson University College of Law, where she'll finish her doctorate of jurisprudence with honors this spring. While there, Pachter served as the teaching assistant for a constitutional law class taught by Bruce Jacob, famous for arguing a landmark case in United States Supreme Court history (Gideon v. Wainwright, 1963). To be a teaching assistant at Stetson, you have to get the highest grade in the course, which Pachter did. She credits her success as a TA with having taken Constitutional Law I & II with Political Science Professor Alton Slane as part of her American studies major.
After graduating from Stetson, Pachter plans on practicing labor and employment law, so that she may help both employees and employers uphold federal employment laws and ensure fair work practices across the nation.
"I'm glad [American studies] guided me towards a legal career," Pachter says. "The prelaw track allows you to do a lot of critical thinking and analytical writing which helps prepare you for the course load that will ultimately come in law school."