Expert Panel on Vaping Draws Crowd to Trexler Library
"Vaping: The New Epidemic" took place shortly after the College announced policy changes that would make the entire campus smoke- and tobacco-free.
By: Meghan Kita Wednesday, February 20, 2019 01:41 PM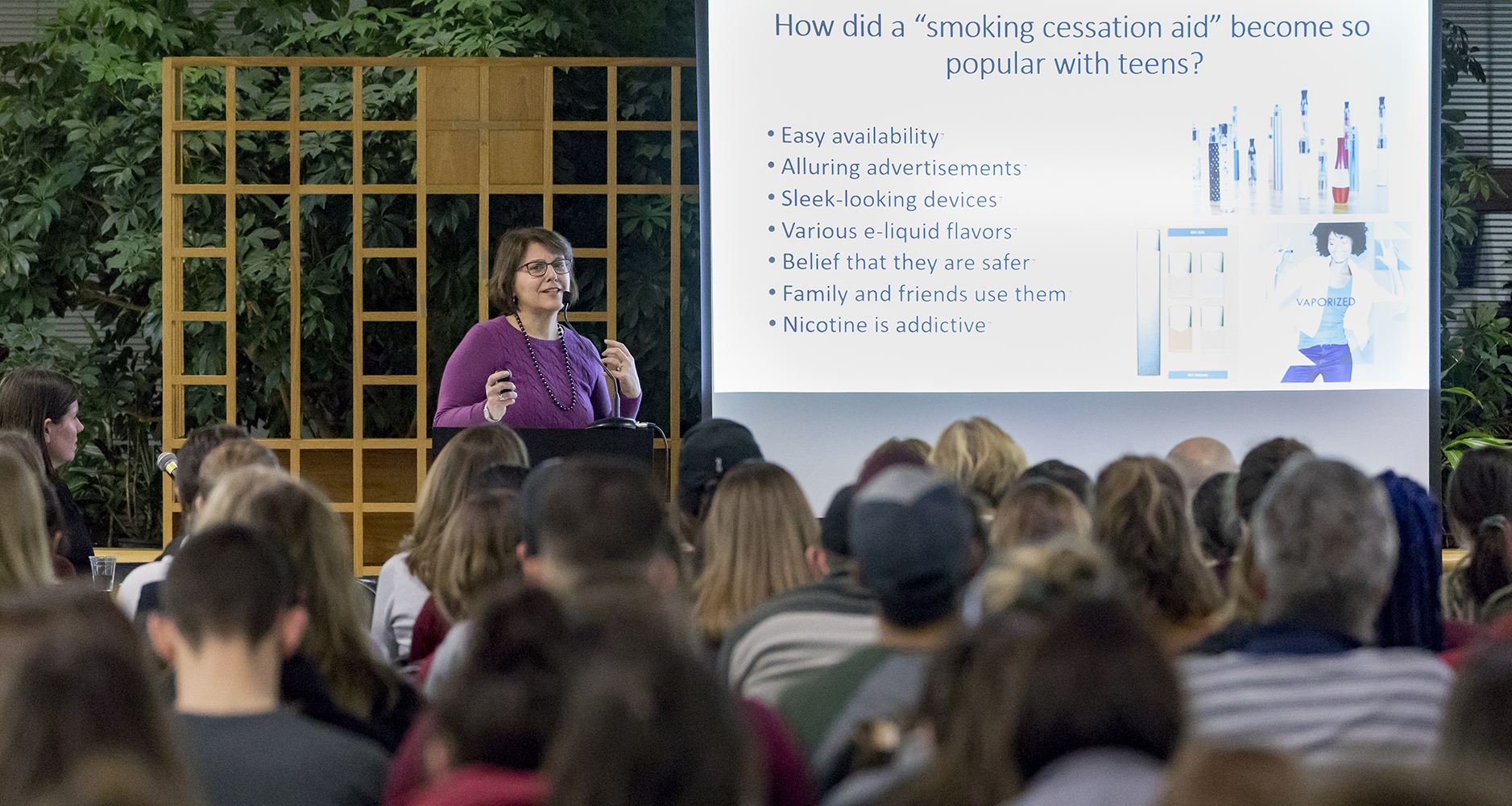 Assistant Professor of Public Health Chrysan Cronin was one of four expert panelists who discussed vaping at an event Tuesday night in Trexler Library.
On Tuesday evening, dozens of students, faculty, staff and community members packed Trexler Library's Main Concourse for an expert panel on vaping, the term used to describe the use of electronic cigarettes. In 2018, one in five high school students used e-cigarettes and one in 20 middle school students did, with the most popular brand—Juul—approaching two-thirds of total market share. The panel took place less than a week after President John I. Williams Jr. informed the community that Muhlenberg's campus would be going smoke-, vape- and tobacco-free starting this August.
The four panelists—Teaching and Learning Librarian Rachel Hamelers, Assistant Professor of Public Health Chrysan Cronin, Professor of Psychology Jeff Rudski and Assistant Professor of Economics Lindsey Nagy—each spoke for 10 to 15 minutes on their areas of expertise before the group took questions from the audience.
Hamelers discussed the existing research—or lack thereof—on the health repercussions of using e-cigarettes, which first appeared in China in 2005 and debuted in the United States in 2006. She speculated that there's relatively little research on e-cigarettes because they were originally marketed as medical devices to help tobacco cigarette smokers quit. "A lot of the literature I expected to be there is just not there," she said.
Next, Cronin talked about what we do know: that vaping nicotine is highly addictive. Between 2011 and 2015, e-cigarette use in high school students increased by 900 percent, and just over the course of last year, it increased by 78 percent. "We're not really sure how to get them unaddicted," Cronin said. "We don't have any vaping cessation program data. We don't know if what we use for tobacco cessation is going to be effective for vaping." She added that there's no data regarding whether vaping fluid is safe or unsafe. It can contain dangerous heavy metals (such as lead), and companies won't reveal some "proprietary chemicals" in the fluid. "If they're not harmful, why don't you tell us?" she said.
Rudski addressed how nicotine works on various brain circuits to lead to addiction. Nicotine stimulates the brain, and as your brain adjusts to that stimulation, that level becomes a baseline expectation. When an addicted user tries to quit, he said, "Life is like a rice cake without flavoring." Another challenge for individuals hoping to quit vaping, he added, involves cue-dependent cravings: Addicts feel cravings the strongest when they're in the settings where they usually use their drug of choice. For example, tobacco cigarette smokers who usually smoke while drinking would feel the strongest cravings during a night out at a bar. Juuls are easy to conceal, and their invisible vapor lacks a strong odor, so heavy users might vape (and therefore, be conditioned to vape) just about everywhere, including in class. Conversely, he said, "locations can become cues to say, 'No drugs are going to occur here,'" which is what should happen on campus after Muhlenberg's policy goes into effect this summer.
Nagy wrapped up the panel by sharing data on how quickly the e-cigarette market has grown and changed. In the first quarter of 2011, the entire e-cigarette industry was a $25 million industry. In the last quarter of 2017, Juul alone reported $150 million in sales. With Juul's rapid movement toward dominating the market—the company debuted in 2015—Nagy said to anticipate possible price increases in the "pods" of Juul liquid so many users have become dependent on.
The Q&A portion of the evening brought a mix of questions, about vaping generally and about Muhlenberg's plan to make campus smoke- and tobacco-free. One student asked whether the College was concerned about a decline in admissions due to the policy. Cronin noted that Muhlenberg would be joining more than 2,300 colleges and universities that had already adopted similar policies, and that those institutions had seen no effect on applications and enrollment. "Think about this," Cronin added. "Do we want students to come to Muhlenberg because this is the college where you can smoke and vape?"