"To Learn Things, Become Humbler, to Listen": Documentary Filmmaker Christopher McLeod and Winnemem Wintu Tribal Chief Caleen Visit Campus
The program was part of the 2018-19 Center for Ethics event series which explores the ethical implications of addressing the environmental damage that humankind has produced.
By: Sara Tressler '19 Friday, March 22, 2019 05:16 PM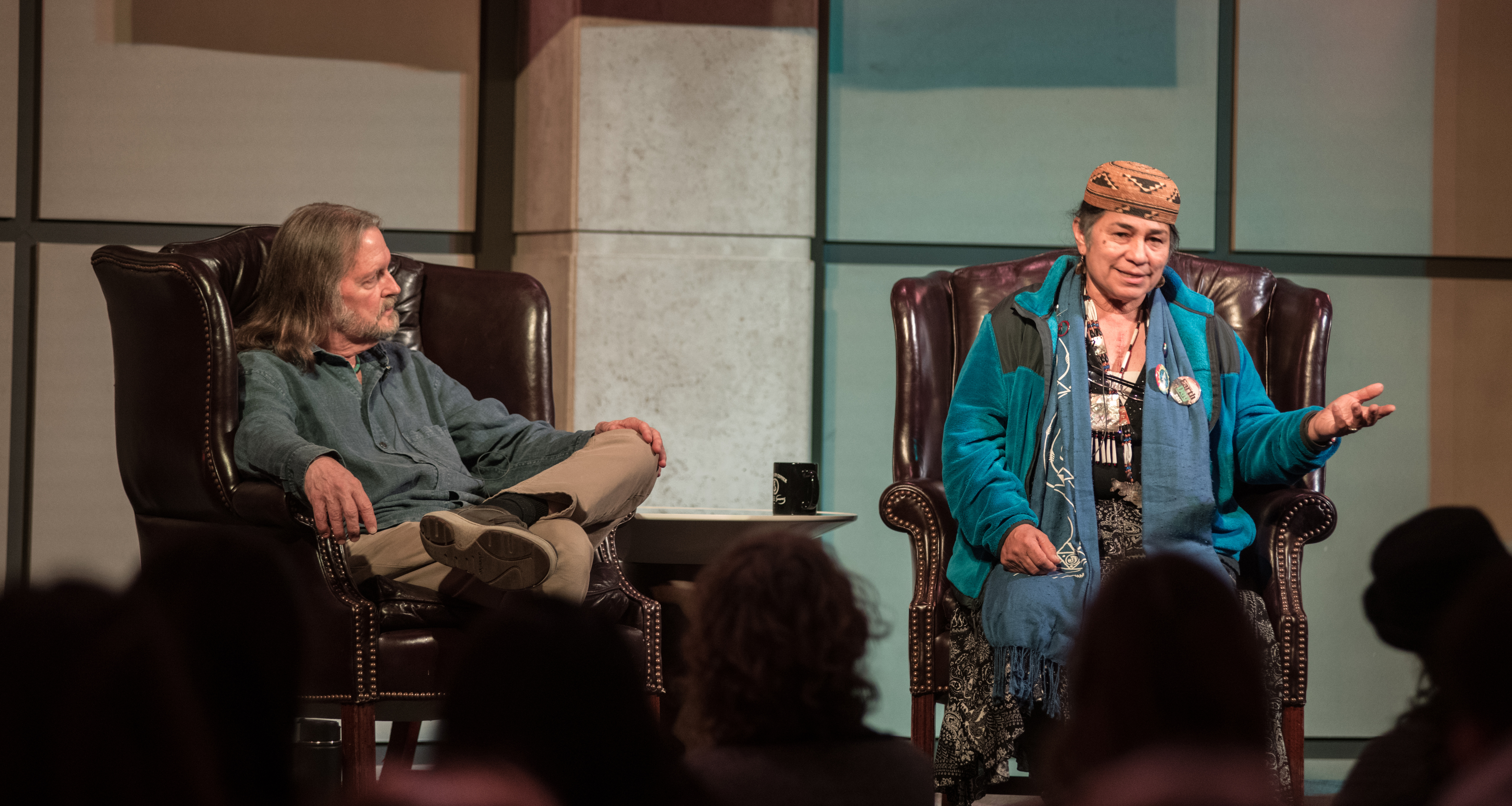 Documentary filmmaker Christopher McLeod (L) and activist, project collaborator and Winnemem Wintu Tribal Chief Caleen Sisk at Muhlenberg.
Students, faculty, staff and community members gathered for two evenings in February for film screenings and conversation with documentary storyteller Christopher McLeod and activist, project collaborator and Winnemem Wintu Tribal Chief Caleen Sisk. The program is part of The Ethics of the Anthropocene: Crisis Earth, the 2018-19 Center for Ethics event series.
A filmmaker, journalist, and photographer, McLeod has worked with indigenous communities for the last 40 years. He is project director of Earth Island Institute's Sacred Land Film Project which he founded in 1984. Since 2006, he has been producing and directing the four-part documentary film series Standing on Sacred Ground, which features eight indigenous communities around the world fighting to protect their sacred places. It premiered in 2013 at the Mill Valley Film Festival and aired nationally on PBS in 2015.
With his films, McLeod said, "I'm trying to present sacred places as an opportunity for our western culture to learn things, to become humbler, to listen. Indigenous people have offered us a renaissance opportunity, to restore our damaged connection to nature."
At Muhlenberg, the two-day event included a screening of Pilgrims and Tourists from the Standing on Sacred Ground film project and featuring the Winnemem Wintu of California. If the U.S. Bureau of Reclamation enlarges Shasta Dam, the Winnemem will lose what little is left of their homeland, including ceremonial grounds, burials and old village sites.
McLeod's also screened his documentary In the Light of Reverence, which first aired on the acclaimed PBS series POV in 2001. The documentary follows the Lakota people in the Black Hills, the Hopi people from Arizona and the Wintu people in California and their fight to protect three places considered sacred by native peoples: Devils Tower in Wyoming, the Colorado Plateau in the Southwest and Mount Shasta in California. However, the lands are rich in natural resources, which also makes them attractive to mining companies, rock climbers and New Age practitioners. The film explores and contextualizes the conflict between indigenous people and tourists over these sacred lands.
Both evenings included interactive talkback sessions with McLeod and Sisk. Climate change and our current relationship to the earth were some of the most frequent topics of discussion. Much of Pilgrims and Tourists explored the Wintu people's relationship to their land, and Sisk discussed the tribe's emotional connection to Northern California, saying, "Our goal is to hang on to our children and add to our dancers and singers because they add to the prayers. When we leave our people, we are killing our people. Abandoning the tribe is like killing them. Some might think that's restrictive. But if you have something valuable to hold on to, you don't leave. And we have a connection to these sacred places."
The 2018-19 Muhlenberg College Center for Ethics' programming continues with two more events. All events are free and open to the public:
"Advancing Our Sustainable Future—One Alum at a Time"
March 26, 7 p.m., Seegers Union Event Space
A panel of four Muhlenberg alumni will discuss their real world experiences promoting sustainability efforts in a wide range of occupations. The Career Center and the Center for Ethics bring you an evening of thoughtful reflection on the successes and challenges of advancing sustainability in our modern age.
Alumni Panel: Matt Jones '02, Manager of Transportation Planning, Lackawanna County; Nicole Karsch '16, Philadelphia Hub Coordinator, Sunrise Movement; Chad Schwartz '16, Program Specialist, Lehigh Gap Nature Center; and Bill Zoha '79, President & CEO, Prescient Energy Corporation
"From Talk to Action"
April 8, 7 p.m., Miller Forum, Moyer Hall
Muhlenberg College has spent a year thinking about the ethics of our changing planet and our role in that change. Now we provide an opportunity to move past talk into action. To solve the challenges facing our planet and meet our ethical responsibility, what will we do as individuals and as an institution? We will highlight some of the positive progress that has been made on campus and look for opportunities to further our journey toward a sustainable future. Speakers include Muhlenberg students and members of the College Sustainability Committee and Center for Ethics planning committee.