Community-Engaged Learning and a Path to Med School
As a visitor, Rebecca Golden '14 found a welcoming community at Muhlenberg. As a student, she found a passion that would shape her journey through medical school and beyond.
By: Steve Neumann Monday, April 29, 2019 09:25 AM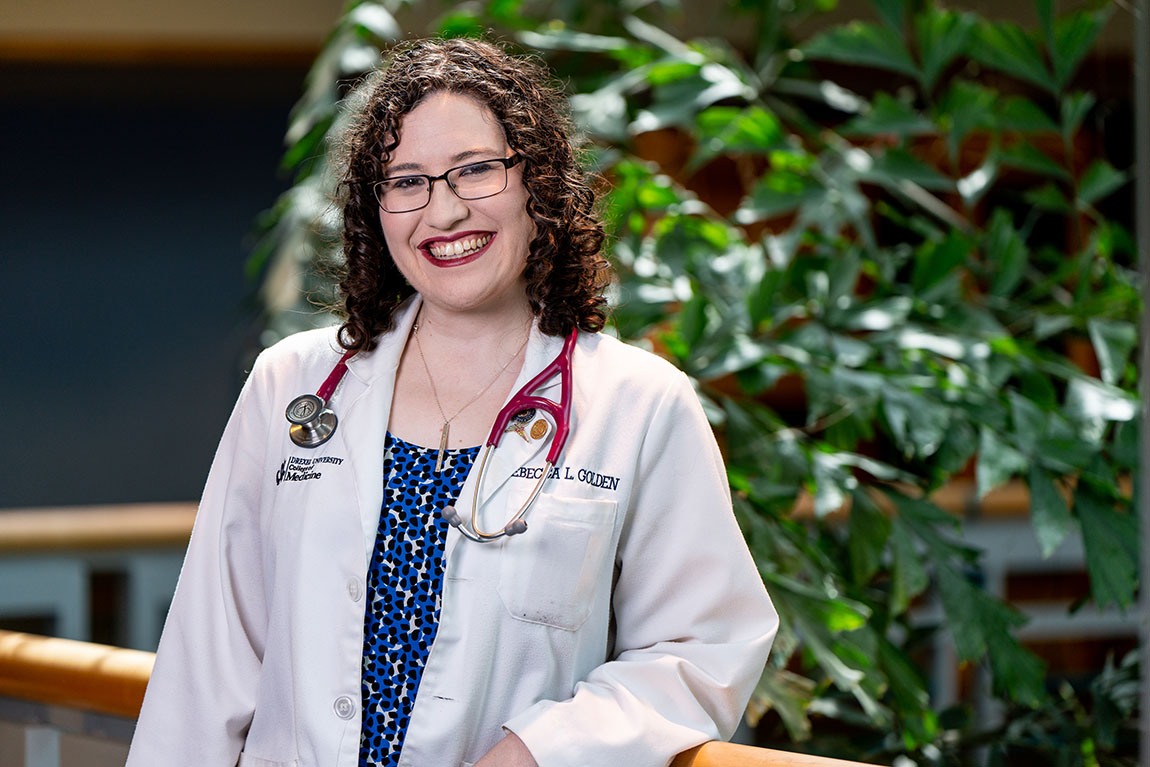 Photos by Fernando Gaglianese
When Rebecca Golden '14 first visited Muhlenberg as a high school junior, she was considering 10 colleges with strong pre-med programs that weren't too far from her home in New Jersey. By the end of her second visit, she knew she wanted to spend the next four years as a Mule.
The deciding factor was meeting Biology Professor Amy Hark, who co-directs Muhlenberg's biochemistry program. Golden had returned for an on-campus interview, and she was wandering through the New Science Building when she ran into Hark. Hark gave her a tour of the building and spent nearly an hour talking with her about biochemistry and undergraduate research opportunities.
"She spent so much time with me," Golden says. "She didn't need to do that, and I just thought that was so caring of her."
While Hark helped Golden find her college, the College's Office of Community Engagement (OCE) helped her find her calling: to work with children with special health care needs in underserved patient populations, especially immigrant communities. Through the OCE, Golden collaborated with Casa Guadalupe, a community center in Allentown that serves the city's large Latino population, throughout her time at Muhlenberg.
"My experiences at Casa Guadalupe ignited a passion in me to spend my career advocating for those who typically are marginalized, underrepresented and under-resourced in our country," Golden says.
Since graduating from Muhlenberg with a major in biochemistry and a minor in economics, Golden has had the opportunity to dive deeper into her calling: As a student at Drexel University College of Medicine, she has been working with Puentes De Salud—a health clinic in South Philadelphia that serves the Latino population, specifically undocumented immigrants.
To better understand how to serve those patients, Golden enrolled in Drexel's dual degree program to earn both a doctorate of medicine and master's of public health. Drawing upon the research best practices she learned from Associate Professor of Chemistry Keri Colabroy, the other co-director of Muhlenberg's biochemistry program, Golden undertook public health research at Drexel.
Golden designed and implemented a program to address unmet needs as well as social determinants of health affecting children with special health-care needs in an urban, low-income environment. She was subsequently selected as the national winner of the 2019 Excellence in Public Health Award from the U.S. Public Health Service Physician Professional Advisory Committee out of nominations from 96 medical schools.
"The way that Muhlenberg fosters a sense of deep commitment to civic engagement and serving the underserved has been such a big part of my life both at Muhlenberg and since," Golden says. "I'm hoping it will continue to define my career."
That career is set to begin in earnest this spring: Golden will graduate from Drexel in May 2019 before starting a pediatric residency at the Children's Hospital of Philadelphia, her top choice.