Breaking Into the Sports Industry
Caroline Hogg '20 landed a summer role with the Madison Square Garden Company after learning about the position through a trip with Muhlenberg's Career Center.
By: Meghan Kita Friday, August 9, 2019 11:46 AM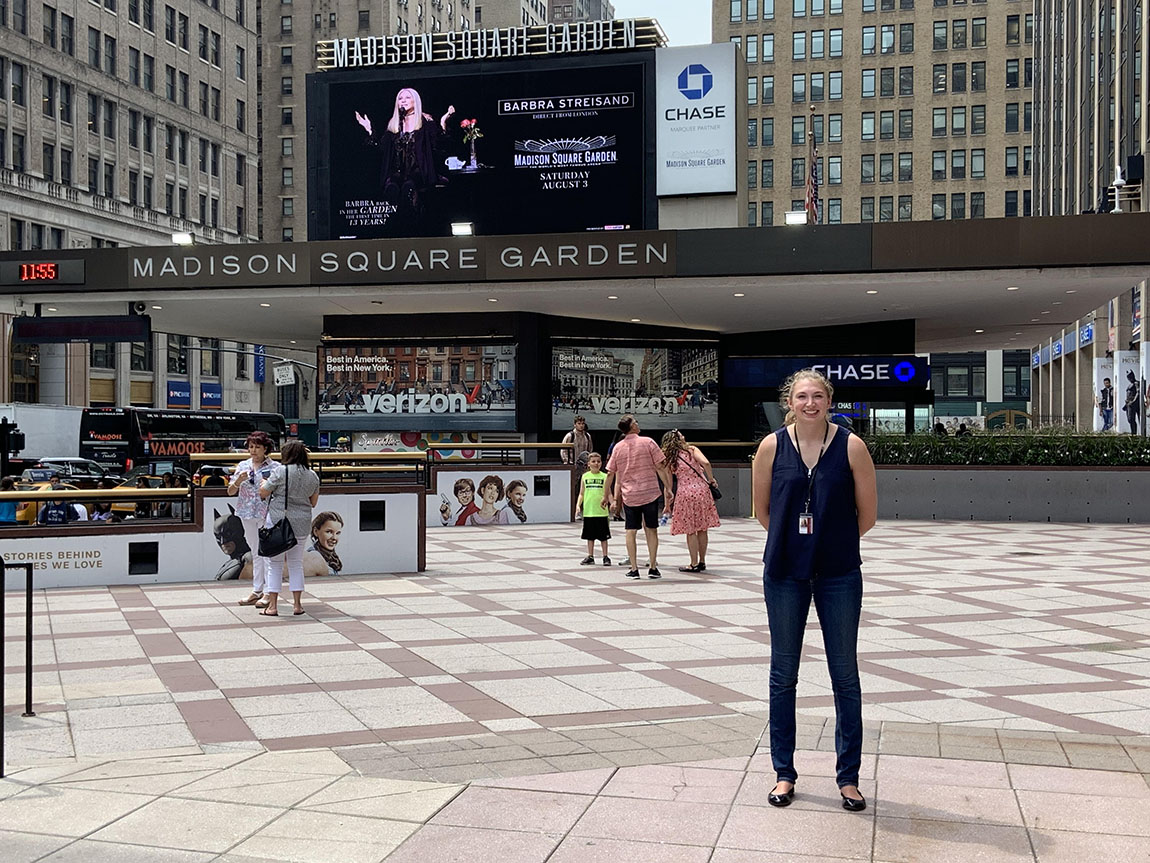 Caroline Hogg '20 outside Madison Square Garden, where she is a summer student associate
The first time Caroline Hogg '20, who's from Suffolk, Virginia, set foot in New York City was on The Career Center's Career Road Trip last September. The second time, she was moving there for a summer position with the Madison Square Garden Company (MSG).
"Working in midtown Manhattan has been nothing short of a dream," says Hogg, a media & communication major with minors in English and film studies. "I'm walking under the Empire State Building every day. I would never have had this opportunity without Muhlenberg."
During the Road Trip, Hogg met Dan Asip '08, director of premium account service at MSG, who was on one of that day's panels. That's when she learned about MSG's summer student associate program. Hogg stayed in touch: "We talked on the phone, exchanged emails. He passed on my resume." She got the position after several rounds of phone interviews.
She's spent her summer working as a group sales student associate at the famous arena. Her day-to-day responsibilities include researching what professional hockey teams elsewhere offer groups in terms of pregame promotions and finding Rangers and Knicks fan clubs on social media, "which turned into leads for our full-time reps to call," Hogg says.
She was a good fit for the paid, full-time position thanks to her previous work in the group sales department at the Lehigh Valley IronPigs. Long-term, she's more interested in nonprofit and marketing partnerships—and she got to dabble in both as a summer associate at MSG. One of the highlights of Hogg's experience was a volunteer day she spent at a camp for children with cancer and their families, which is orchestrated through MSG's Garden of Dreams program. And, she worked with a group of other summer associates to come up with a potential partnership between a hospitality business MSG owns and a high-end fitness chain; they pitched it to a board of MSG executives at the end of last month.
"Being able to do that with people across multiple departments has been one of the most beneficial parts of this internship," she says.
As she approaches her senior year, she knows she'd like to land a job in the same field after graduation. "With the sports industry, once you're in, that's the easy part. Everyone everywhere knows everybody," she says. "If this doesn't turn into a full-time opportunity, there will be others because I was able to intern here at MSG."