Behind the Fun and Games
Your next favorite virtual world could be brought to you in part by Shana Joseph '18.
By: A.C. Shilton Monday, April 15, 2019 11:30 AM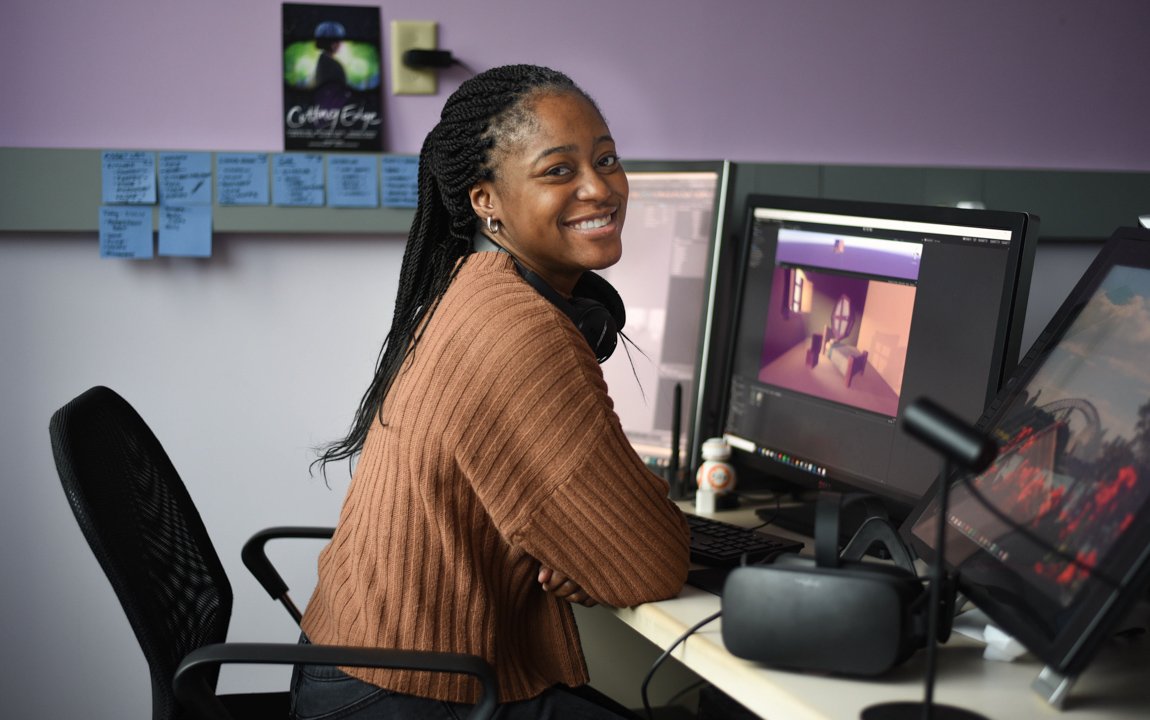 Photo courtesy of Shana Joseph
Shana Joseph '18 is helping to build a whole new world—literally—as a graduate student at Carnegie Mellon University's Entertainment Technology Center. This semester, she's working on improving transitions in virtual-reality games.
"In VR, cuts are used but also avoided," says Joseph, explaining that moving from one location to another can be confusing for players. "My team and I are working on how to create cinematic cuts for storytelling purposes," which could improve the gaming experience and allow designers to have more flexibility. She hopes to eventually work in the game or film industry, possibly as a technical artist.
From almost the beginning of her first year at Muhlenberg, Joseph knew that she wanted to study computer science. However, it wasn't until the photography course she took a year later that she fell in love with art. "I really enjoyed it. I especially liked going from my computer science classes to photography classes," she says; the two worked her brain in different—and invigorating—ways. When the semester ended, Art Professor Joe Elliott encouraged Joseph to enroll in another class. By the spring of her sophomore year, she'd declared a double major in computer science and studio art.
Joseph says her professors gave her solid foundations in both art and programming and helped her find a study abroad program in New South Wales, Australia, which offered some technical art classes Muhlenberg didn't. Going to a small college had other advantages, says Joseph: "I was able to try new things," like joining a dance group and running track at the collegiate level.
"When I first came [to Carnegie Mellon], I was really scared and nervous," Joseph recalls. However, she quickly realized that Muhlenberg had given her the skills to thrive—and that the network she'd built there had her back. Elliott kept in touch while she navigated the graduate school admissions process, and now, Joseph is helping a current Muhlenberg student who also hopes to work in entertainment technology. "I had a great experience, mostly because of the people I met, and I'm still in contact with so many of them," she says.