Fan Fiction Site "Archive Of Our Own" Wins a Coveted Hugo Award
Co-founded by English Professor Francesca Coppa, the site is a community for artists, a fan-built social network and a female-designed and -led software project.
By: Kristine Yahna Todaro Thursday, August 22, 2019 11:07 AM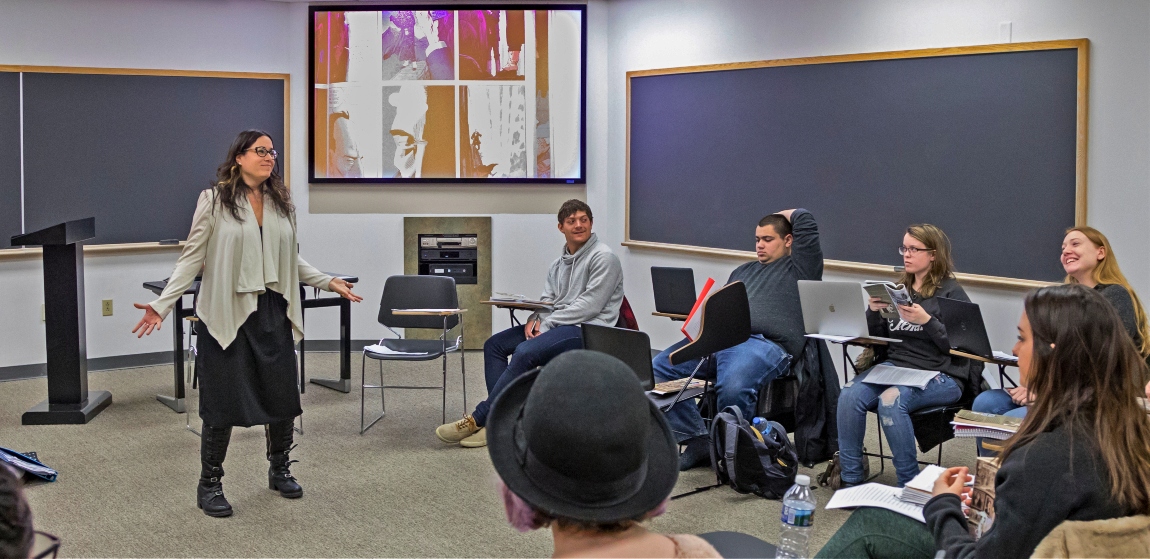 English Professor Francesca Coppa teaching a course.
On August 18 in Dublin, Ireland, the fanfiction site Archive Of Our Own won a Hugo Award, considered one of the biggest awards in the sci-fi and fantasy genre, in the category of Best Related Work.
AO3, as it's known worldwide, is an online platform where anyone can post creative work based on any existing creative work. And post they do, says Muhlenberg English Professor Francesca Coppa, one of the earliest creative minds behind the site and one of its architects.
There are now nearly five million works archived on the AO3 site—written pieces, artwork, videos and podcasts, all based on published books, films, TV shows, music videos and more. Millions of fans visit, often every day, to consume and comment on the content.
The Hugo nomination was a big deal, said Coppa in a recent NPR interview, because fan fiction has been so dismissed for so long. "Fan-fiction writers are some of the oldest denizens of the internet 'cause we're geek girls. And as geek girls, we were on Usenet back when the internet was two cans and a piece of string."
The win is even sweeter.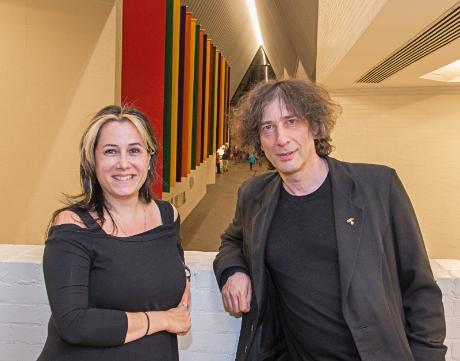 "With my English professor hat on, I'm really proud of AO3 from a literary point of view—as a grassroots community of readers and writers," she says.
Coppa, shown with author Neil Gaiman during Muhlenberg's 2015 Living Writers program, is also the new director of the College's women's and gender studies program and a media studies scholar. Wearing those hats, she says, "I'm proud that, as a piece of software, AO3's a feminist work. When we designed and built the platform it was 95 percent done by women. It's a female-dominated, open-source coding project with a women-led development team, which was and may still be unprecedented."
"We also chose to build the archive with humanity-based values and feminist HCI (human computer interaction)," she adds. "There is no data mining, no sticky features to either addict you or exploit you by using your data. We don't do any of the things which make for-profit social media sites so toxic."
The coders began work in 2007 and the site opened 10 years ago, in 2009. It was named one of the 50 Best Websites by Time in 2013.
A donation-funded site, AO3 has also been lauded for its site architecture because it uses its community of fans to help organize the content. A recent piece in Wired says AO3 has "perfected a system of tagging that the rest of the web could emulate" using "tag wranglers" to merge tech with humanity.
"There's a lot of effort in just keeping AO3 up and running and it's all volunteer labor," says Coppa. "The coders worked and still work for free—it represents millions of dollars of free coding—as do the sysadmins, the tag wranglers, the abuse team and the volunteers who answer users' questions. It works because there are so many of us. We're really what the web was originally meant to be."
The site is also increasingly global in scope with fans posting content in at least 50 languages. As some countries, like China, are increasingly restricting free speech, Coppa says they are seeing a corresponding explosion in the number of volunteers helping translate fanworks into Mandarin.
Coppa adds, "The Hugo was for all of it—because it's a participatory artists' community but also because it's a fan-built social network and a female-designed and -led community software project."
Nothing said this more powerfully than when one of AO3's founders Naomi Novik, accepting the Hugo Award, invited anyone in the audience who was part of the AO3 community to stand and accept the award with them. Meredith Rose on Public Knowledge wrote, "In response, a full third of the room of professional authors, editors, artists, journalists, commenters and publishers stood. It was a watershed moment that upended the outdated image of readers and consumers as passive recipients."