An Exhibit for Black History Month
Steven Smith '19 put together the displays in three campus buildings, featuring prominent black artists, athletes and leaders.
By: Sara Tressler '19 Tuesday, February 19, 2019 10:14 AM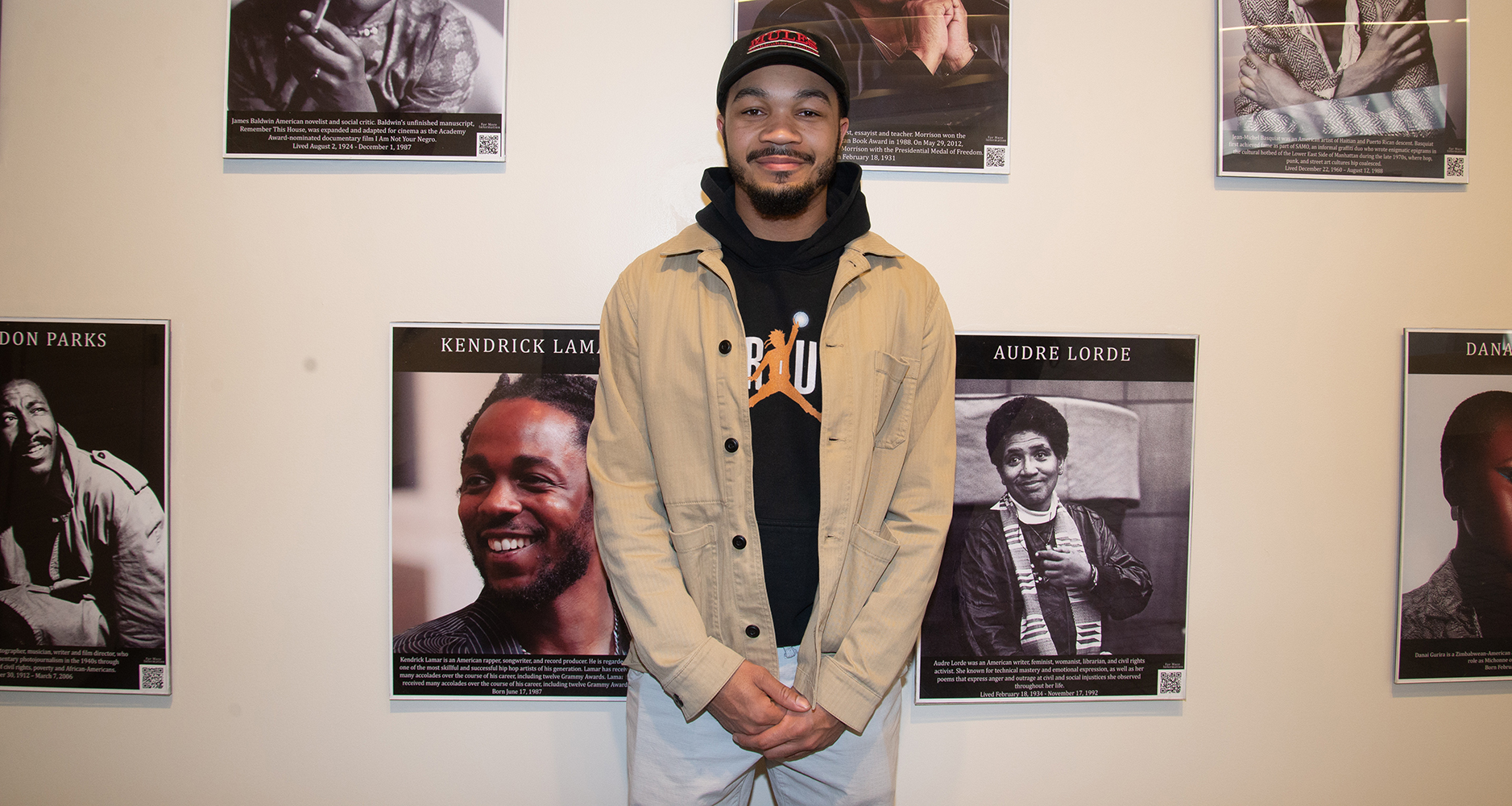 Steven Smith '19 with the portion of his Black History Month poster exhibit that appears in the Baker Center for the Arts. Photo by Phelize Bristol '19.
If you've been to Seegers Union, the Life Sports Center or the Baker Center for the Arts this month, you've likely seen the Black Individuals Throughout The Ages poster exhibit curated by Steven Smith '19. Smith, a psychology major with a creative writing minor, approached Robin Riley-Casey, director of the Office of Multicultural Life, with the idea.
"We were looking for ways to acknowledge the contributions black people have made to the United States and the world," Riley-Casey says, adding that there are plans to expand this exhibit in future years by bringing other portraits to more academic buildings.
The purpose of the posters is to celebrate remarkable black people in their respective fields. For instance, the Baker Center for the Arts features black artists, the Life Sports Center, black athletes, and Seegers Union, black leaders. While many of the posters show well-known individuals, such as Muhammad Ali and Michelle Obama, Smith also wanted to spotlight less famous but still remarkable people, such as Alice Coachman, the first black woman to be an Olympic gold medalist.
The poster exhibition "honors those black individuals who have done excellent service, and informs people inside and outside the Muhlenberg community," Smith says. The exhibit also serves as a mechanism to "counteract the negative societal portrayal of black people in the media and film."
On campus, Smith works for the Office of Community Engagement, coordinating mentor programs with Roosevelt Elementary School students. Smith is also on the executive boards of several clubs, and he founded the Men of Color Network, an organization that gives men of color a safe space to bond and share their experiences. His poster exhibition will be available for viewing until the end of the month.
Muhlenberg has been celebrating Black History Month with a number of events as well. The culminating event, A Retrospective Black Heritage Celebration, is free and open to the public and takes place Friday, February 22, from 5-7:30 p.m. in Miller Forum, Moyer Hall. There will be collective performances all geared towards celebrating the lives and experiences of black men and women. It will feature the musical stylings of Muhlenberg's Gospel Choir. Capital Blue, The African American Business Leaders Council and EBC Printing are sponsoring the event.