A New Start in Singapore
Jeannette Ickovics '84 serves as dean of faculty at Yale-NUS, the leading liberal arts college in Asia.
By: Jeremy Fuchs '14 Friday, November 8, 2019 02:49 PM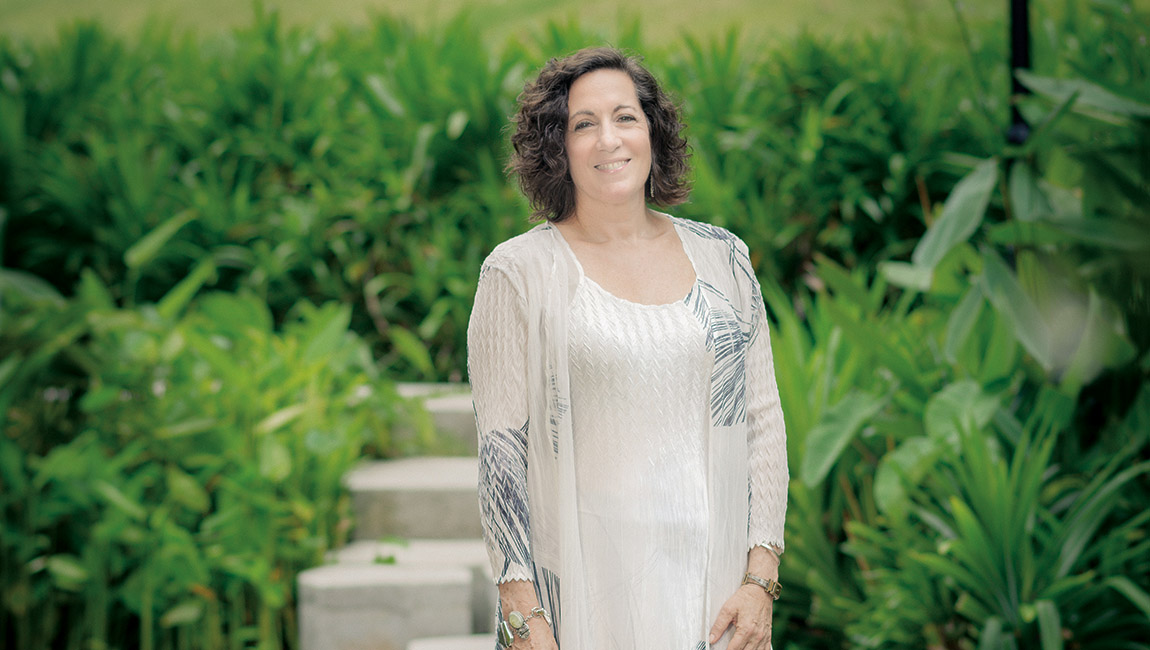 Photo by Tom White
These days, you can find Jeannette Ickovics '84 in Singapore, ambling through the city-state's many public gardens or searching out a "hawker center"—an open-air market—for some amazing street food (a favorite is Hainanese chicken rice, one of the country's national dishes).
Singapore has been home for Ickovics and her family since 2017. She serves as dean of faculty for Yale-NUS, a small liberal arts college established in 2011. Yale-NUS is the result of a partnership between the Ivy League school, where Ickovics holds an endowed professorship, and the National University of Singapore. It is the first liberal arts college in the country and one of just a few in Asia. And though Ickovics has spent the majority of her career working at a large research institution, her time at Muhlenberg informs her in this new position, in which she oversees 130 faculty members across all departments.
A psychology major at Muhlenberg, Ickovics says the small classes and close relationships with her classmates allowed her to take some risks in and out of the classroom—including becoming a founding member of the Muhlenberg Dance Association.
That risk-taking philosophy served her well after graduation. She first went to George Washington University to earn a Ph.D. in applied social psychology. Near the end of her time there, she was at a conference on women's health. Also attending was Judith Rodin, who was then the chair of the Department of Psychology at Yale. Ickovics followed Rodin into the coatroom and asked if there might be a position on her research team. It worked: Ickovics has been with Yale since 1989, first as a postdoctoral scholar, then as a professor in the School of Medicine, School of Public Health and the Graduate School of Arts and Sciences.
Ickovics is a triple threat: She's a top-notch teacher—the American Psychology Association (APA) named her a master lecturer in 2015. She's a mentor and role model who earned the APA's 2018 Strickland-Daniel Mentoring Award and other awards such as the Outstanding Community Partner Award from the New Haven Public Schools. And she's a researcher whose community- and clinic-based work has been funded with more than $40 million in federal and private funds.
Ickovics's research has focused on the factors that influence individual and community health. Her primary work has been in maternal and child health as well as chronic disease prevention. She developed a clinical model of group prenatal care that results in a 33 percent reduction in risk of preterm birth and an increase in favorable outcomes, from healthy weight gain to better mental health during and after pregnancy. She's published more than 200 peer-reviewed articles, writing about the impact of discrimination on health, how food and housing security affects pregnancy and even how various community institutions, like museums, can help improve public health.
"I'm striving to strengthen communities, and I believe we need to bring evidence to action to make the world a better place for all."
Jeannette Ickovics '84
Partially because her work is rooted in helping others, she earned an honorary degree from Muhlenberg in 2012. "My parents were there, [as were] my husband and children," she says. "I was so humbled and proud. It was a really special moment to reflect on my early days as a first-generation college student, and then to be there three decades later as an honorary degree recipient."
She says her inspiration for working with high-risk communities comes from her parents, who are both Holocaust survivors. Her father was part of the anti-Nazi resistance; her mother survived both Auschwitz and Reichenbach. "Because of them, I am fiercely dedicated to a world free from stigma and discrimination," she says. "I'm striving to strengthen communities, and I believe we need to bring evidence to action to make the world a better place for all."
The last few years have seen Ickovics take a slight turn in her career. She first came to Singapore and Yale-NUS as a visiting professor in 2017, and then was asked to stay on as the dean of faculty. As such, her research has been on the backburner. But Ickovics has taken to Singapore, valuing its "strong sense of community and vibrant arts and culture scene." Her family has traveled throughout Asia, visiting more than a dozen countries over the last two years. And in her new role, she's working to spread the values of a liberal arts education. She comes from what she calls a "liberal arts family." Her husband went to St. Olaf College in Minnesota, and her older son attends Williams College in Massachusetts. "My time at Muhlenberg reminds me about the importance of the traditions and opportunities unique to a small college community," she says.