Three Muhlenberg Basketball Players Reach 1,000-Point Milestone
If it seems like the cheering at Memorial Hall has been louder the last two weeks, there's a good reason: Three Muhlenberg basketball seniors reached the 1,000-point milestone in home wins in a span of eight days.
By: Mike Falk Thursday, February 1, 2018 01:20 PM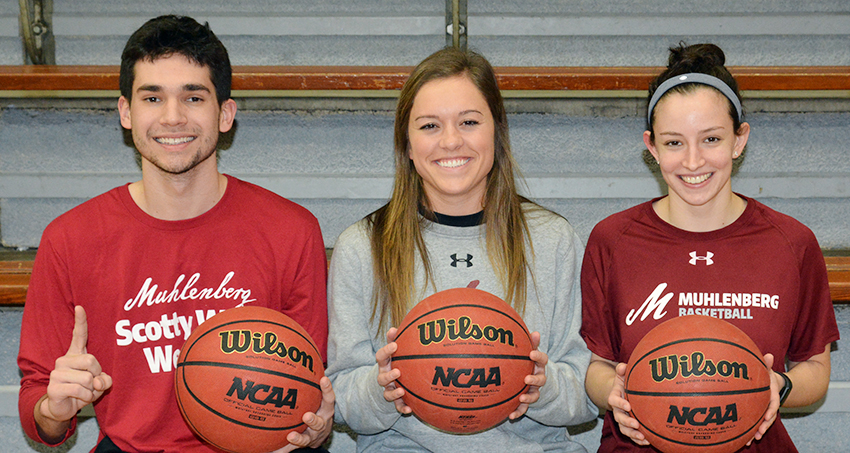 Brandi Vallely (middle) was the first, scoring her 1,000th point on a free throw in the first half of an 89-55 win vs. Ursinus on January 23. It was the second major milestone of the month for Vallely, who became the Centennial Conference's all-time assists leader in an 82-58 defeat of Washington College on Jan. 6. She has more than 600 career assists, and counting.
Rachel Plotke (right) became the 12th member of the women's basketball 1,000-point club when she hit a three-pointer in the first quarter of a 71-41 win against Swarthmore on January 31. The milestone shot was appropriate for Plotke, one of the top three-point shooters in Centennial history. The win improved the 18th-ranked Mules' record to 19-1.
Nick Rindock (left) joined the two women's players in memorable fashion in the second game of the Swarthmore doubleheader, pouring in a career-high 33 points to lead the men's team to a 91-88 overtime upset of the seventh-ranked Garnet. Rindock made a jumper early in the second half to become the 35th 1,000-point scorer in Muhlenberg men's history.
It wasn't the first time three Mules reached the coveted milestone in the same season. In 1999, seniors Jim Doumato, Sarah Clarke and Jill Roth all scored their 1,000th points in a span of 15 days.