The Early Bird Gets the Worm Research Published
An intensive undergraduate research experience opened this alumna's eyes to the possibilities of a career in laboratory science.
By: Bill Keller Friday, November 2, 2018 03:00 PM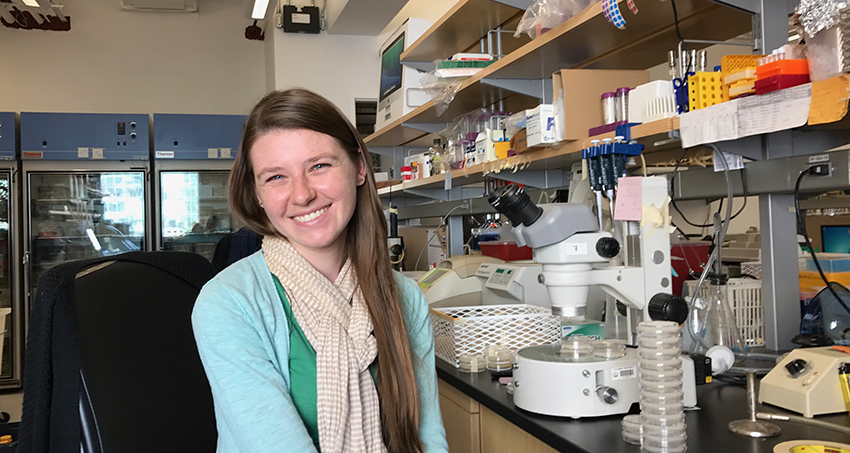 Emily Bayer '14 recently published research that explores how stress affects the development of microscopic organisms' nervous systems. Photo courtesy of Emily Bayer.
In hindsight, forgetting to feed the research animals turned into a net positive. When Emily Bayer '14, a biology and German studies graduate, revived the tiny worms she had been studying after a few weeks of inactivity, she noticed that some of the subjects' neural connections had developed very differently than those of their peer organisms.
In a nutshell: Bayer learned that limiting nourishment for male worms during larval development can cause the subjects to experience a different neural pattern and exhibit behavior more typical of their immature selves.
Bayer, a fifth-year graduate student at Columbia University, reported those findings in a recent article published by Nature. She co-published that report with Professor Oliver Hobert, a Howard Hughes Medical Institute Investigator whose lab conducts National Institutes of Health-funded research on the development of nervous systems.
The nematode worm C. elegans is only visible to the naked eye as an adult, and even then only reaches about a millimeter in length. Immature worms grow through four distinct larval stages that are well documented in their structure, and respond well to gene delivery, so researchers can, for example, manipulate a nematode gene to be fluorescent, and then track that gene's behavior when inserted into a different organism.
To Bayer, this particular species of nematode is particularly useful in molecular research for several reasons: Its genome is well understood; it exists as either a male or a hermaphrodite, which pass on identical genes to offspring (making generational studies much more accessible); the sexes are distinct in terms of their nervous systems; and they're transparent, making them easy to observe under a microscope.
While the nervous systems of mammals (including humans) are much more complex than those of C. elegans, the changes in the worms' levels of serotonin, a chemical associated with depression that's produced by nerve cells, raise the possibility that this discovery may lead to a better understanding of how stress affects the development of the human nervous system. And while Bayer has no way of telling if that future discovery is one that she'll be a part of, she does know that her research path was set into motion by a distinct moment at Muhlenberg.
"I went to a biology research poster session, and it was my first understanding that academic research existed and was a thing people did as a career," says Bayer. "So rarely in life do you have a defining moment that you can look back to and say, 'This is how I ended up here,' but that did happen for me at Muhlenberg. I was in touch with Biology Professor Bruce Wightman about research opportunities within the week after attending that event."
Wightman remembers inviting Bayer to join his lab and expressing her interest in molecular biology. It didn't take long for him to realize that science and research were forefront in Bayer's mind.
"Most of us really aren't like that, at least not by our nature, or at least not when we're 20. Emily would find things in the literature that were relevant to what we were working on and that we needed to think about as a collaborative effort," says Wightman. "She moved into the position of almost being a graduate student, even though I'm running an undergraduate lab. We were functioning more as collaborators than as mentor and student."
Molecular biology research can quickly get expensive. Fortunately, Wightman's research has received financial support from both the National Institutes of Health and the National Science Foundation, and those grant funds allow him and his students to conduct molecular biology research using the very same microscopic worm, C. elegans, that Bayer continues to study in graduate school.
"This is a model system, basically a living test tube, and was the first animal to have its entire genome decoded," says Wightman, describing the tiny organism. "Researching this organism allows us to ask very pointed questions about how biology works, and because it's not expensive to keep, it's ideal for a liberal arts laboratory setting at places like Muhlenberg."
That research experience positioned Bayer well for her graduate school experience, and she credits much of that preparation on the way her undergraduate program challenged her and opened her mind to discovery.
"Muhlenberg did a really good job of encouraging student-led projects—really having to think through a problem from beginning to end," says Bayer. "With research, I've really come to appreciate that there are very few impossible questions. There are very, very hard questions and there are things that you're not going to be able to figure out at first. But, there usually is a solution to everything, which is not true in a lot of other areas of our lives."