Summer Study at Muhlenberg Means Lots of Choices, Outstanding Faculty
The program offers more than 80 courses across the curriculum, including 22 online or blended courses, for new and returning students.
Monday, May 21, 2018 10:45 AM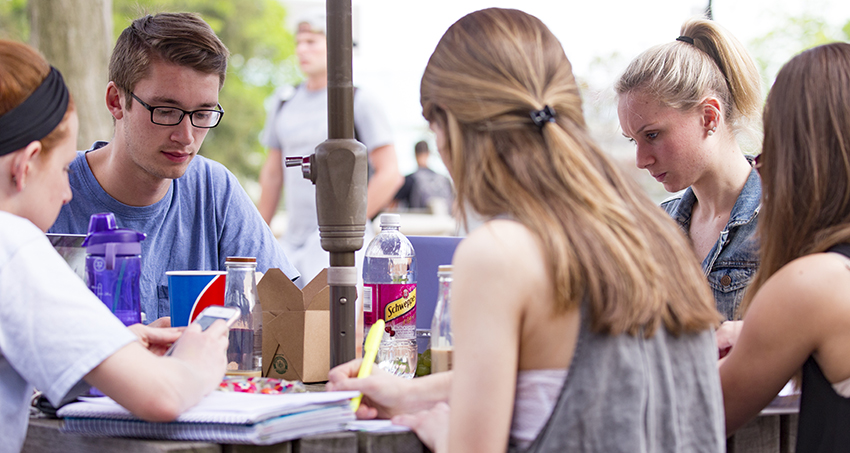 "Variety is the very spice of life, that gives it all its flavor," wrote the 18th-century English poet William Cowper.
He may not have had summer study at Muhlenberg in mind, but clearly, variety is good and having more variety is, well, even better.
With a wide-range of degree credit courses taught by top-notch faculty, Muhlenberg is offering more than 80 courses—including 22 online or blended courses—for new and returning students to choose from this summer.
From astronomy to computer science, digital photography to new information technologies, music & the civil rights movement to the psychology of women, abundant course options will help students get a step ahead for the fall semester or a step closer to their own personal goals.
Full-time Muhlenberg and Wescoe School of Continuing Education students, visiting students and motivated high-school students who want to get a head start on their college experience may enroll in up to four courses, offered in five sessions, throughout the summer (no more than two courses per session). Session I begins May 23. Classes are taught on the College's beautiful campus or through expanded online options.
This summer brings the largest number of online or blended courses ever offered by Muhlenberg. "Each course is really distinct," says Lora Taub-Pervizpour, professor of media & communication and associate dean for digital learning. "Each one has been designed by the faculty who teach it in collaboration with our digital learning team. They're built upon the foundation that our entire academic mission is based on—deeply interactive and student centered with opportunities for mentoring and close relationships with faculty."
"I found out quickly that Muhlenberg Summer Study was extremely valuable in preparing me for a rigorous graduate school setting," says Jennifer Coviello '18, a dance major in the Thomas Jefferson University-Jefferson College of Health Professions Ph.D. physical therapy program. "A four week concentrated science course not only allowed me to hone my specific skills but also allowed me to become accustomed to the intense coursework that physical therapy school requires. It taught me how to learn at a more advanced and professional level."
For more information,visit the summer study website for course information and registration, or call the Wescoe School of Continuing Education at Muhlenberg College at 484-664-3300.