More Than 60 Students to Present Their Summer Research
Undergraduate research flourished at Muhlenberg this summer. Students will share their work with the campus community on Saturday, September 22.
By: Kristine Yahna Todaro Tuesday, September 11, 2018 05:03 PM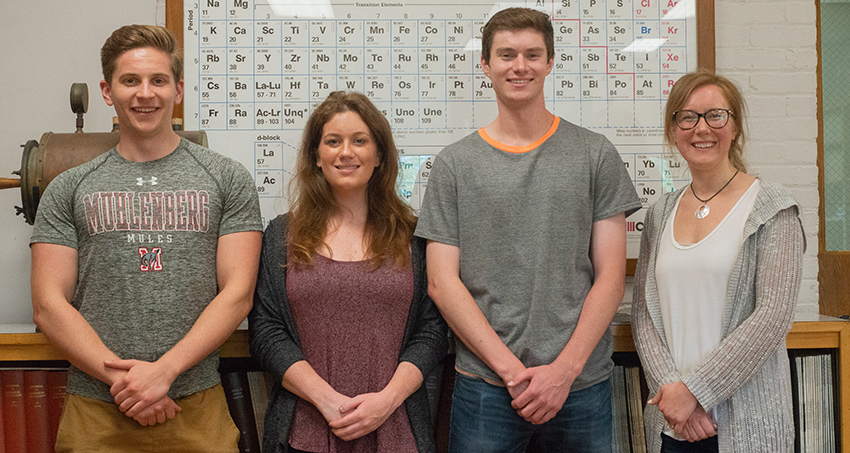 Troy Lovett '19, Olivia Toner '20 and Brandon Eden '19 did research with Professor Sherri Young this summer studying chemical modifications that improve the efficacy of medicines. Photo by Maddy Kirchofer '20.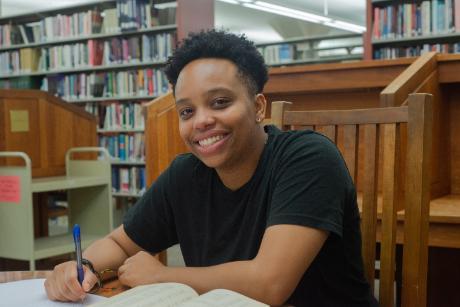 From studying chemical modifications that can improve the way medicines work to researching homophobia in black communities; from learning how bumblebees use their sensory abilities to find food to understanding how people view and interpret abstract and representational art; from using math to improve professional sports teams' trading practices to sailing across the sea to study one of the last remaining coral wildernesses on Earth—these are just a few of the research and scholarship projects more than 60 Muhlenberg students did this summer, both on campus and off.
Projects can be student- or faculty-driven and span the natural and social sciences, humanities and arts. Take, for example, Michaela Feinberg '19, who studied an underresearched facet of 1960s Central African history, a women's protest in what's now known as the Democratic Republic of the Congo. "Nobody thought to interview the women," says Feinberg, a Dana Scholar who is pursuing a major in history and minor in anthropology.
In another project, Gretchen Gotthard, associate professor of psychology and neuroscience, and her team of student researchers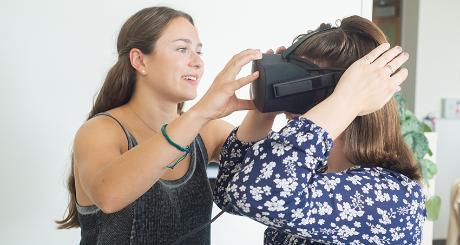 looked at whether virtual reality (VR) games can serve as a tool to help heal trauma and reduce PTSD.
NPR's Weekend Edition and Atlas Obscura even featured the work of one Muhlenberg student researcher, Lindsay Press '21, and her faculty mentor, Rich Niesenbaum, professor of biology. These two 'plant detectives' spent the summer using both historical records (old maps and cryptic handwritten notes) and high-tech tools (GIS and Google Earth) to see if rare native plants can still be found where they thrived decades—sometimes even 100+ years—ago.
Undergraduate research is a huge plus when appling for a first job or graduate school. Muhlenberg students spend eight to 10 weeks over the summer doing full-time research and receive a stipend, housing and college credit.
As part of an active research community, students join in a weekly seminar series where they discuss their projects and participate in an annual poster session, which is both a culmination and a recognition of their work that's presented to the campus community at large. This year's Celebration of Student Research and Scholarship poster session will take place Saturday, September 22, at the Baker Center for the Arts during Alumni Weekend.
"Seeing students from across the disciplines share a room and talk confidently about their work and engage members of our community: It's a signature Muhlenberg experience," says Keri Colabroy, associate professor of chemistry and undergraduate research coordinator. "Throughout the academic year, I look forward to seeing summer student projects develop into presentations at regional and national meetings and even honor thesis projects."
Muhlenberg can boast of a long and fruitful history of scientific research with undergraduates, especially in chemistry, biology and psychology. More recently, and especially over the past five years, the College has committed to strengthening research and scholarship opportunities across the disciplines, extending the culture of mentoring excellence across campus to benefit students in all areas of study. An increase in financial support provided by generous alumni and friends of the College, and increased support from the provost's office in the form of student grants, has supported this growth.
"We are fortunate to have this long tradition of mentoring excellence and an institutional culture that values the le
arning accomplished in the pursuit of original scholarship," says Colabroy, noting this summer's crop of research opportunities included several international projects, projects that collaborated with R1 research institutions and two National Science Foundation-funded projects.
Public health student Rashida Haye '20 and her advisor, Chrysan Cronin, director and professor of public health, agree. They presented their research on how to communicate the health risks of radon to state government officials. "It was really cool to see how we can work as a coalition with other universities and a government agency to communicate this risk," says Haye. "I'm glad I got the opportunity to do this research this summer, and to work with Dr. Cronin more one-on-one."
"Rashida has such composure and ability to think quickly on her feet," Cronin says. "Her presentation at the DEP was excellent. There was a colleague from Johns Hopkins there who called me after to say, 'I want to be sure she comes to Baltimore in a couple years.' She is a very motivated student, and is an independent thinker and highly efficient. It is a joy to work with her."