Shane Burcaw and Sarah Yunusov, Founders of 'Laughing at My Nightmare,' to Speak at Raker Lecture
The event will take place on Wednesday, Feb. 21.
Tuesday, February 13, 2018 09:42 AM
There's nothing like laughter to chase away the winter blues, and Shane Burcaw and Sarah Yunusov have just what it takes to lift your spirits and your soul when they speak at the Conrad W. Raker Lecture on Wednesday, Feb. 21 at 7:30 p.m. at Moyer Hall, Muhlenberg College, Allentown.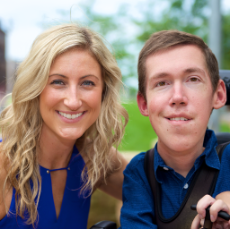 Shane, a Lehigh Valley resident, is president of Laughing at My Nightmare, Inc. Sarah serves as the organization's development director. After starting a blog in 2011 about the funny stories in his life, Shane, who has spinal muscular atrophy, realized he had the ability to make a lasting positive impact on the world. People enjoyed his stories and were inspired by the humorous way Shane viewed his struggles.
Believing that people need positivity and laughter, Shane and Sarah launched Laughing at My Nightmare, Inc. as a way to do just that and help families living with muscular dystrophy. In the past three years, Shane and Sarah's organization has provided over $81,000 in equipment grants to individuals living with muscular dystrophy. The duo has performed more than 125 speaking engagements across the country. Today, Laughing At My Nightmare, Inc. is a 501(c)3 nonprofit with a mission to spread a message of positivity while providing equipment grants to those living with muscular dystrophy.
Cosponsored by Muhlenberg College and Good Shepherd Rehabilitation Network, the event is free and open to the public. Reservations are preferred but not required. To make a reservation or for any additional information, please contact Joann Frey at 610-776-3125 or jfrey@gsrh.org.
The Conrad W. Raker Lecture Series was established by the Board of Trustees at Good Shepherd in honor of the anniversary of the ordination of The Reverend Dr. Conrad W. Raker, son of the founder of Good Shepherd, as a Lutheran pastor. Raker, a Muhlenberg alumnus, was an administrator at Good Shepherd until 1980. He served as administrator emeritus and was an active member in the Good Shepherd family until his death in 2002.
Good Shepherd Rehabilitation Network, based in Allentown, Pennsylvania, is a nationally recognized rehabilitation leader, offering an unmatched continuum of care for people with physical and cognitive disabilities. Good Shepherd treats 65,000 patients annually at more than 60 locations in nine Pennsylvania counties. GSRN is the eighth largest rehabilitation provider in the country, according to Modern Healthcare magazine. Learn more at GoodShepherdRehab.org or on Facebook and/or Twitter.
Founded in 1848, Muhlenberg is a highly selective, private, four-year residential college located in Allentown, Pa., approximately 90 miles west of New York City. With an undergraduate enrollment of approximately 2200 students, Muhlenberg College is dedicated to shaping creative, compassionate, collaborative leaders through rigorous academic programs in the arts, sciences, business, education and public health. A member of the Centennial Conference, Muhlenberg competes in 22 varsity sports. Muhlenberg is affiliated with the Evangelical Lutheran Church in America.