Muhlenberg Named to Princeton Review's 2018 Edition of "Colleges That Pay You Back"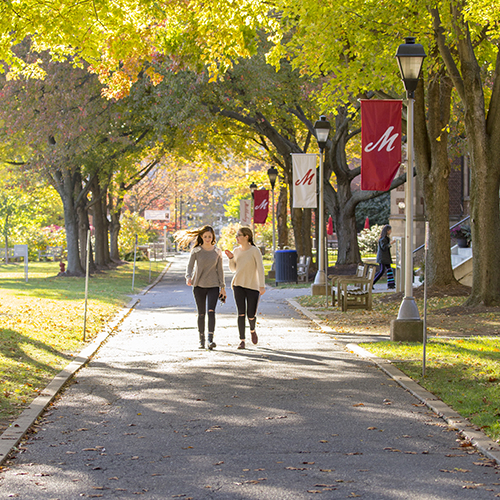 Muhlenberg College has again been named one of the nation's top 200 schools based on academics, affordability and career prospects in the 2018 edition of The Princeton Review's "Colleges That Pay You Back: The 200 Schools That Give You the Best Bang for Your Tuition Buck."
By: Paul Flanigan '18 Wednesday, January 31, 2018 04:20 PM
Princeton Review editors applaud the "highly accepting and friendly" environment, paired with the accessibility of professors. Rob Springall, vice president of enrollment management at Muhlenberg, says, "I hear a lot of feedback from students about their unique opportunities here. They appreciate that they can integrate their diverse learning experiences with active collaboration and research, community outreach and extracurricular activities."
The new publication also highlights the online catalogue of internships through Handshake.com and the Muhlenberg's Internship Manual, which help students find and evaluate possible career opportunities. The Manual is praised by students for having "tips on how to make the most of your internship and various guidelines, as well as important forms" to remain successful in future endeavors.
Students call the College "an excellent place to go if you're serious about academics, and you want to try a lot of different things throughout your undergraduate career." The liberal arts focus appeals to students who value "strong academics" and the ability to sample lots of different classes by professors who "are willing to help and listen, which significantly [increases] the learning experience."
Muhlenberg meets roughly 91 percent of students' need for aid, with students praising "generous" and "incredible" financial aid packages. Students are also encouraged to participate in the Student Research and Scholarship program during the summer, where they take part in independent research with a faculty mentor and receive a stipend, housing and college credit.
The Princeton Review uses over 40 data points to weigh and assess student and administrator surveys to curate a Return on Investment rating. Factoring in everything from cost, financial aid and debt to academics, career satisfaction and student life, the Princeton Review recognizes outstanding schools nationwide.
"We salute Muhlenberg College, and all of our Colleges That Pay You Back schools. They stand out for their outstanding academics and their affordability via generous financial aid to students with need and/or comparatively low sticker prices," said Robert Franek, The Princeton Review's Editor-in-Chief and lead author of the book. "Students at this college also have access to extraordinary career services from their freshman year on, plus a lifetime of valuable alumni support."
The Princeton Review is a leading tutoring, test prep and college admission services company. Muhlenberg has been recognized as a "College that Pays You Back" since the inception of this publication in January 2015. School profiles for this book and its ranking lists are available on the Princeton Review website.
Founded in 1848, Muhlenberg is a highly selective, private, four-year residential, liberal arts college located in Allentown, Pa., approximately 90 miles west of New York City. With an undergraduate enrollment of approximately 2200 students, Muhlenberg College is dedicated to shaping creative, compassionate, collaborative leaders through rigorous academic programs in the arts, humanities, natural sciences and social sciences as well as selected pre-professional programs, including accounting, business, education and public health. A member of the Centennial Conference, Muhlenberg competes in 22 varsity sports. The College is affiliated with the Evangelical Lutheran Church in America.