One Young Alumna's Job-Shadow Success Story
The Career Center connected Becca MacKillop '18 with Caroline Dorn '15, an experience that helped MacKillop get hired.
By: Meghan Kita Friday, October 19, 2018 10:41 AM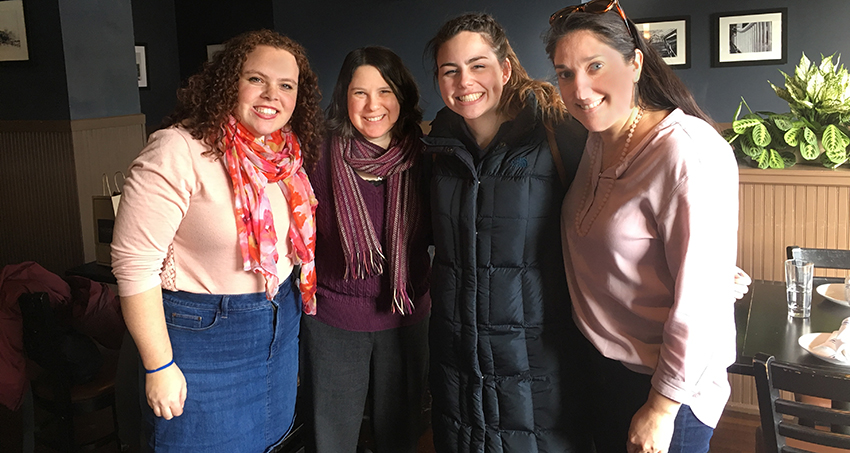 Caroline Dorn '15, Liz Corman Shiro '03, Becca MacKillop '18 and Sarah Ruderman Wilensky '02 went out to lunch when MacKillop shadowed Dorn over winter break. Photo courtesy of Caroline Dorn
All Becca MacKillop '18, a double major in English and media & communication, did to land her first job out of college was provide her resume and have a quick phone interview. And while it's true she had the right skill set for the position—assistant director of youth engagement for Temple Shalom in Newton, Massachusetts—she also benefited from the day she spent months earlier shadowing Caroline Dorn '15, who's worked at the reform synagogue since leaving Muhlenberg.
The Career Center connected MacKillop and Dorn, now the congregational engagement and relationship manager at Temple Shalom, through its shadow program. Emma Hamm '15, assistant director of alumni & parent engagement, reached out to Dorn to ask her to participate as a host, and MacKillop learned about the program during her job hunt.
"Senior year, I did a lot with the Career Center; I was there like every week," MacKillop says. "I had no idea what I wanted to do, so I was looking at everything."
She ended up shadowing three alumni in the Boston area when she was home for winter break, and Dorn was the first.
"It felt like a good fit from the time that I got there," MacKillop says. "Caroline took me on a tour and introduced me to everyone she worked with. They were all really inviting. Even though I was shadowing Caroline, they were treating it like I was shadowing all of them."
The pair went to lunch with two other alumnae (Liz Corman Shiro '03, who works at Temple Shalom, and Sarah Ruderman Wilensky '02, who's a congregant there). Afterward, MacKillop joined one of Dorn's team meetings.
"I think it was helpful for her to visualize the way we work, the conversations we were having, what problems we were trying to solve," Dorn says.
There were no immediate openings at Temple Shalom, and during the spring semester, MacKillop applied to at least 20 positions at a variety of places.
"I went on kind of a rampage applying to jobs and internships," she says. "I would go to the library every day and spend two hours on LinkedIn, Glassdoor and Indeed."
Still, by graduation, she'd lined up only an unpaid summer internship. In June, however, a position at Temple Shalom opened, and Dorn messaged MacKillop about applying. Just one resume and one phone call later, MacKillop was hired.
"I love it," MacKillop says. "I underestimated the importance of having a positive work environment. I've worked at other jobs and internships I thought I'd like on paper, but the environment was not enjoyable. Having done the shadow, I got a really good sense of what it would be like to work here."