'New Voices / New Visions' showcases talents of female student directors & playwrights
Short plays encounter adolescent friendship, Jewish mythology and outcast solidarity, Nov. 28 – Dec. 2 in the Studio Theatre in Trexler Pavilion for Theatre & Dance.
By: Sarah Jae Leiber '19 Thursday, November 15, 2018 08:56 AM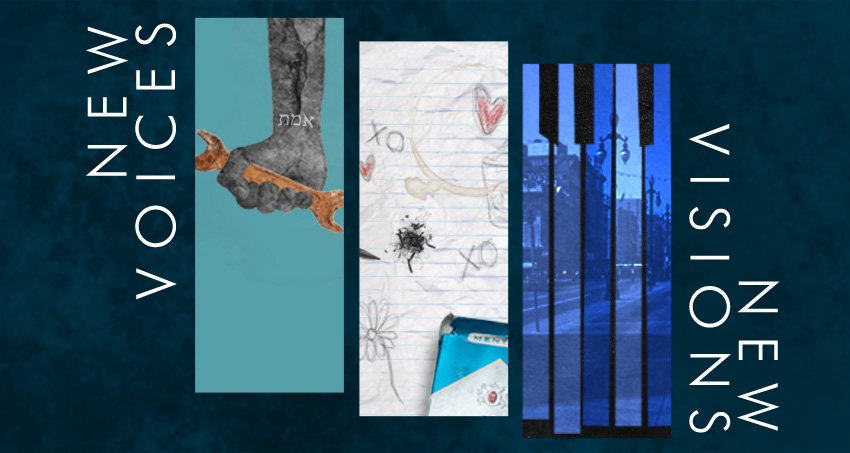 The "New Voices / New Visions" theater festival returns this fall to Muhlenberg College — an evening of new and innovative short plays showcasing the talents of up-and-coming playwrights and directors, in a venue that encourages artistic risk-taking and experimentation. The festival runs in the Studio Theatre in Trexler Pavilion for Theatre & Dance, Nov. 28 – Dec. 2.
The plays in this year's festival are all written and directed by women, most of whom are current Muhlenberg students or alumni. Jenna Adamek '19 directs "Still Growing Up" by Camille Seidel '18; Anna Ricciuti '19 directs "The Repair Man," by Sarah Jae Leiber '19; and Abigail Martz '19 directs "Am I Blue," by Beth Henley ("Crimes of the Heart").
"This festival is a great showcase for women," Ricciuti says, "which is not something we often see in the greater theater world."
"I think the plays will come across beautifully, separately and in tandem, when they're presented as a full piece," Martz says.
---
In "Still Growing Up," long-time best friends talk about life, love and difference as they drive from high school to an abortion clinic.
"I wrote this play as sort of a character study," Seidel says. "I'm really fascinated with how complicated and intimate female friendships are—especially in adolescent years.
"Our teen years are like a test run," she says. "We act ways we don't like and say things we don't mean to see what works for us and scope out what feels right. I wrote this play because I don't think there's enough theatre that takes young girls seriously and honors their feelings and emotions."
Adamek responded to the complexity and fullness of the characters in the play.
"I hope the play will start conversations about how to better support your friends, and how to react when they're struggling," she says. "It's a play about what it means to be a friend."
Seidel is new to playwriting—she discovered that particular voice during her senior year playwriting workshop, where she wrote and rewrote "Still Growing Up" until she was satisfied. She was known at Muhlenberg for acting and improv comedy, but has always written, primarily poetry and sketch comedy. She also recently co-wrote a children's theatre piece.
Adamek started directing in high school and since has worked for several professional theatre companies, as well as directing such pieces as "Does this Woman Have a Name?" last fall in the Studio Theatre.
"Jenna is one of the most thoughtful and confident young directors I have had the pleasure to work with," says Matt Moore, faculty advisor and artistic director of "New Voices / New Visions." "She will absolutely do justice to this intimate drama."
---

"The Repair Man" centers around a young, depressed, Jewish woman named Nick who is visited by a dishwasher repairman who wants to fix more than just her dishwasher.
"It sounds like a porno, but it's not," Ricciuti says with a laugh.
Ricciuti and Leiber are both interested in confronting stigma about mental illness.
"I'm hoping that this play will give people who might be struggling with mental health issues an opportunity to see themselves represented in Nick," Ricciuti says. "I'm hoping that it will start conversations about destigmatizing mental illness and building a community around people who are struggling."
"Media depictions of mental illness have always disturbed me," Leiber says. "Depression is not beautiful or poetic, and it is not necessarily earth-shatteringly noticeable. The truth about a lot of depression is that it's banal. People live with depression for years without knowing it because depression is not a clean list of symptoms and cures. It's different for everybody."
Leiber has written several plays that have featured Off-Broadway ("Grand Theft Tea Leaves") and on the Muhlenberg stage, as well as dramaturgy and editorial features for numerous theater productions. She also writes for the BroadwayWorld website.
Ricciuti previously helmed Jane Anderson's "Tough Choices for the New Century" in the Studio Theatre, and served as assistant director for the fall 2016 "New Visions" production of "Icarus's Mother." She also assistant directed a site-specific production of "A Midsummer Night's Dream" for the Shipwreck Theatre Co., in the summer of 2017.
"Anna is intuitive and funny, compassionate and open-hearted," Moore says. "She's led her cast to a deeply nuanced treatment of this material."


---

Beth Henley's "Am I Blue" is the story of John Polk and Ashbe, who meet in New Orleans in 1968 against all odds.
"John Polk comes from a middle class background while Ashbe comes from a very lower class neighborhood," Martz says. "They end up finding out all these similarities between each other and realize they both view themselves as outcasts."
Martz was drawn to the play's vibrant female lead and meditations on friendship and intimacy.
"Human connection is really important to me; I like exploring those relationships that often get grazed over," she says. "This play is really a communion of souls."
Martz previously directed "Tuesday" as a Studio Production last spring, and served as assistant director on the 2016 "New Visions" world-premiere production "Terrible Beautiful Bodies."
"Abby brings her fiery intellect and keen theatrical sensibility to this early work of Beth Henley's, which will draw the audience into an intimate and subtly life-altering experience," Moore says.


---

"New Voices | New Visions" plays in the Studio Theatre, Muhlenberg College Theatre & Dance, Nov. 28 – Dec. 2. Performances are Wednesday through Saturday at 8 p.m., Saturday and Sunday at 2 p.m. Regular admission tickets are $15. Tickets for youth and LVAIC students and staff are $8.
Tickets can be purchased online at muhlenberg.edu/theatre or by phone at 484-664-3333. Performances are in the Studio Theatre in Trexler Pavilion for Theatre & Dance, Muhlenberg College, 2400 West Chew St., Allentown.
Founded in 1848, Muhlenberg College is a highly selective, private, four-year residential college located in Allentown, PA., approximately 90 miles west of New York City. With an undergraduate enrollment of approximately 2,200 students, Muhlenberg College is dedicated to shaping creative, compassionate, collaborative leaders through rigorous academic programs in the arts, sciences, business, education and public health. A member of the Centennial Conference, Muhlenberg competes in 22 varsity sports. Muhlenberg is affiliated with the Evangelical Lutheran Church in America.
Muhlenberg offers Bachelor of Arts degrees in theater and dance. The Princeton Review ranked Muhlenberg's theater program in the top twelve in the nation for eight years in a row, and Fiske Guide to Colleges lists both the theater and dance programs among the top small college programs in the United States. Muhlenberg is one of only eight colleges to be listed in Fiske for both theater and dance.